Bendigo Wine Region VIC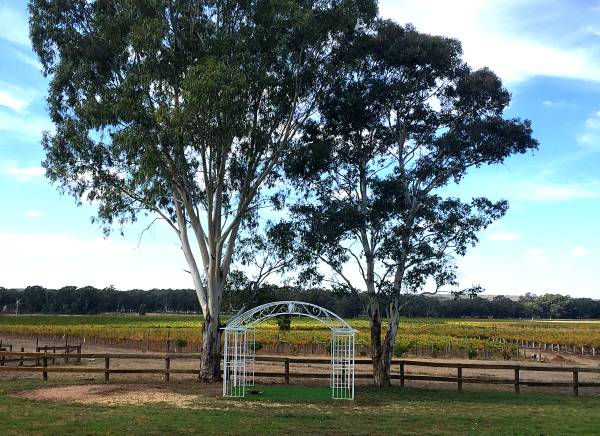 The first vines in the Bendigo region were planted in the 1850s and by the 1880s had gained international recognition. Today the wineries in the region continue to win awards for their outstanding Shiraz and Cabernet Sauvignon. In a judging of the 2012 vintage at Le Concours des Vins de Victoria, held last November, BlackJack Vineyards received two Bronze medals; Glenwillow received a Gold and Bronze medal; Harcourt Valley Winery received eight Gold medals, four Silver and four Bronze; Sandhurst Ridge Winery won a Bronze medal and Turners Crossing won a Silver medal. The majority of these wineries are small to medium-sized and are still run by the families who founded them. Traditional hands on techniques include open stainless steel fermentation, small barrel maturation in French and American oak, egg white fining and hand bottling and labelling. Most Bendigo wineries have cellar doors, many have restaurants or cafes and some even offer accommodation. They are mainly within a 20 km radius of the City of Bendigo.  We visited Harcourt Valley and BlackJack wineries (a bit further south) earlier this year.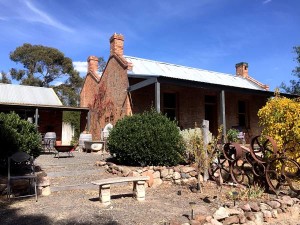 Taking the Calder Freeway from Melbourne through the area known as Ravenswood, 20 minutes south of Bendigo, the turn-off on Soldier Settlement Road leads to Killiecrankie Wines. Set in a renovated 1880s brick cottage, the cellar door offers premium individual wines. Winemaker, John Monteath, honed his craft working with some of the best wineries in the Bendigo and Heathcote regions. Fruit brought in from vineyards in those regions is hand plunged, basket pressed and allowed to develop with minimal intervention. Only the best vintages are put on the market. The Killiecrankie Shiraz was first released in 2005 and the 2012 vintage, which we bought, shows luscious black berries, plums, spice, liquorice and mint on the nose with toasty oak and soft tannins on the palate. A 2014 Tempranillo named after gold fields entertainer Lola Montez is an innovation suited to this area, while the Crankie, my favourite, offers a light, easy drinking Shiraz that stands head and shoulders above others defined in this style.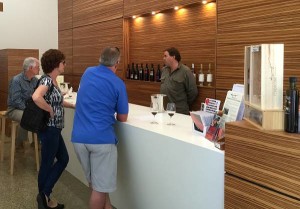 After meeting up with friends at El Beso café in View Street, Bendigo – for a very tasty light lunch – we called in to the Pondalowie Vineyards store just a few doors up. Dominic and Krystina Morris established their vineyard in 1996 in Bridgewater on Loddon, 40km north-west of Bendigo, eventually planting Shiraz, Tempranillo, Cabernet Sauvignon, Malbec and Viognier on 25 acres. All vines are hand-pruned and, with minimal drip irrigation, yields are kept intentionally low to maximise flavour in the wines. Their second label – Pinga Wines – comes usually from fruit sourced from growers in the Heathcote region and more recently, the King Valley, which this year allowed the winery to release a Pinot Grigio, and a Rosé.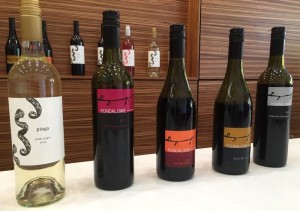 Both traditional and modern winemaking techniques are used including ideas picked up from the Morris's winemaking experience in Portugal's Douro Valley. Wine critic James Halliday has given the winery his 5 black star rating for 10 consecutive years, a higher 5 red star rating in the last couple of years and in his 2015 Wine Companion he awards the 2012 Shiraz and the 2012 Shiraz Viognier  a score of 95 points. The wines on tasting included the MT Unwooded Tempranillo, the Vineyard Blend (Shiraz Cabernet), the 2013 Shiraz, and a 2013 Cabernet Sauvignon. We have been drinking this label for a few years now and are on the mailing list for newsletters. Our friends were quite impressed with the wines too and bought up well!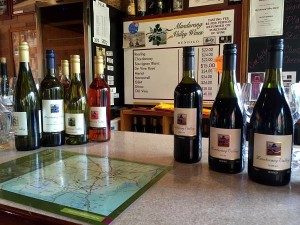 Then we took our friends out to Mandurang Valley Wines to meet Wes and Pamela Vine. We have been buying their wine for a long time now – particularly their flagship wine, the Old Vine Shiraz. Mandurang Valley, established in 1995,  is about 7km south of Bendigo. They  also produce Riesling, Sauvignon Blanc, Chardonnay, Rosé, Merlot, Shiraz, Cabernet Sauvignon, GSM (Grenache, Shiraz, Monastrell) and Monastrell (Mourvèdre). We spent a very pleasant afternoon tasting and discussing wines and the issues that had affected the growers in the last few vintages. The weather had been so wet in 2011 that most wineries abandoned the vintage. However this latest year's conditions were so favourable that harvest started early and cropping was well above average. Wes and Pam have extended their cellar door to include seating for lunches and dinners and hold special functions on request. Four times a year they also host a seasonal wine and food dinner.  Again we left with another case of wines.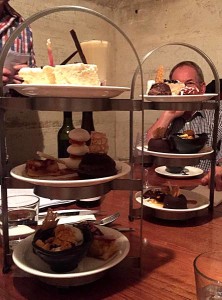 The evening meal was had at Rosalind on the Park, on the site of a former bank, where we dined in privacy in one of the old vaults. Both the menu and wine list were varied and interesting, with two degustation menus available. We chose to order à la carte for the mains and shared a couple of dessert platters. Both the meals and the service were exemplary and we heartily recommend the place. The following day saw the men go off to golf while the ladies visited the market at the local showgrounds. Lunch followed at the Boardwalk Café on Lake Wendouree. This is a very popular spot with great views from the terrace overlooking the lake. It is a licensed restaurant with a great range of food options, including an all day breakfast!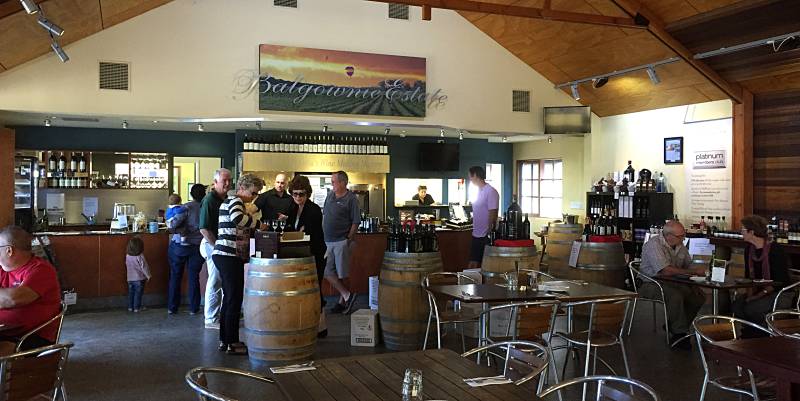 Next on our winery tour list was Balgownie Estate, one of the pioneers of commercial winemaking in the Bendigo Region, established in Maiden Gully by winemaker Stuart Anderson in 1969  – the first boutique vineyard to be planted in the district in more than 80 years. The initial plantings consisted of five acres each of Cabernet Sauvignon and Shiraz and these varieties are still the mainstay of the 80 acre vineyard today. In 1999 Des and Rod Forrester bought the Estate and in 2002 added to the portfolio with a vineyard, resort and day spa in the Yarra Valley, where the cool climate is ideal for Chardonnay and Pinot Noir. Balgownie's Bendigo vineyard has been rated 5 black stars by critic James Halliday, while the wines are known for their consistently high quality and longevity. Wines on tasting include the White Label Estate range of Shiraz, Cabernet Sauvignon, Chardonnay, Merlot and Viognier; the Black Label Shiraz, Cabernet Merlot, Pinot Noir, Sangiovese Cabernet, Chardonnay, Sauvignon Blanc and Pinot Gris; and the Sparking range of Shiraz, Chardonnay/Pinot Noir and Rosé. Apart from the opportunity to taste from their extensive range of wines, the cellar door also offers light lunches using regional produce, which were very popular during our visit, as well as a large range of condiments and gift ideas and a wine museum. Accommodation is offered at Balgownie House, an 80 year old restored miner's cottage, with two suites each incorporating lounge, dining, bedroom, ensuite and spa bath.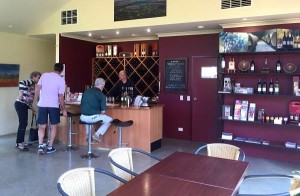 In nearby Marong, Sandhurst Ridge, run by owner and winemaker Paul Greblo, benefits from his Italian heritage and a climate, soil and seasonal conditions suited to that style of wine-making. His wine-making philosophy is relatively simple: let the vineyard make the wine and interfere with the wine-making process as little as possible. The first vintage, the 1995 Sandhurst Ridge Shiraz, was awarded five stars by Winestate magazine and his wines continue to win awards such as at Le Concours des Vins and a rating of 95  points by James Halliday for the 2012 Shiraz, which we bought. As well as the Shiraz and Reserve Shiraz, Paul produces a Cabernet Sauvignon, Sauvignon Blanc, Merlot and Nebbiolo; while with fruit sourced from nearby properties on the northern side of Bendigo, Paul makes his Fringe range of Shiraz, Cabernet Sauvignon and the Classic Blend Shiraz Cabernet. My favourite was actually the Fringe Shiraz. Sandhurst Ridge also offers a couple of cottages for Bed & Breakfast.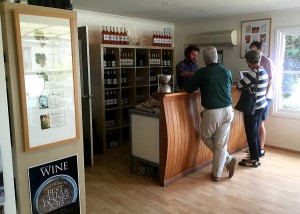 As we made our way home to Melbourne we stopped in at Bress, on the old Calder Highway, Harcourt North.  Adam Marks, owner and winemaker, bases his skill on his experience making wine in Burgundy and Beaujolais in 1996. In 2001 he and his wife, Lynne, embarked upon this venture to produce wine, cider, olives, honey and vegetables dedicated to the famous chickens of Bourg en Bresse, France, and what they represent – artisan production using traditional, age-old methods. Initially he bought in good quality Pinot Noir from the Yarra Valley, Shiraz from Heathcote and Semillon Sauvignon Blanc from Margaret River and used his friends' wineries to make the wine. In 2004 Mark and Lynne purchased the property at Harcourt which already had cider apple and perry pear trees in the orchard. As well as using grapes from their own land, Mark brings in fruit from Bendigo, Heathcote, Macedon and the Yarra Valley to make his wine. For the last five years Bress has earned James Halliday's 5 red star rating, as well as Best Cellar Door and Restaurant in the Bendigo region 2013 by Gourmet Traveller Wine Magazine. Wine, cider and local produce tastings are held in the cellar door, while lunches and special functions are held in the winery itself or under the vine-covered pergola outside. When we arrived a group was just finishing up for the afternoon and was full of praise for the experience. We, on the other hand, after reading the reviews and being quite prepared to be impressed by the place and its wines, found it did not quite measure up. Perhaps we were tired by such a full-on weekend.  We certainly had a car boot full of wine to prove it!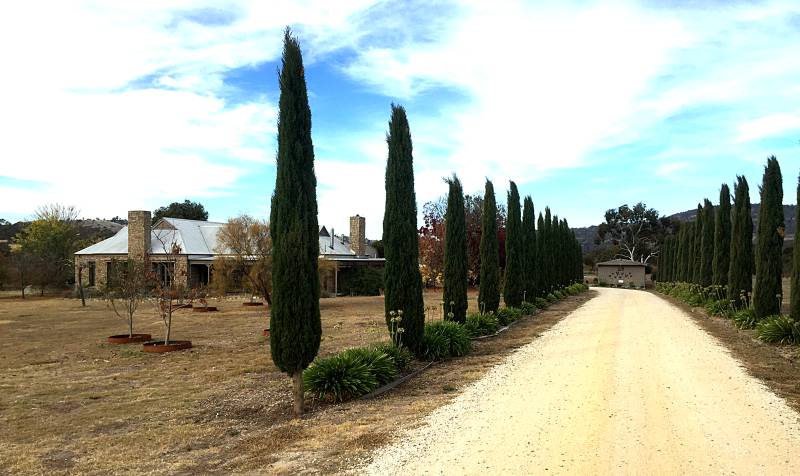 Related articles