The Medina of Fès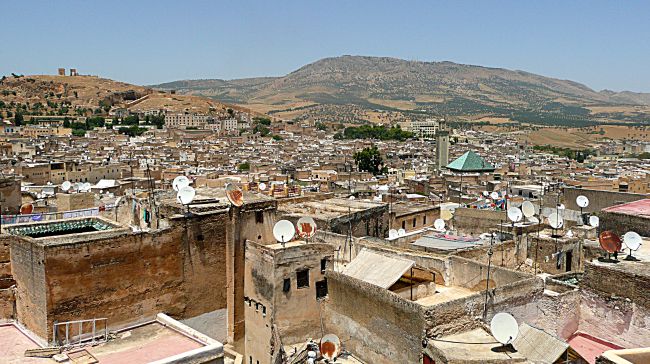 Fès (or Fez – they are interchangeable) – Morocco's third largest city – was founded in the 8th century and is now home to over one million people. At various times the capital city of Morocco and still the country's cultural and spiritual capital, Fes became a UNESCO World Heritage site in 1981. The sprawling medina of Fès el-Bali, which claims to be the world's largest car-free urban zone, is also thought to be the best-preserved old city in the Arab world. It is also famous for being home to the world's oldest university. Looking across to the university and its Kairaouine Mosque minaret from the roof of our accommodation, I was struck by the appearance of so many satellite dishes upon medieval buildings!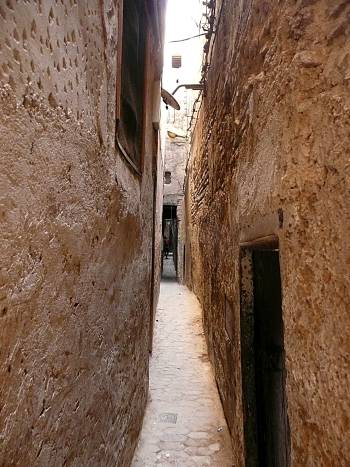 Located behind a high wall, the medina has narrow, labyrinthine alleys where hundreds of merchants and craftsmen sell a range of products such as dates, fish, spices, copper urns, carpets and musical instruments. All I wanted to do was stay in a riad in the medina, risk getting lost in the medina and experience the sights, sounds and smells of this medieval place. And when I say smells – well the visit to the famous Chouara leather tannery fulfilled that dream!!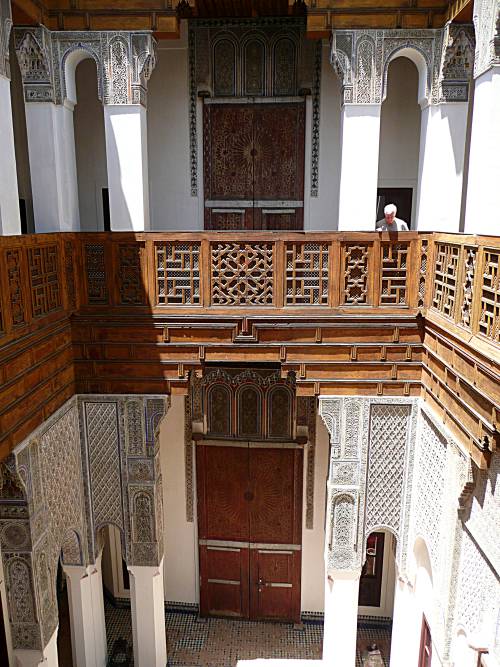 Luckily for us, my knowledge of French was enough to get us around, bargain with the shopkeepers and order meals. It didn't take us long to get used to the streets near our riad and find our way home. It did help to have the services of a local guide as we toured the medina, however. Our home for two nights was Riad Dar Bensouda, a beautiful B&B decorated with intricate woodwork, tiles and detailed stucco patterns. Huge doors to the rooms had smaller doors inset which could be left open to catch the breezes and for easier access.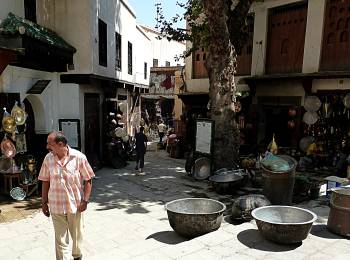 Finding the tanneries near Place Seffarine, the market area for all things metal – especially copper – simply required us to follow our noses!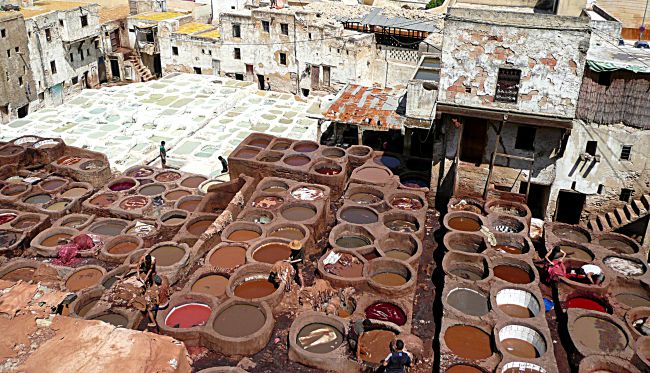 The Chouara Tannery features leather-making techniques unchanged since the Middle Ages. Men in skimpy shorts walk the narrow paths between huge stone vats of colourful dyes and other liquids, in turn soaking, scrubbing, kneading and rinsing the hides, while buildings facing the tannery are covered with pelts hanging to dry.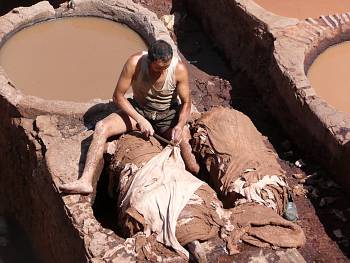 The process of curing the leather hides of cows, sheep, goats and camels involves steeping it in vats of cow urine, quicklime, water, and salt for 2-3 days to rid the hides of the hair, excess fat and flesh. Once the men have scraped them clean, the hides are then soaked in another set of vats containing a mixture of water and pigeon guano (poo to you!). The ammonia softens the hides which are also stomped on by men in bare feet for up to three hours until the leather is soft enough to then absorb the dyes.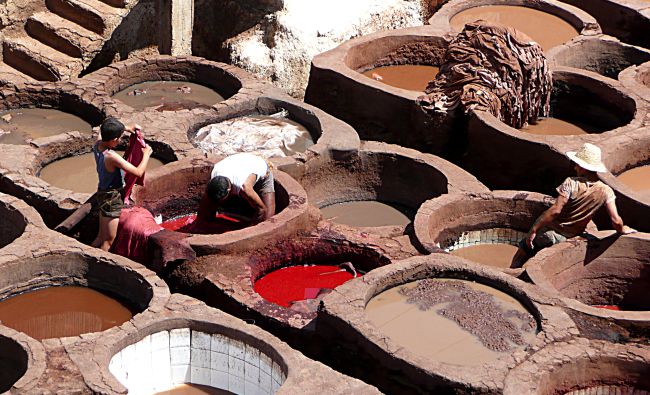 After about a week in the vegetable dyes (made from turmeric, poppy, mint and indigo) the hides are placed in the sun to dry, before being sold to the craftsmen who will turn the leather into bags, wallets, jackets, slippers (babouches) and even furniture. The whole tanning process can take up to three weeks. To view this amazing scene, our guide took us to one of the leather shops which have balconies above the vats. Here we were given a lesson in leather processing as well as sprigs of fresh mint to hold beneath our noses to help ward off the pungent aromas.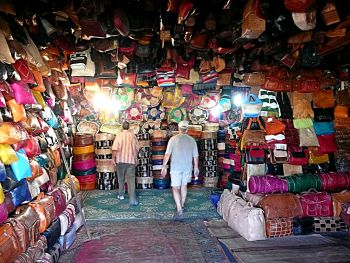 Needless to say, we also spent some time admiring the finished products, trying on jackets and being subjected to persuasive marketing spiels. Despite the air conditioning, the open balcony to the outside temperature of 45°C made the whole process almost unbearable. No wonder that I succumbed to the pressure of buying a genuine Moroccan leather jacket. All I had to do to have one custom made was to establish the size and preferred design and colour, by trying on various jackets and having measurements taken. Then those jackets were bundled into a bag with the measurements and sent off to a tailor. Four hours later there was a knock at our riad door and there was my beautiful, new, perfectly fitted black jacket! And at a reasonable price too. Pity it was too hot to wear it at the time (although I have made good use of it since).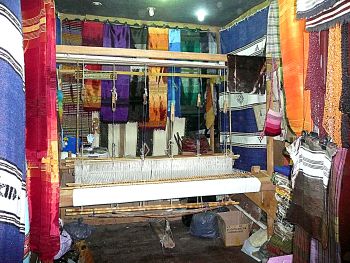 Fès is also known for its weaving and woodwork, with a special section in the medina devoted to the practice and display of those crafts. Woven textiles can be found for sale throughout the medina, while the skills of wood workers can be seen in the ornate porticos above mosque windows and doors.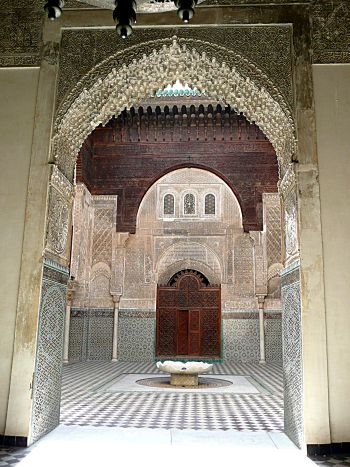 Another of Fès' traditional manufactures is ceramics. The Islamic zellij, or mosaic tiles, can be found around doorways, fountains and on walls in private homes, but those in larger buildings such as mosques are particularly impressive. Our driver took us out to a ceramics factory – Art Naji – on the outskirts of town, where we watched the artisans at work and purchased some of the iconic cobalt and white pottery. We were also taken to the Al-Attarine Madrasa (religious school) which is a wonderful example of design with not only these tiles but also some magnificent delicately pattered plasterwork. Luckily for us, non-Muslims are allowed inside to appreciate the beauty of this place, so cool and quiet amidst the heat and bustle outside.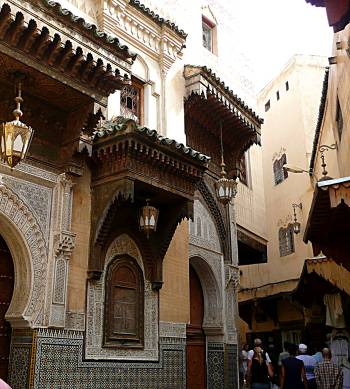 Moorish architecture has always held a fascination for me. I could not stop taking photos of all the lovely doorways and arches. The Sidi Ahmed Tijani Zaouia and Mosque, containing the tomb of famous Sufi Sheikh, Ahmed Tijani, was not far from our riad.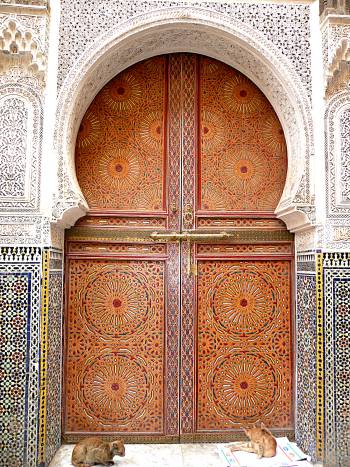 The shrine has a beautifully decorated porch and carved and painted doors, as well as carved plaster and superb zellij. It's an extremely important shrine for Muslims from other African countries, who come to pay homage to the man who founded the Sufi brotherhood at the end of the 18th century.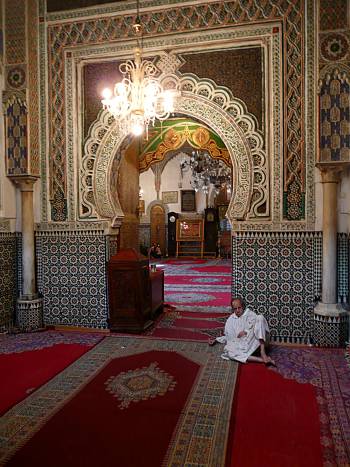 Another shrine – the Zaouia Moulay Idriss II – is dedicated to a former ruler of Morocco and patron saint of the city of Fès. The shrine also contains Moulay Idriss II's tomb. The building of the shrine began in 1717 and was completed in 1824. It has since become the medina's holiest shrine. Those who visit seek the saint's protection – women seeking fertility and pilgrims hoping for good luck. Unfortunately non-Muslims are not allowed beyond the doorway pictured.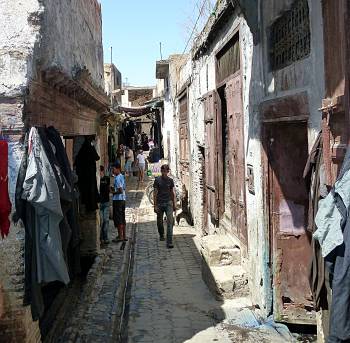 Further out from the centre of the medina, the neighbourhoods can seem unwelcoming with their tiny workshops, featureless walls and high windows. Each neighbourhood has its five essential institutions – a mosque, a school, a shared fountain, a shared bakery and a hammam. Though we didn't get to visit a hammam, we passed a local bakery on our travels. It was pretty basic!
Fès medina was quite a contrast to Chefchaouen, which was like a storybook village in comparison. In Fès, little effort had been made – save the occasional mosque, door or portico – to adorn the houses or shops. Our riad owner explained to us that outward shows of wealth were frowned upon, so then all their decorative efforts were confined to the interiors. Our next stop on our road trip was to be Meknès, so we were keen to see what another Imperial city would look like.
Related articles