Road Trip – Morocco
After driving ourselves around Spain for three weeks, we decided to take the less stressful option in Morocco – so we hired a driver through Authentic Morocco. This company also booked all our accommodation for the nine day tour, which we were able to customise to our interests. I was keen to fully immerse myself in the old Morocco, complete with stays in Riads in Medinas, rather than in western style hotels. And, of course, hubby wanted to try and fit in a game of golf or two.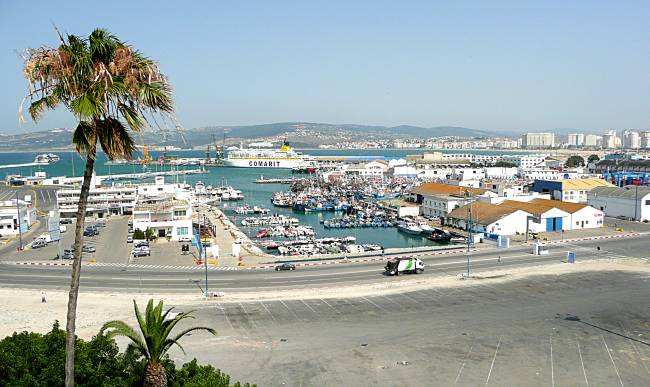 Our arrival by ferry from Algeciras, Spain, was a little unsettling, since we expected to disembark in the port of Tangier, just a short walk from our chosen hotel. However the ferry docked in the new Tanger-Med port 40 kilometres away and we were then transferred to the city by bus. We had been warned about "tour guides" touting for business with newly arrived tourists and they certainly were in our face the moment we stepped down from the bus. However we were so disoriented and had no idea if we were anywhere near our hotel, we allowed one guide to lead us to the hotel just to be safe.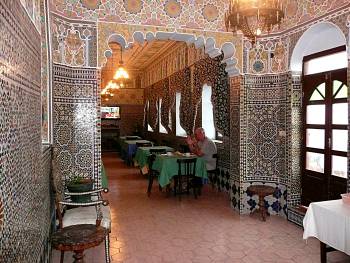 The Hotel Continental's big claim to fame was that Winston Churchill and various famous writers, musicians and artists had stayed there. Five minutes from the old port and in the heart of the Medina, this now faded 19th-century building is classed as a National Heritage site. Views of the sea or the Medina can be seen from all of the rooms and lounges, while traditional mosaic tiles, cedar marquetry ceilings and huge chandeliers decorate public areas.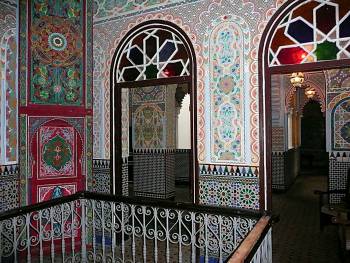 The decor is typically Arabic – tables, lamps and rugs in that style in all rooms and hallways. It has several terraces also with stunning views. Once we had settled a bit we obtained a map from the concierge and decided to navigate the old medina on our own.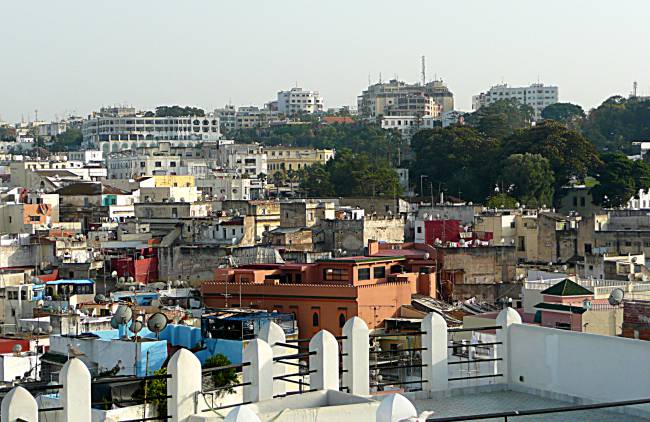 Tangier, founded in the 5th century BC, has an old area as well as a new section of the city. It is a cosmopolitan city, due to its location on the Straits of Gibraltar, its status as an International Zone in the mid 20th century, and its role as a major trading and tourist port. Although Arabic is the most commonly spoken language, French is also widely spoken, since Morocco was formerly a French colony, as well as Spanish and some English. Just east of Tangier is the Spanish protectorate of Ceuta. Further south I would need to rely on my French to communicate with the locals.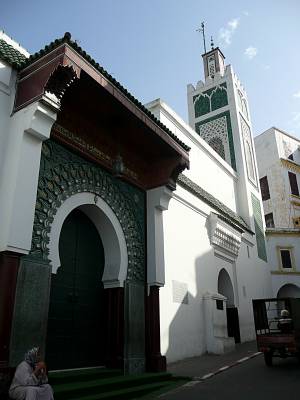 Stopping to check the map frequently really marked us out as easy targets. Mistake number one – soon we were trying to fend off another "guide" who would not take no for an answer. We kept telling him we would manage on our own, but he walked alongside us anyway telling us various snippets of information and recommending shops to stop at along the way. He was obviously wanting us to buy something so he could earn a kick-back. Eventually we had had enough of this, so asked him to show us a restaurant where we could stop for dinner. Once we were settled at a table, he sat with the owner at another, waiting for us to finish. We told the owner we did not want him to wait, but the "guide"  wouldn't leave us until we got out our wallets. That was mistake number two. Both Vin and I opened wallets at the same time to find a small note to get rid of him. This was our first transaction with Moroccan Dirham, so we were not sure what to choose. He reached over, grabbed both 100DH notes from our hands and  took off! We later calculated we had "paid" him the equivalent of twenty-five dollars!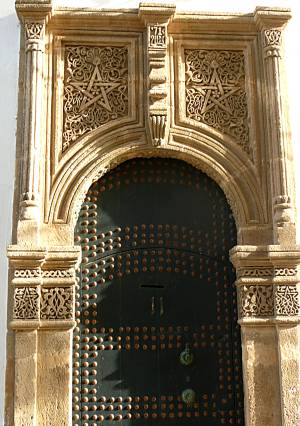 That was not a good introduction to Morocco, but it taught us first hand how to be careful for the rest of the trip. As the sun set the crowds came out to wander around the shops and restaurants. at last we were left to ourselves to mingle among them. Next morning we were to be met at the hotel by our driver for the next week who would follow the route we had chosen.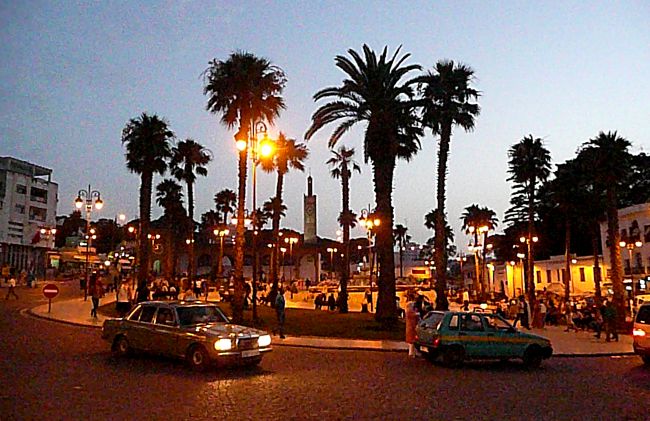 The plan was to drive from Tangier to the "blue town" of Chefchaouen. From there the next stop was Fes for two nights, Meknes, Rabat and Casablanca, and then on to Marrakech. Here we would have a free day without a guide while Vin played golf, and then a new driver would take us south-east towards the desert to Ouarzazate, the town made wealthy by the film studios based there. Near there, we were booked to stay in a converted Kasbah or fortress. After sightseeing at another kasbah on the way back to Marrakesh, we would make the return journey by plane to Madrid, Amsterdam, Kuala Lumpur and finally home to Melbourne.
Related articles