Getting back to my roots in Lancashire & Yorkshire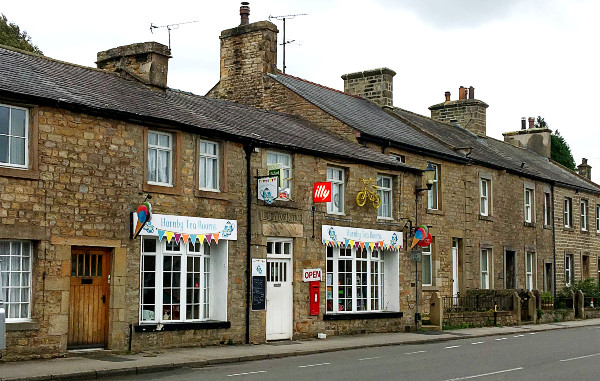 After years of doing family tree research it was finally time to visit those places in England where my ancestors originated, before they migrated to Australia. My father's parents arrived in Fremantle, Western Australia in 1911, having travelled from their home in Colne, Lancashire all the way to London to begin the voyage. The morning after our arrival in Manchester, we set off to the area known as the Forest of Bowland where several of my relatives live. The little village of Hornby was our first stop, at the Tea Rooms. The stone, terraced buildings are very typical of this part of England and as we would discover, representative of the type of houses my ancestors had occupied.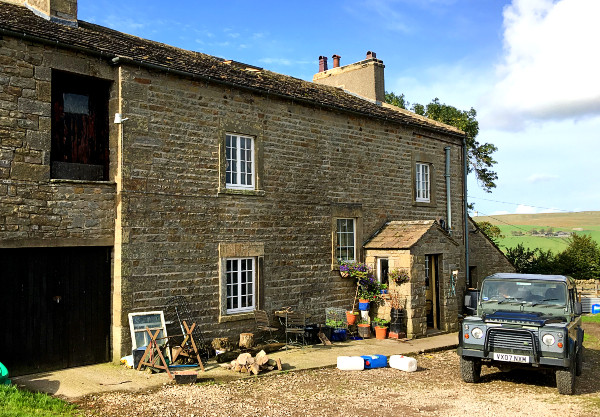 I had connected with the wife of a cousin over the internet years earlier through our research and we had shared our finds with each other, promising to visit one day if either should be in the other's country. So when a trip to Europe allowed us time to "pop in", Grace and Graeme – my 2nd cousin once removed – generously put us up for a couple of days and took us on a tour of significant places in their part of Lancashire and the bordering area of Yorkshire. It was greatly appreciated, as Graeme's work on the farm where he runs sheep up on the fells had to wait, as it was nearly gathering time. Their two storey farm house, made of the same stone as we saw in Hornby, was built in 1658 !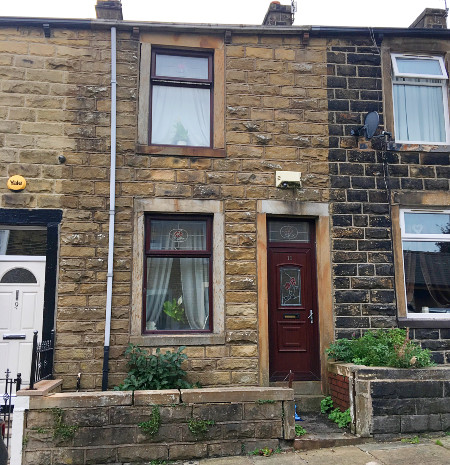 We were able to meet for the first time people I had only known about via genealogical research, which was very gratifying. My 1st cousins are somewhat older than me and sadly one has since died, so it was great to make contact when we did. We were able to find some of the ancestral homes in Colne, such as the tiny one in Gill Street (above). Unfortunately some had been demolished, including my grandfather's home where his first born daughter had died as a result of burns sustained when her clothes caught on fire while she played near the hearth. She was only 21 months old. Discovering the details of this tragedy during my research was very upsetting although I do recall my father having once spoken of it briefly, as it was before he was born.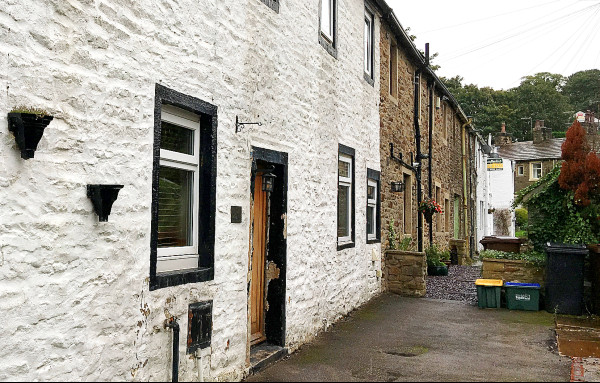 Just outside Colne was the village of Foulridge – which is now hardly distinguishable from the rest of Colne. It gets its name from the Anglo-Saxon words for foal and ridge, and is thus pronounced that way. It was once a hat making community, and evidence can be seen of weavers' cottages surrounding the Village Green. One of my ancestors who lived there in 1851 was a hand loom weaver, along with her son and nephew, working with fine quality wool – Delain (from the French de laine – of wool). Her husband was a wool comber. Her husband and father-in-law had both been tailors. Ten years later, with increased mechanisation, many relatives had become cotton weavers in the local mill. One distant relative even owned the mill. Abner Row (above) is a lane where many inhabitants, including my grandmother (before marriage) were cotton weavers.
During our guided tour of the various villages and ancestral locations, Grace made sure to take us to the charming village of Haworth, in the district of Bradford, Yorkshire, made famous by its renowned Brontë sisters. On this rainy day there were few tourists to spoil our photos of the quaint shops and tea rooms, though the mists did make views of the moors beyond rather difficult.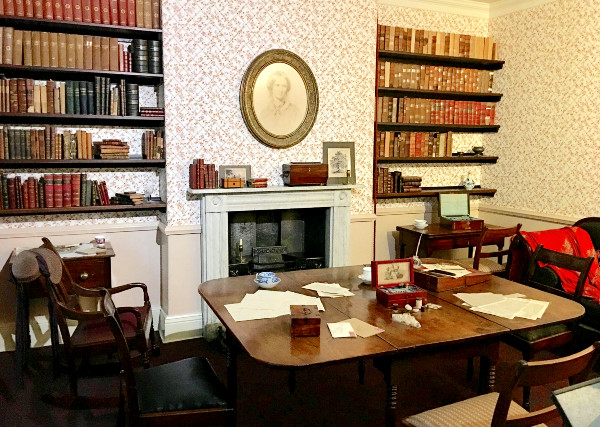 There we visited the sisters' former home which is now the Brontë Parsonage Museum. The exhibition room and the library contain the world's most comprehensive collection of Brontë manuscripts, letters, early editions of the novels and poetry, and secondary material on the famous family and their work. It is possible to take a tour of the various rooms in the house, such as bedrooms, dining room, kitchen and servants' rooms. Charlotte, Emily and Anne did most of their writing in the dining room and it was the focus of their creativity. 'Jane Eyre', 'Wuthering Heights' and 'Agnes Grey' were all written in there. Above the mantel is a sketch of Charlotte Brontë by portrait painter, George Richmond.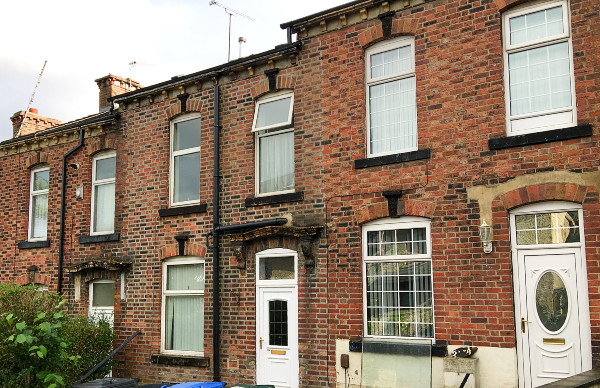 Leaving our hosts, we next travelled to the other main location for my father's family – Bradford. This city built its fortune on the textile industry, with so many of its inhabitants – like my ancestors in Foulridge – working in the mills. Before his marriage my grandfather had lived in this district, working as a cartwright. He had been born in 1869 in Manningham, Bradford, 15 months before his father, James, died in the Manningham silk mills fire. James was a milk dealer, but with many other locals had rallied to try and save the silk, but a brick wall collapsed on him and another man as the fire took hold. Finding his former residence was difficult, although we found the tiny street, as well as various other small terraced streets where ancestors had lived according to the censuses of the 1800s.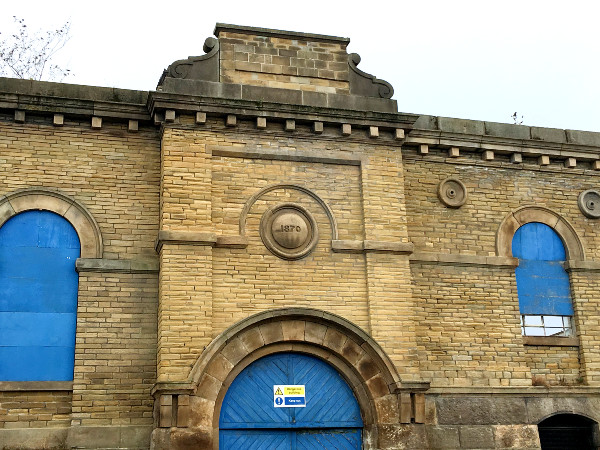 The Lister Mills were largely rebuilt after the fire, but today some of the site lies abandoned while other buildings are converted to apartments. At one time Lister Mills was the largest silk factory in the world and after its rebuild was the largest textile mill in North England.
The wealthy Lister family had owned land in the area for generations, living in Manningham Hall which had vast parkland surrounding it. Samuel Lister sold the land to the local government body for the provision of a public park in 1870, which was named after him. We passed a rather grand entrance of a castellated gatehouse with octagonal turrets called the Norman Arch, built in 1883. The 22 hectare park includes an art gallery and museum, a Botanical Garden with a lake and a stream, and Mughal Garden. It is one of the main attractions of the city.
I had not realised how long it would take to do a thorough examination of my Lancashire and Yorkshire roots. Being there "fleshed out" the information I had so far gleaned, but only highlighted that I had a lot more research to do. But we had to keep moving as now we had hubby's Norfolk ancestors to seek out. Maybe we can go back again one day!