Family Tree Ramblings in London, Sussex and Kent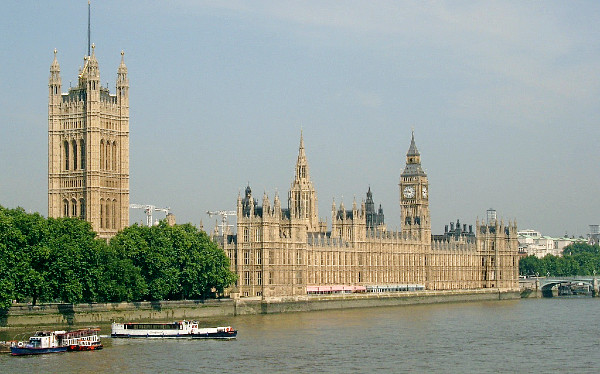 Having spent a few days investigating my paternal ancestry locations in northern England it was now time to see where a number of my maternal ancestors had originated. Working backwards from my mother who was of British birth, even though she spent nearly all her life in Australia, I was determined to put photos to locations that had shown up in my family tree research. I had already become friends with a cousin in London who kindly took me to the address where my mother was born in 1919, and another where the family had lived shortly afterwards. This first address was the house of a great aunt in Kensington where my grandmother Edith and two of my mother's siblings had stayed before to moving to Hampstead, prior to emigrating in 1921. (We did make the most of our time in London as tourists, but that is another blog!)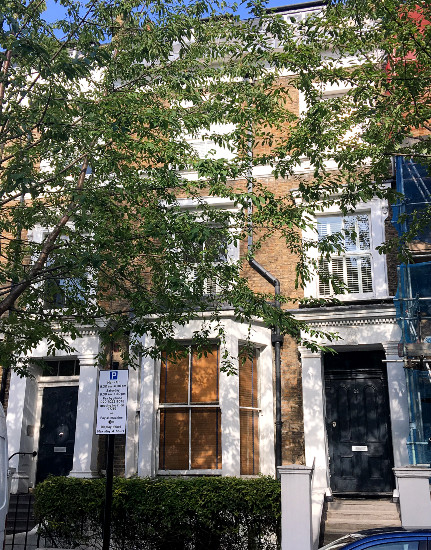 Then, going back in time to before my mother's birth, we headed south from London to the county of Kent, where we were to meet up with another cousin who would help with my search. But ever the tourist, I had to make sure I fitted in some of the local attractions as we went. There are some places in England that are iconic and the White Cliffs of Dover are such an attraction. I must say the cliffs were not as white as I had expected, due to vegetation and the effects of pollution. And I had to make do with a quick drive around the outskirts of Dover Castle as well.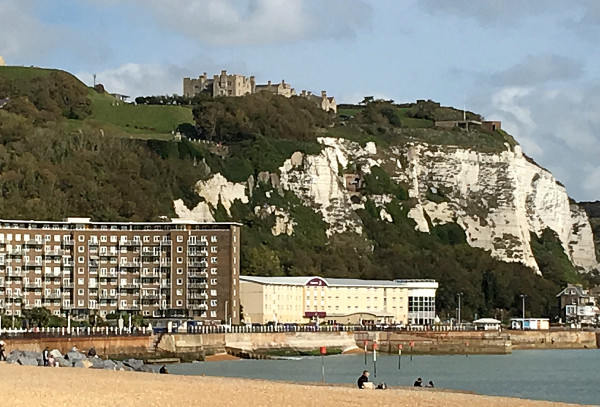 My genealogy research had established that my maternal ancestors had lived in counties of Kent and Sussex since the mid 17th century at very least. And although I know the names of the various towns, unfortunately not until the censuses of 1851 and onwards do the actual addresses appear. Even with that information, some houses no longer exist or are difficult to find. Cousin Celia was able to show us the very house where my maternal grandparents had lived and where 6 aunts and uncles had been born, in Saltwood, Kent.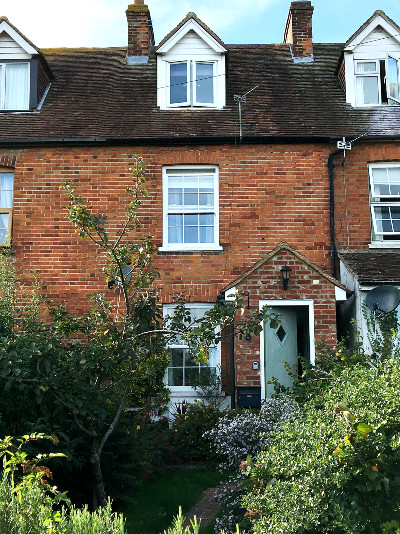 Cousin Celia also took us to the local church graveyard where my grandfather was buried. (Since my grandmother emigrated to Australia with her three youngest children, she is buried In Karrakatta Cemetery, Perth WA.) My grandfather had been a signalman in the railways, working at Sandling Station just out of Saltwood, near Hythe. He had been too old to fight in the Great War, but my grandmother's three brothers enlisted and two sadly lie in Flanders' fields.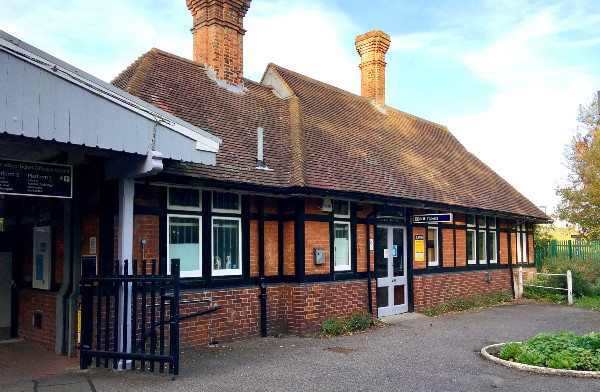 According to family stories, my grandmother Edith had taken in sewing and mending for the gentry who lived in nearby Saltwood Castle. This was how she saved money for the voyage. The castle is now a private residence, so unfortunately we could not be too inquisitive. Due to its position near the coast it began life as a Roman stronghold, then a Saxon fort in 488AD, before being extended, further fortified and given to one of the noblemen who conspired in this castle to kill Samuel Becket, in 1170. It later served as home for many of the Bishops of Canterbury, including Thomas Cranmer; was gifted briefly to Oliver Cromwell before being taken back by Henry VIII; and restored in 1882 and again in the 1930s.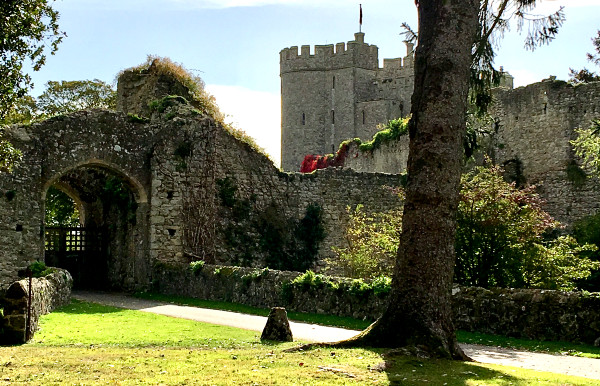 For the couple of nights we were in the area, we stayed at the grandest BnB ever – Slaybrook Hall, Sandling. Apparently it was 'Wealden hall' or manor house, back in the late 1400s, with its 40ft (12m) long hall now a music room. It is supposed to have existed in some form back in the late 12th century, when the noblemen who assassinated Becket hid there after their deed, rather than returning to Saltwood Castle. It has had some sympathetic additions over the centuries and the utility areas inside have modern fittings. But it still retains its period charm. The current owners were very gracious, and understandably proud of their home, informing us that Noel Coward had actually been a guest back in the day and had been inspired by the house to write his comic play 'Blithe Spirit', based on the rumours of it being haunted! Fortunately we did not get to put this to the proof.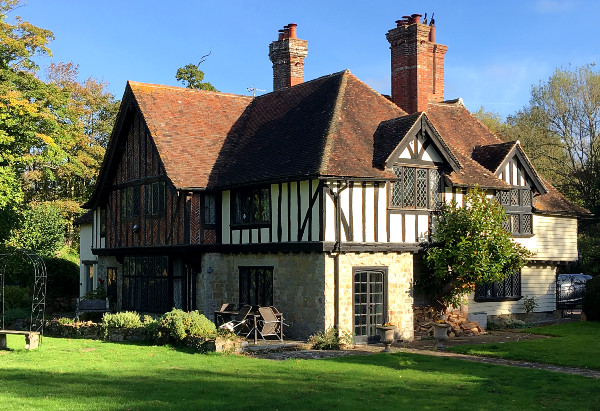 My grandmother Edith was born in Hastings, East Sussex, in 1882, so that is where my search next took us. The first address where I could find the actual building was in Bohemia Road Hastings, where she had lived at age 9 above an upholsterer's shop. Her father at that time was a gardener.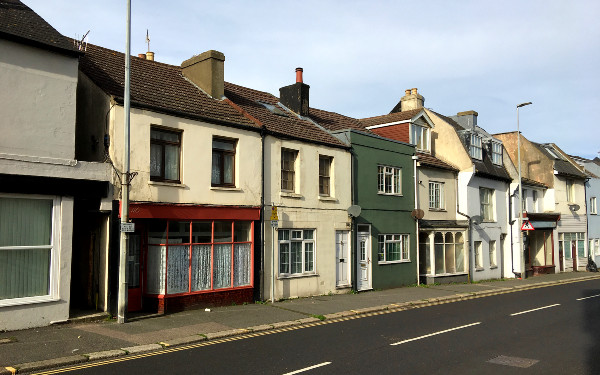 Edith's grandmother was a dressmaker before marriage, just as she had become. Her great grandfather was a blacksmith who became an Innkeeper in nearby St Leonards, at the Fountain Inn ( which I have since found was later called the Marina Inn), so with the name change and the street missing due to an intersection change, there was no hope finding it. There were several other addresses related to my ancestors that we tried to identify, but although we found the general areas, we had similar fruitless searches. So since we were not far from Brighton, we took the opportunity to see some of its well-known attractions. First on the list was the Royal Pavilion and Gardens.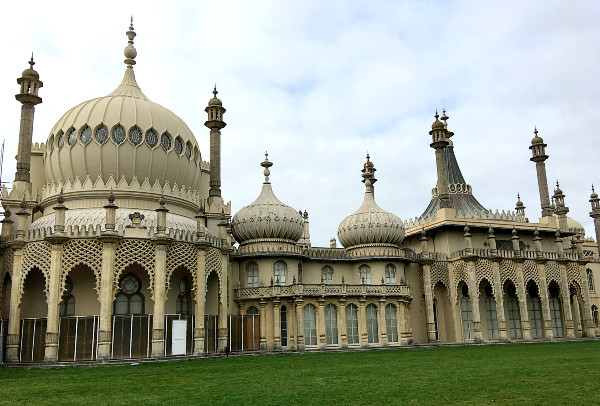 The Brighton Pavilion was commenced in 1787 for the then Prince of Wales, who became King George IV, as a seaside retreat. Now owned by the City of Brighton, it was undergoing renovations at the time of our visit. However the opulent Indian style architecture still managed to impress as it would have in the 19th century when Britain's imperial expansion made so many exotic forms of decoration the height of fashion. The other must-see in Brighton is the Pier.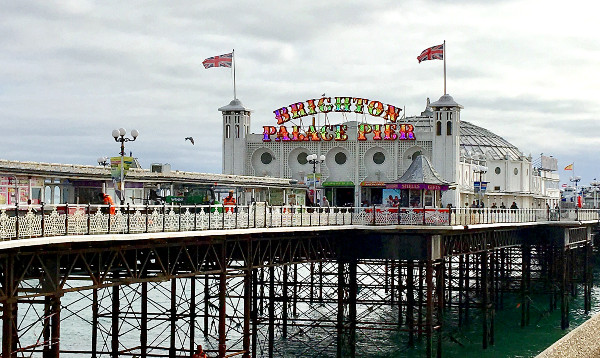 Prince George was among many who were advised to take the sea air by their doctors, despite the fact that the climate is not as favourable as it is in Australia. It has always intrigued me to see Britons wearing overcoats and scarves, sitting in beach chairs covered with blankets, "taking the air". And the beaches are, more often than not, simply gravel or pebbles. No wonder that piers such as these became so desirable, complete with shelters against the wind. The Brighton Palace Pier, opened in 1899, was first used as a theatre and entertainment venue. It continued in popularity despite storm damage in 1973 and rebuilding in 1986, but instead with a domed amusement arcade, a restaurant and fairground rides. It sees 4.5 million visitors each year.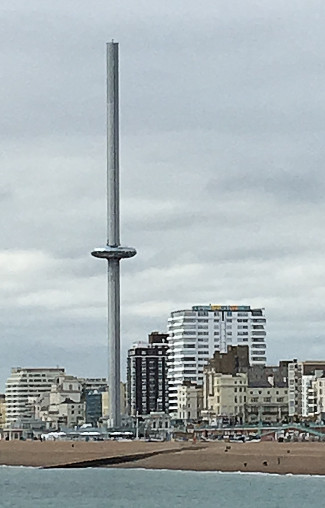 Creators of the London Eye have installed the latest seaside experience at Brighton beach – the British Airways i360. A glass viewing pod, ten times the size of a London Eye capsule, ascends a 450ft (137.16m) tower to give passengers a 360 degree view of Brighton and surrounds as far as the Isle of Wight. It can take up to 175 passengers on a 'flight', complete with Sky Bar to help them celebrate. The restaurant and gift shop are back at ground level. It is so popular that only finding out about it on the day meant we could not get a booking before we were due to head back to London. Instead we picked up a pizza at the Brighton Marina Village which was tucked close against the the White Cliffs and took it back to our next BnB which had spectacular views from above the cliffs over the marina and across the Channel.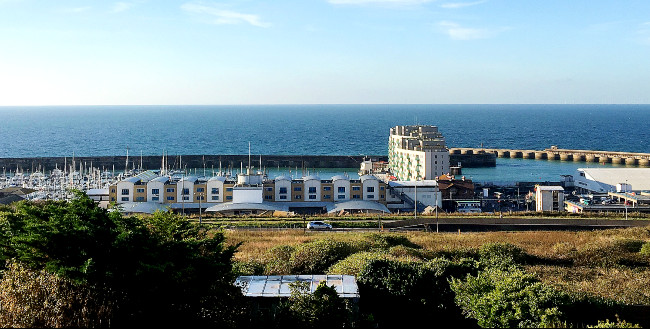 A funny thing had happened on our way to Hastings – the licence plate on the rear of our rental car fell off! We only discovered it when we stopped at our accommodation for the night. There were just a couple of days of our holiday left before heading home to Australia, so we did nothing about it, as the 'right' thing to do was to return the car to the Heathrow depot. Not keen to waste a whole day swapping cars, we hoped to manage undiscovered. But in Brighton the police pulled us over and asked where it was. We feigned total surprise and promised to take the car back, of course. We did, but not until after a visit to Windsor Castle and a night in Hounslow, near the airport!
I will have to return one day to continue my research. The longer I work on my family tree, the more questions I have to find answers to. And since my DNA results came in, the more cousins I have yet to meet!