Coffs Harbour – Part 2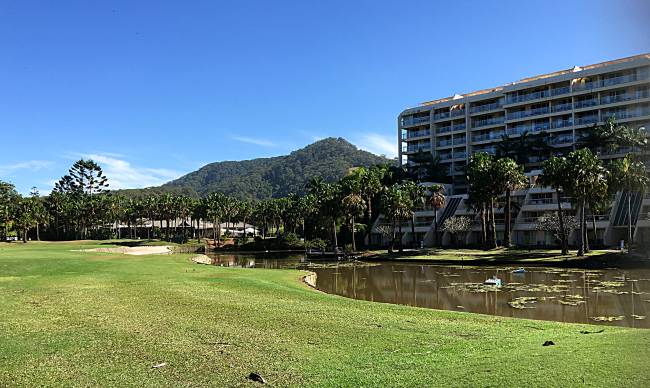 We so enjoyed our relaxing week's holiday at Coffs Harbour the first time, that when friends invited us to go back with them the following year, we jumped at the chance. Co-incidentally, they had timeshare at the same place – the Ramada Treetops Resort – 10 minutes north of the city. This time Hubby would have a golfing partner and I would have a companion for those times I became a 'golf widow'! And of course, these times would be more frequent since the men now had golf as their main focus.
We had barely settled in to the accommodation when the men took off for their first game in the resort precinct – Pacific Bay Golf Club – where Vin had played last time. They managed to sneak out again before breakfast on another day, since it is a quick 9 hole par 27 course.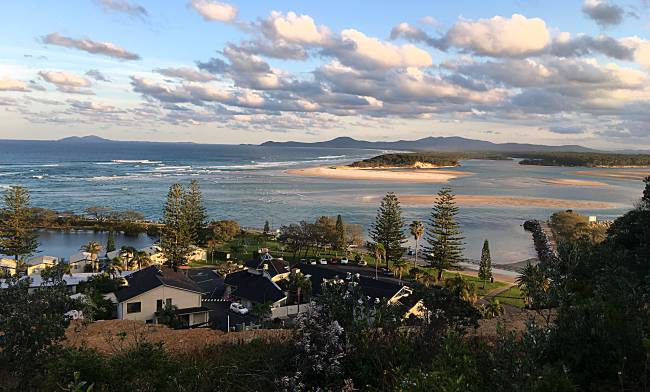 Vin was also keen to show Ray the beautiful course at Bonville that he had played last time so that, too, was ticked off the list. Meanwhile, Helen and I took a leisurely drive down to Kempsey, an hour further south, and called in to the Recreation Reserve lookout at Nambucca Heads to admire the views on the way back.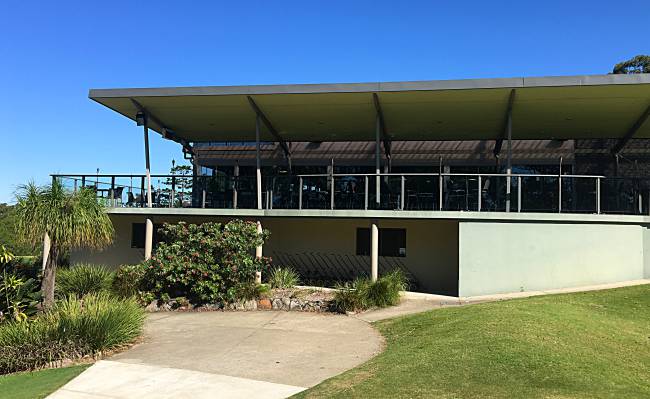 Completing their golf trifecta, the men also played at Coffs Harbour Golf Club.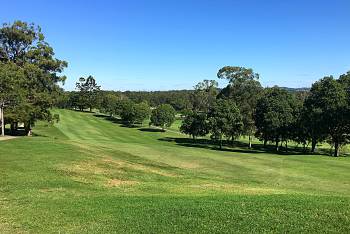 This is a 27 hole championship course, reputed to be one of the premier golf courses on the Mid North Coast. There are three different layouts: Lakes, East Lakes and West Lakes – so water hazards are aplenty!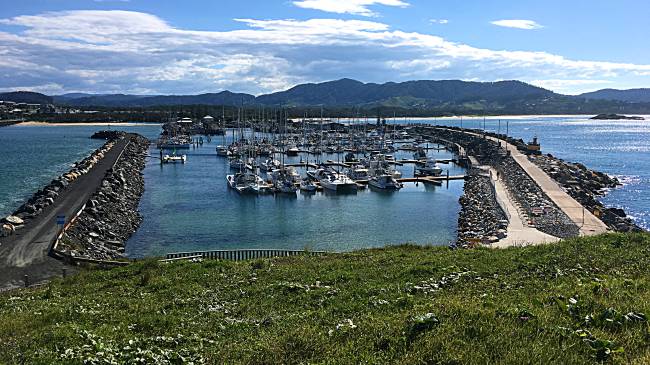 While the men golfed, Helen and I went down to the Coffs Harbour Marina and took a walk out to Muttonbird Island Nature Reserve. Views back toward Coffs are spectacular after quite a steep climb, but there were no mutton birds (shearwaters) to see as they had migrated to Asia for the winter.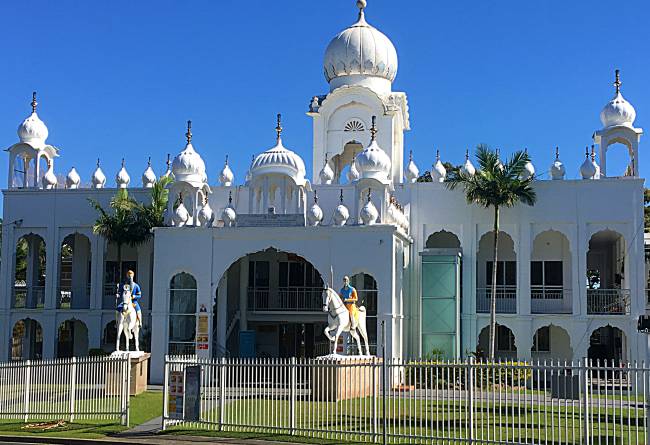 We finally managed to do some sightseeing as a foursome, in and around the Woolgoolga area, half an hour north of Coffs. The town has an interesting architectural landmark and popular attraction. The large white Guru Nanak Sikh Temple was built by the seaside town's Sikh community, whose Punjabi ancestors travelled to the mid North Coast of NSW around the time of Australian Federation in 1901.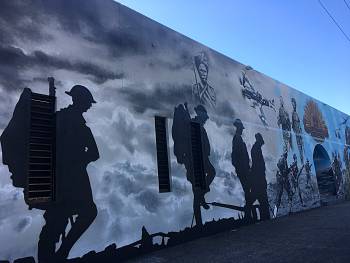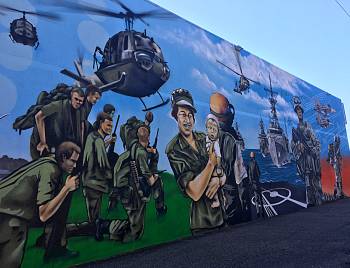 Another eye-catching attraction is the mural on the walls of the Woolgoolga Diggers Club, which commemorates the involvement of Australian Forces in the two World Wars and other international conflicts.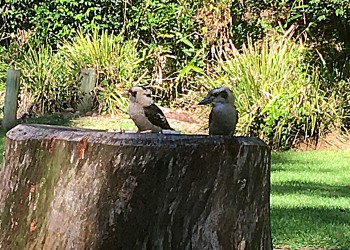 Grabbing some supplies, we proceeded to the Sherwood Nature Reserve for a picnic lunch and a walk to the falls. This subtropical rainforest is crammed with cascading vines, bangalow palms and magnificent stands of blue quandong. There are several creek crossings to navigate, one of which was just too wide for us since the recent rains so we were forced to abandon the trek. We were favoured, however, by the visit of a couple of kookaburras hoping for some scraps from our lunch.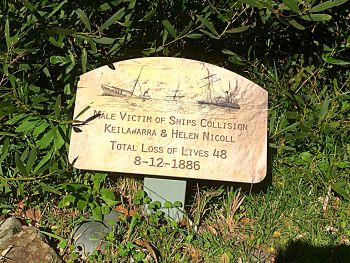 On the way back south we stopped at Emerald Beach, for a walk along the beach and out to Look At Me Now Headland. Along the way were encountered a memorial plaque commemorating loss of 48 lives from the collision of two ships off the coast in 1886 and marking the place where one of the bodies was buried.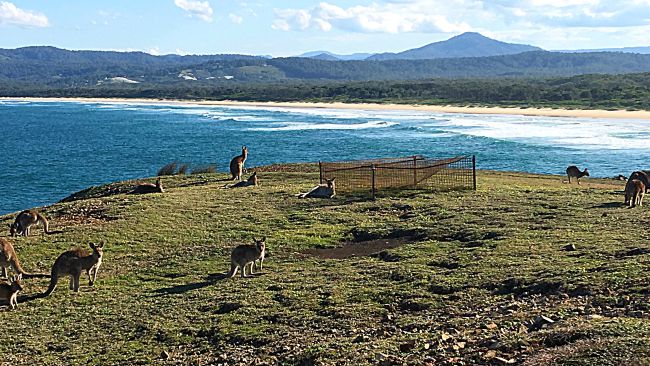 The headland is a favourite place for the local Eastern Grey kangaroos who graze here in numbers in the afternoons. They only stopped grazing briefly to look at us then continued, unafraid.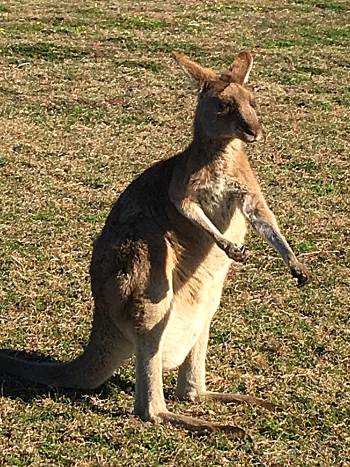 One even came right up to us as if wanting food. There are great views from the headland across to Moonee Beach. The Solitary Islands Coastal Walk extends for 60km from Sawtell, south of Coffs, through Moonee Beach, Emerald Beach and Woolgoolga to Red Rock in the north.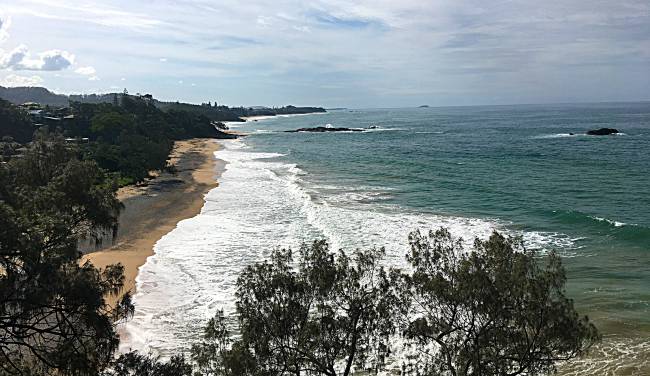 The walking tracks at Treetops lead out to the beach and join up with the trail along the coastal cliffs. Vin and I were keen to experience some of this, so headed north one day to Korora, just a couple of kilometres away. For our efforts we were rewarded with wonderful views.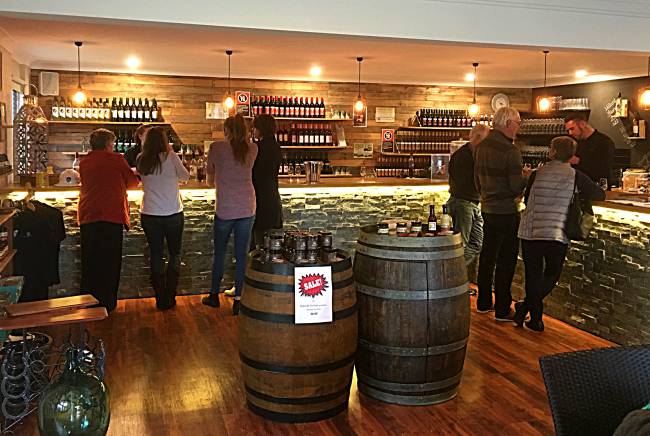 We did manage to squeeze in a visit to a couple of nearby wineries while we were in the Coffs Coast hinterland, even though the area is not really known for wine production and the varieties of grapes grown are not well known to us. At Nana Glen, in the Orara Valley, 25km northwest of Coffs, Two Tails Wines grows Chardonnay and Villard Blanc grapes for the white wines and Chambourcin and Jacquez for the reds and liqueurs. They even produce Blueberry wine, since this region is a big blueberry growing area.
Raleigh Winery, just off the Pacific Highway 15 minutes south of Coffs on the Bellinger River, produces some unique boutique wines, Fortified Wines and Brandy Crème Liqueurs. The Brandy Crème varieties include Choc/Coconut, Coffee, Butterscotch, Jaffa and Choc/Mint flavours. The white wines are from Villard Blanc grapes and the reds are Chambourcin. These two grape varieties succeed in the hot wet climate as they are fungal resistant. On our previous trip to the area we had tried to visit this vineyard, but heavy rains and flooding had forced it to close temporarily.
It was refreshing and less stressful vacationing in our own country for a change. It is important not to lose sight of the simple beauty than can be found right at home, when the attractions of Europe and Asia, for example, can be so seductive. We have so many great places to visit here in Oz, we must make more time to see as many as we can!
Related articles