Madrid Top Ten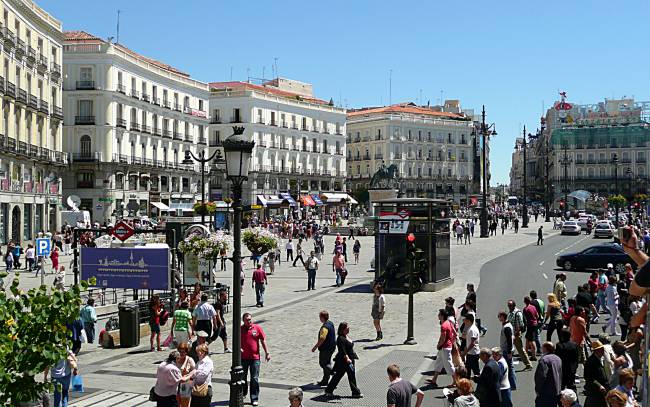 Madrid is such a fantastic city and there are so many things to see and do. I have made a list of my top ten, in no particular order. I hope you find it useful when you visit this wonderful city.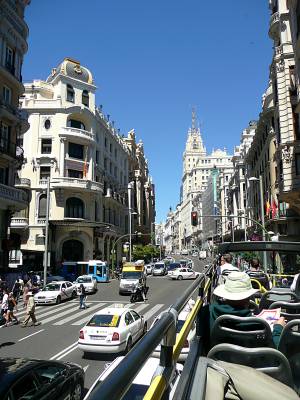 1 Hop-on, Hop-off Tour. I've said it before and I say it again – the best way to get your bearings in a new city is to take a bus tour atop a double-decker bus. It doesn't matter if you don't hop off – you can always go around again if you have time, or you can take the Metro some other time to see the attractions in more depth, at your leisure. There are several routes available, so you may need a two day pass to see it all.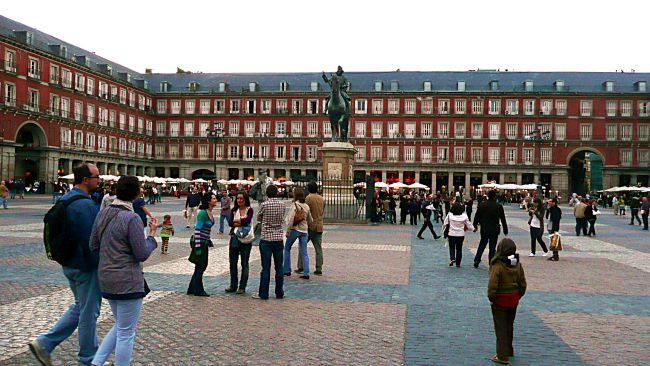 2 Plazas. The Spanish really know how to do a public space. The central meeting spot of Madrid is the Plaza del Sol (above) which is shaped like a letter D with streets radiating outward from the curve like the sun's rays and has a Metro station access at the centre. Another very popular plaza is Plaza Santa Ana, which is ringed with cafes and restaurants which have their tables and chairs across the square. It is a busy hub for drinks or dining in the evening. The Plaza Mayor is the biggest of them all. It dates back to the seventeenth century, when it was used for special events such as the beatification of Madrid's patron saint, San Isidro. The apartments that bordered the square housed the wealthy who had great views of the events that took place, including the executions of heretics and even bullfights!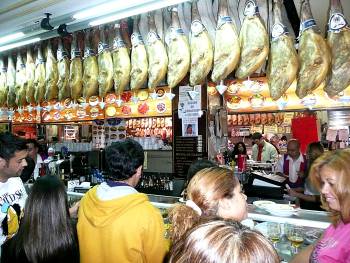 3 Tapas Tour When first in Madrid, on my own, I was anxious to find an evening activity that would be both sociable and safe. I booked a Tapas Tour with Viator which really solved the problem. A group of six like-minded tourists met in Plaza del Sol one evening and with our leader struck out for some popular tapas bars and restaurants. At the first bar we were taught how to pour cider from a bottle into a glass, at height without looking! We didn't waste too much. That first tapas was simple olives, but with each venue it became more involved and delicious. There were Croquetas, Boquerones (anchovies), Pulpo (octopus), Patatas Bravas, Albóndigas (meatballs), Gambas con ajillo (garlic prawns) and the most treasured of all – Jamón Ibérico (world famous Iberian ham). By midnight our leader had taken us to six tapas bars, we had sampled a wide selection of food and wines, and we were not going to stop. Pushing on until about 3am – without our leader – we made sure we had a most enjoyable evening. But beware – the trains stop at 2.30am – so you could have a long walk ahead of you to your hotel like I did if you feel like following my example!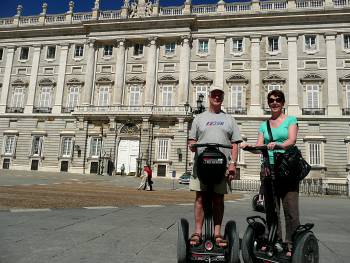 4 Segway Tour Getting to all the attractions is easy in Madrid, as the Metro is very efficient and services are frequent. And if you've already been on a HO HO tour, you will have a good idea where you want to go. But although the central area of Madrid is easy to walk around I was keen to try the newer mode of transport that has you up close and personal to the attractions – the Segway. Again this was booked through Viator and was reasonably priced for one and a half hours of fun. Once we got the hang of it, it was exciting to race around Plaza de Espana to see the Don Quixote statue, and up the road past the Catedral de Nuestra Señora de la Almudena and the Palacio Real. The views from this elevated part of the city are spectacular.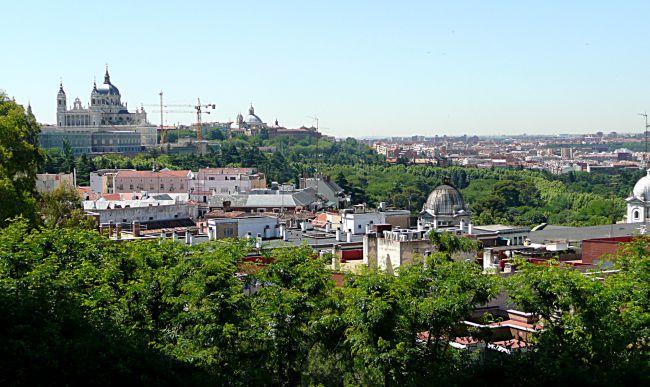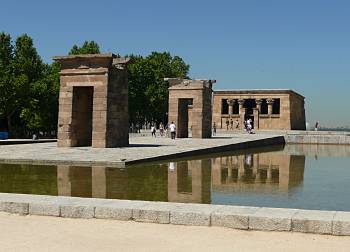 5 Templo de Debod I wouldn't have expected to find a genuine Egyptian temple in the heart of Madrid, but there it was as we sped past on our segways. Naturally I had to take a peek inside, I was so intrigued. The temple was originally constructed about 2200BC and dedicated to the god Amun. Apparently when the Aswan Dam was being built in Egypt, a number of temples were under threat of destruction from the rising waters. President Nasser gave the temple to Spain in thanks to the Spanish archeologists who had worked to save the temples. It was reconstructed block by block in a reasonably faithful rendition of the original.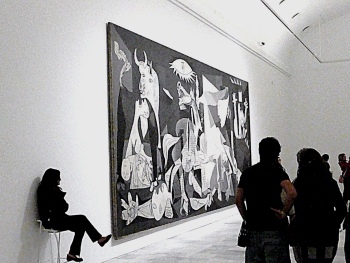 6 Art Galleries The most well known gallery in all of Spain is the Prado. It houses a huge collection of works by Spanish artists such as Velázquez and Goya as well as other European artists, particularly the Flemish masters such as Rubens and Rembrandt. It is so big you need to allow a large part of the day to see it and even then a second visit might be necessary to give it justice. Smaller and more approachable, however is the Reina Sofia gallery and museum, mainly dedicated to 20th century Spanish art. The works of Dali, Miró and Picasso feature, among others. The latter's Guernica – a protest against the Spanish Civil War – is the most famous piece. The museum forms one side of the so-called Golden Triangle of Art (along with the Prado and the Museo Thyssen-Bornemisza).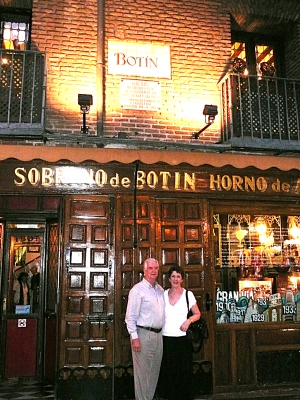 7 El Sobrino del Botín You cannot come to Spain without sampling some of the iconic dishes such as paella, tortilla and churros con chocolate – a popular Spanish breakfast. But the most popular would have to be the cochinillo asado, or roast suckling pig. And the most iconic restaurant to do this would have to be the Sobrino del Botín. El Botín is reputed (by the Guiness Book of Records) to be the oldest continuously trading restaurant in the world, founded in 1725! It is a very popular restaurant which requires booking well in advance to get one of its preferred sittings, especially if you want to sit in the underground cellars. Needless to say, the pork was very tasty with terrific crackling! A word of caution, though. If you don't want bread, ask them to remove it or you will be billed for it. It is a rather expensive meal already.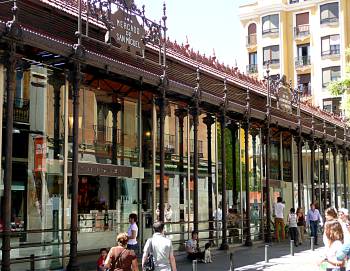 8 Mercado de San Miguel While we're on the subject of food, a popular spot for lunchtime tapas after a wander around the many food stalls, is the San Miguel market. A pretty iron-roofed market not far from Plaza Mayor, it was built in 1916 and renovated in 2009. There are several areas providing stools and bench tables for patrons but they get snapped up pretty quickly. Wine, beer, champagne and coffee can also be purchased from some of the stalls. The crowds make being served at the more popular stalls a challenge, but the variety and quality of the tapas was well worth it.
9 El Rastro Another type of market worth seeing is the El Rastro open-air flea market, held Sundays and public holidays from 9am till 3pm. Over three thousand stalls line the streets in an area not far from La Latina metro station. As well, a number of antique shops open at these times to further draw the crowds. Although second-hand items can still be found, such as old books, the majority of items – clothes, jewellery, handbags, CDs, videos, paintings – are new. The crowds can be very dense, making security an issue to be wary of.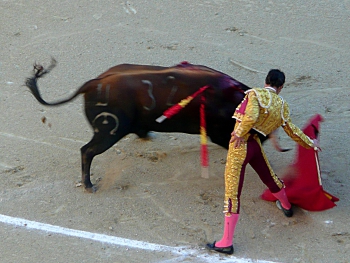 10  Las Ventas or more precisely, La Plaza de los Toros de las Ventas, hosts one of Spain's most contentious practices – the Bullfight. In several regions of Spain, the killing of the bulls at the conclusion of the fight has been banned, but not here. One might argue that if the tourists boycotted such events the practice may be abandoned, but I don't think so. The bullfight is entrenched in the Spanish culture and is still a beloved sport. So with mixed emotions we attended our first, and last, bullfight. During the summer months the corrida, as it is known, presents a succession of six bulls to do battle with a couple of squads of matadores, banderilleros and on heavily padded and blindfolded horses, picadores with lances. There is much fanfare with trumpets, music and processions of the bullfighters in beautifully decorated costumes.  The spectacle would be great entertainment were it not for the cruelty and ultimate fate of the poor bulls.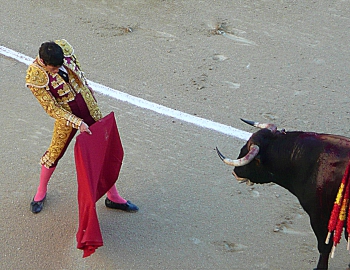 There is certainly great skill and bravery demonstrated by the men, as well as admirable courage shown by the bulls. However we were sickened to see the poor beasts dripping blood from the lance wounds and the places where barbed sticks were speared into the bull's shoulders. And as the bull became exhausted through loss of blood, its feeble efforts to rise to the matador's challenges was a pitiful sight. After the final fatal cut it took some minutes for the bull to die. Then a gaily decorated team of mules entered the ring to drag the corpse away, trailing a line of blood behind it. Men then came out with brooms and bins to sweep away the evidence soaked into the sand, before the next bull and team of bullfighters arrived to repeat the spectacle.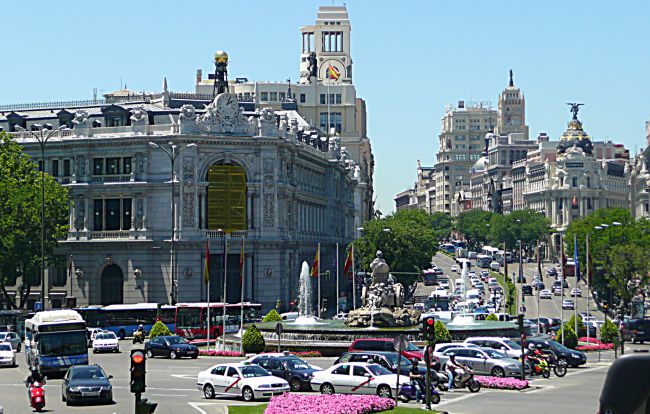 Related articles