Istanbul – Where Europe and Asia Collide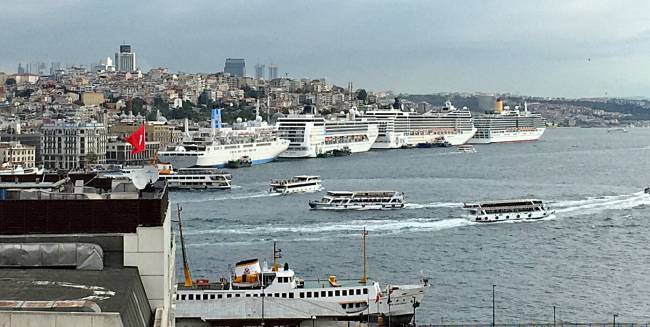 In what other city could you do this – arrive in its European airport and later, depart from its Asian one? A city which has its roots in Asian history but a modern European outlook. A culture based on a strict Asian religion which is nevertheless quite secular and liberal. Istanbul "takes the cake" – or should that be the Baklava?
The easiest and cheapest way to transfer from Istanbul's Atatürk airport to the old part of town (Fatih) is by train and tram. Customer service people at the station showed us how to purchase the tokens we needed for both train and tram, while a Turkish passenger kindly helped us to negotiate the transfer at Zeytinbürnü and kept an eye on us all the way in to Eminönü. This was just the first of many acts of kindness we received from the local people during our holiday in Turkey.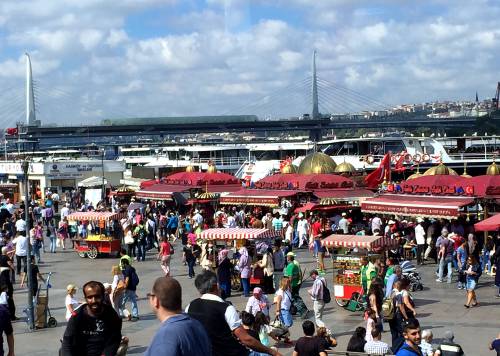 Our hotel – the elegant Legacy Ottoman – was very well positioned, with easy access to the Spice Market, the Galata Bridge and the Bosphorus. (In fact the views of the harbour from the restaurant at breakfast time were breathtaking.) On our first night there we took a stroll to the Galata Bridge area where the fish "sandwich" vendors line their boats up against the wharf. The mackerel is cooked on hotplates on the boats, while the sandwiches of thick Turkish bread, onions, lettuce, and fish are made up at the stalls.  This is a popular snack dinner for many Turkish people, not just the tourists. (An alternative is to dine in one of the many restaurants beneath the bridge.) After that we walked back to the hotel, stopping for a late night dessert of baklava, chocolate kataïfi (shredded filo cake) and Turkish coffee at one of the many cake shops in Istanbul.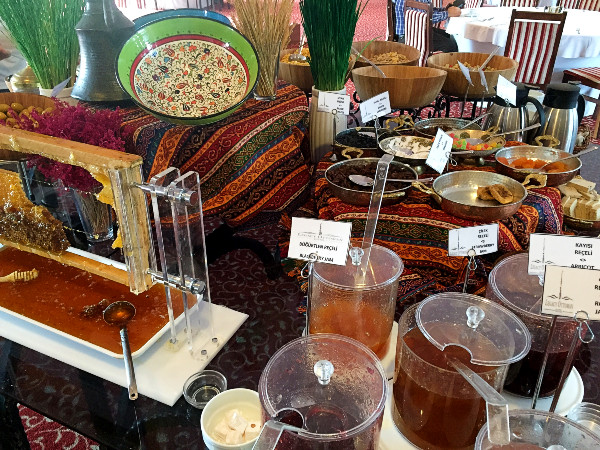 Next morning we were amazed at the spread of foods offered on the breakfast buffet. Apparently no Turkish breakfast is complete without several types of cheese, olives and breads. Though that was not to my taste – at breakfast, at least – I did enjoy the köfte (meat balls) and the halva on the first morning, while I had eggplant lasagne and lentil soup on the second! I could not believe the amount of cakes or sweets provided – the Turks certainly have a sweet tooth!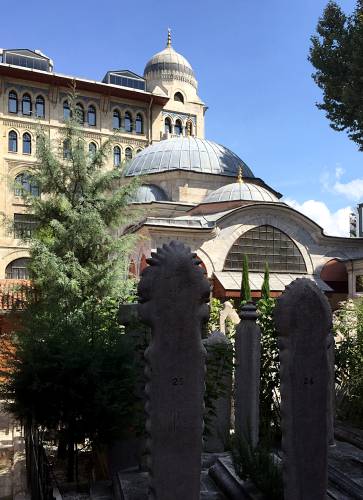 Suitably fortified for a day of exploring, we discovered a world of wonder right outside our hotel. The first special place we visited, we had seen from our hotel room window – a mosque-like building below. It turned out to be a Mausoleum (Türbesi) for two of the Ottoman Empire's many Sultans – the loved Abdülhamid I and his unscrupulous son Mustafa IV.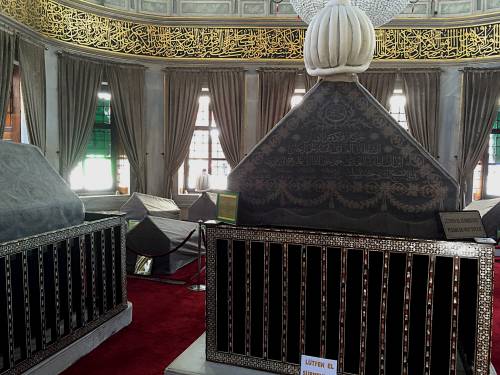 Inside were not only their tombs, but smaller tombs for younger family members as well as a shrine housing the footprint of the Prophet Mohammed. Outside there were further graves for other household members.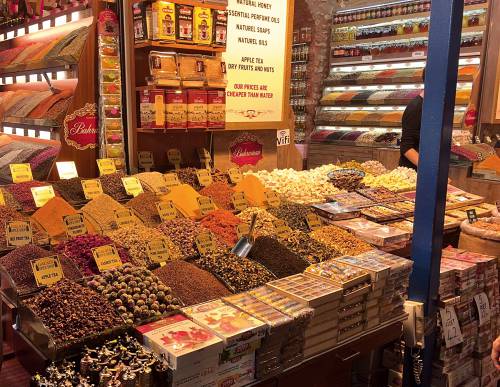 The Spice Market was next on our list – alleys full of stalls selling colourful fruits, sweets (Turkish Delight – Lokrum), cakes, teas, preserves and spices. We were surprised to discover the lokrum comes in many varieties – some more like a soft nougat than the jellied substance we were aware of. We stopped at the nearby Hamdi Köfte restaurant for a lunch of köfte and bean salad, where I also tasted my first Ayran – a yoghurt drink – which I really enjoyed. Further afield we found streets where only a single type of merchandise was sold – hardware, clothing, manchester, lingerie, jewellery and so on. We bought a hot kataïfi and cheese "pie" with crushed pistachios on top to share and later found fresh squeezed pomegranate juice – delicious.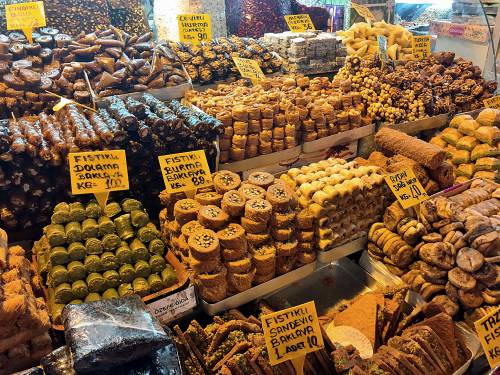 As we have done in other countries where we will be for a couple of weeks, we bought a local phone SIM for my mobile – using Google Maps was very useful in preventing us from getting lost in this city with its narrow lanes and crowded bazaars! We explored on our own this first day before joining our Gate 1 Travel tour. That was to take us right around Turkey, visiting all the major attractions. Free wifi was available in all the hotels, but mobile access was handy on the bus and for when we hired a car on a free day.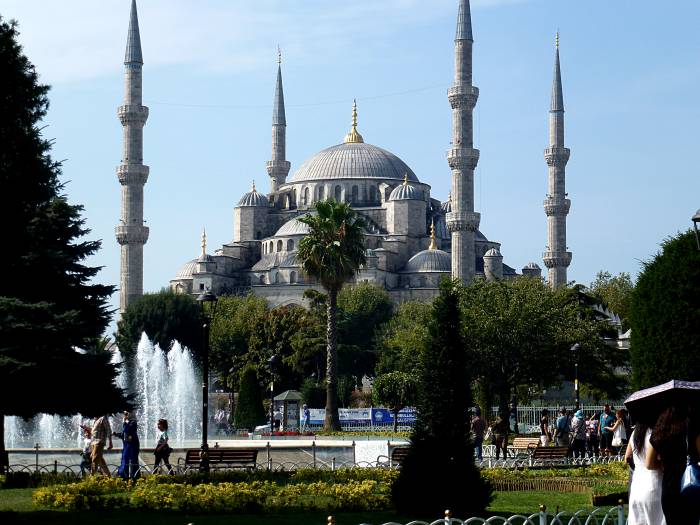 Our official Gate 1 organised tour began with a visit to the Sultanahmet Mosque – known as the Blue Mosque. It is so called because of the beautiful mosaic tiles that cover the walls and domes.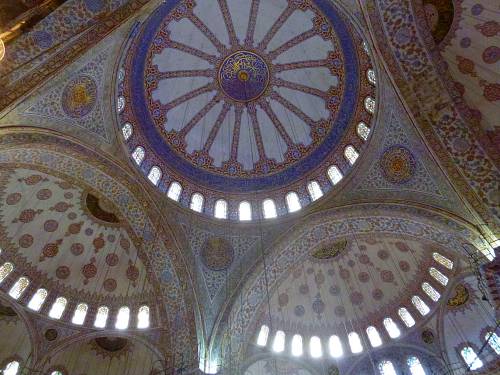 It was built from 1609 to 1616, during the rule of Ahmet I. The mosque has one main dome, six minarets, and eight secondary domes. Because it is a place of worship, women must cover their heads with scarves and wear modest clothing, while the carpeted prayer area is cordoned off for tourists. Shoes are removed at the door and carried with you in the plastic bags provided. An interesting feature was the suspended light fittings and the necessary wires that stretched overhead, making photography a real challenge.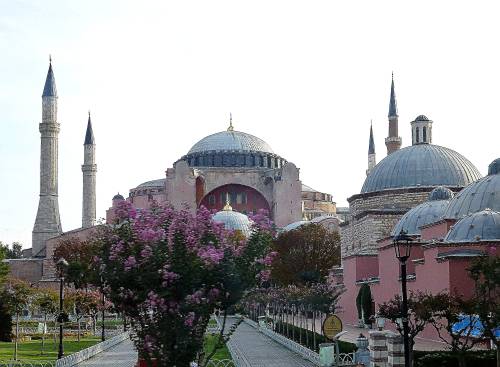 Just a short walk away is the pink Ayasofya (Hagia Sophia) church/mosque, now a museum. Built in 532 as a Greek Orthodox cathedral and briefly used as a Roman Catholic basilica, famous in particular for its massive dome, it remained the world's largest cathedral for nearly a thousand years, until in 1453 it became a mosque under the Ottoman Empire. It was restored and opened as a museum in 1935. There is no requirement for women to cover their head when visiting the building and you are free to walk anywhere as it is not used for prayer – though there are moves to overturn this.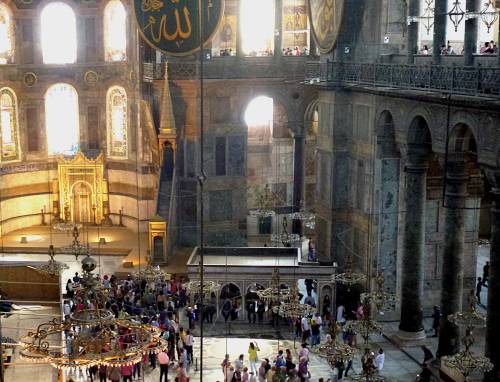 Both Christian and Muslim features have been retained or exposed, such as the ornate mihrab where the altar used to be and the beautiful mosaics representing Christ and various saints, angels and religious figures. One interesting feature is a column with a hole in the middle covered by a bronze plate, known as the wishing column. It is said that if you can insert your thumb into the hole and spread your fingers flat creating a full circle with their sweep, whatever ails you will be cured. There was quite a queue of people wanting give it a try, so ever the optimist, I joined in – and managed to accomplish the feat. However my continuing bronchitis proved the legend baseless!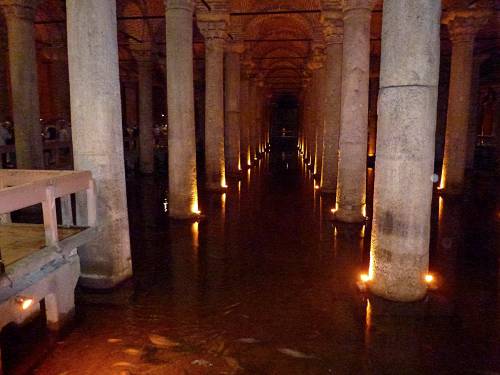 Not far from the museum is the Basilica Cistern, an underground chamber approximately 9,800 square metres  in area – capable of holding 80,000 cubic metres of water – although the depth is only a metre or so today. It was so named because it was built underneath an ancient basilica. The cistern supplied the water for the Palace of Constantinople and later the Topkapi Palace. The ceiling is supported by 336 marble columns with both Doric and Ionic capitals. It is thought they were repurposed from other existing buildings. Three columns are of particular interest – one with "hen's eye" carvings and two with the bases displaying the head of Medusa. These were discovered when restorations to the cistern cleared out tonnes of mud which had kept them covered. Walkways allow tourists to wander in a circuit around the cistern, examine the columns and feed the fish that inhabit the waters.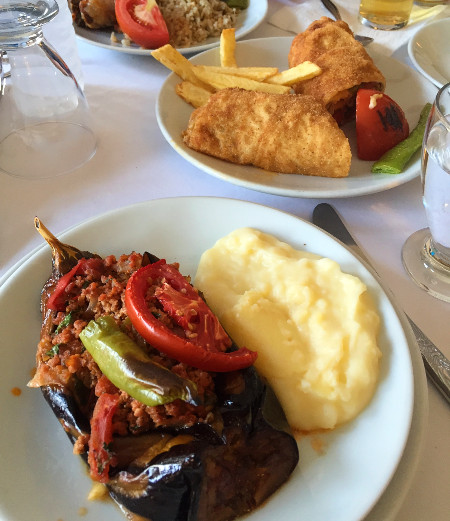 Between the Cistern and our hotel lies the Grand Bazaar. But before we joined the throng inside we stopped for lunch at the Asena Restaurant, just across from the Bazaar's Nuruosmaniye Gate and upstairs above the shops. Here we feasted on stuffed eggplant, slow cooked lamb shank and pilaf, stuffed capsicum and a fried wrap filled with meat and peppers, followed by Turkish coffee. All chosen from a bain-marie rather than a menu just as we entered the dining room and then served at our table. It was one of the best meals we had in Turkey.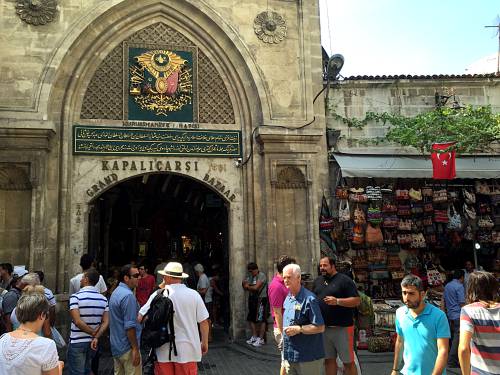 The Grand Bazaar (Kapalıçarşı) is one of the largest and oldest covered markets in the world, with 61 covered streets and over 3,000 shops. It commenced construction in 1455 as a textiles market in a domed building and a later domed building was a market for luxury goods. Smaller stalls and shops sprang up between and around these two until it became what you see today. Many of the stalls in the bazaar are grouped by type of goods they sell, such as jewellery, hand-painted ceramics, carpets, embroideries, spices and antique shops. The complex also houses two mosques, four fountains, two hamams, and several cafés and restaurants. It is an easy and interesting way to fill in an afternoon.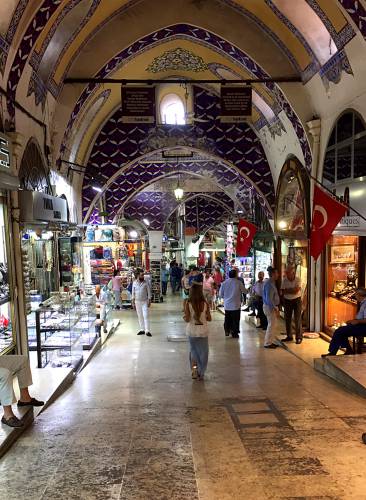 Of course any trip to Istanbul should include a visit to a hamam – or Turkish bath. Fortunately for us, since we had walked quite a lot that day, there is a hamam in the Legacy Ottoman hotel. This was quite an experience – but no photos!! First a sweating session in the sauna, followed by some time in the steam room. Then into the main "bath" area – not a bath in our terms, but a ceramic-tiled room with a central tiled massage table where we lay on heated tiles, naked except for a discreet towel. There our masseurs scrubbed us all over with a large rough loofah and washed us down with bowls of scented warm water. Then, creating foam with the aid of soapy water and pillowcases, they gave us a foam massage from head to foot and finally washed us down completely with more bowls of water. We came out feeling somewhat battered and looking like boiled lobsters, but VERY clean!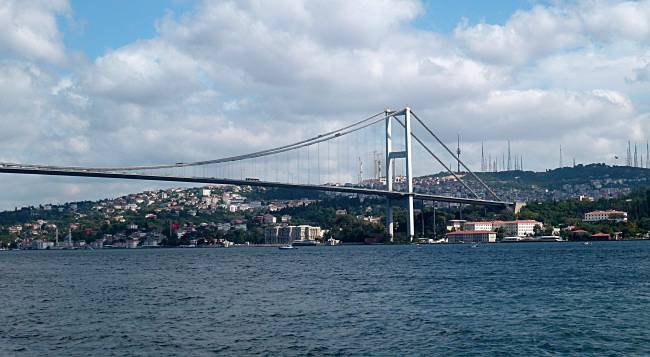 Our last day in Istanbul was at the end of our eleven day bus tour. As we journeyed back from Ankara in the Anatolian (Asian) part of Turkey, we crossed the huge Bosphorus suspension bridge and then the Galata Bridge over the Golden Horn to arrive at the Eminönü dock where we boarded a private ferry for a Bosphorus cruise.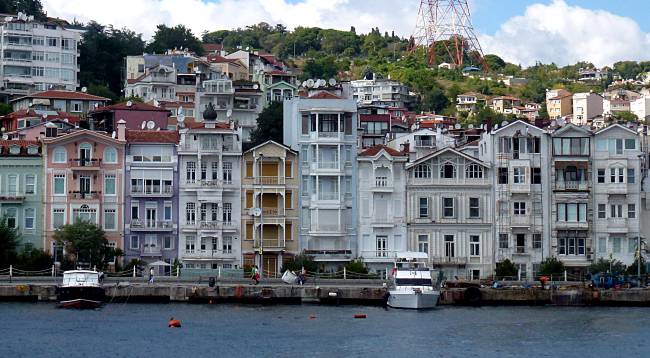 This took us north along the European side past the areas of Beyoğlu, Beşiktaş and Ortaköy, passing the Dolmabahce Palace, Arnavutköy with its photogenic Ottoman yalıs (wooden seaside houses), and further north, the Rumeli Hisari Fortress and under the Fatih Bridge.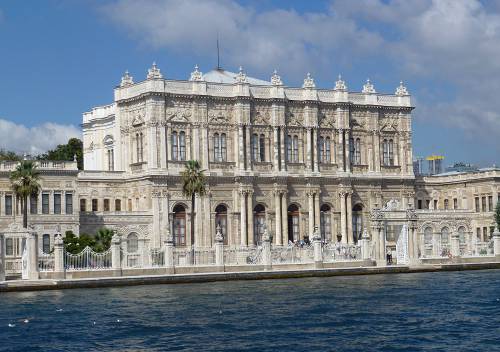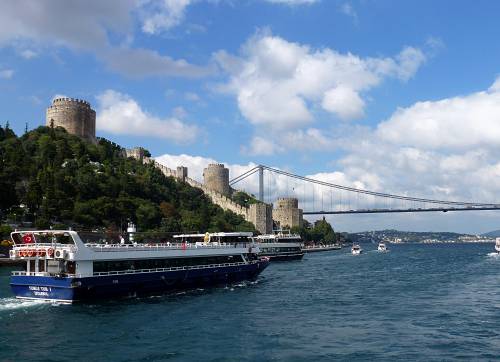 Coming back down the Asian side we saw the Kuleli Military High School, the Selimiye Barracks (where Florence Nightingale worked), the Maiden's Tower out in the middle of the passage and finally, at a distance, the Topkapi Palace, before docking once again at Eminönü.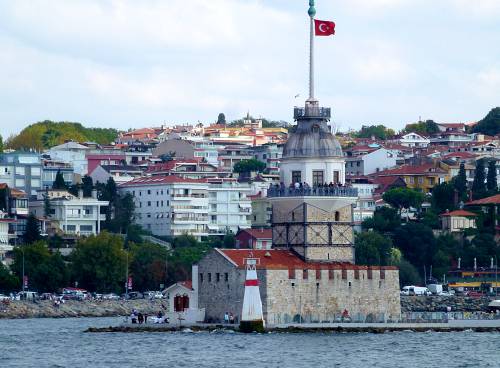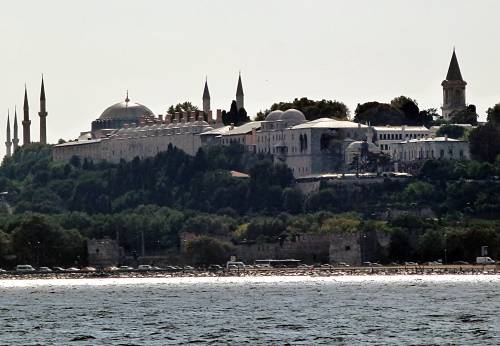 A farewell dinner with our new tour friends at our hotel – Hilton Garden Inn Golden Horn – rounded off what had been a most interesting and enjoyable tour of Turkey. Over eight more days we had visited Gallipoli, Çanakkale, Troy, Pergamum, Izmir, Ephesus, Hierapolis, Pamukkale, Antalya, Cappadocia and Ankara, the capital. Those stories and photos will follow.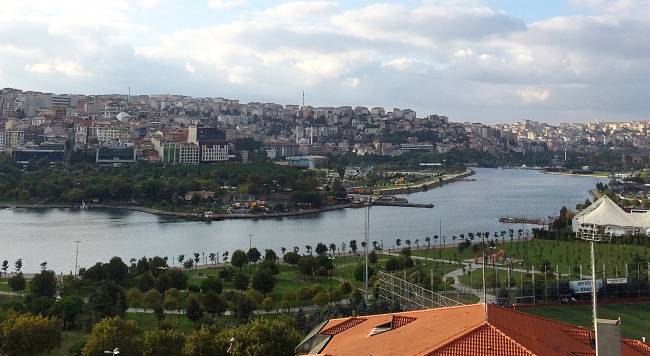 Related articles