St Martin/ Sint Maarten
St Martin and Sint Maarten, although they share one island, are two different countries. Sint Maarten, on the eastern side of the island, is one of the four autonomous constituent countries that form the Kingdom of the Netherlands, along with the Netherlands, Curaçao and Aruba. Its capital is Philipsburg. Saint Martin, on the western side (but with some territory to the north east) is known as an overseas collectivity (ie.under the sovereignty) of France and its capital is Marigot.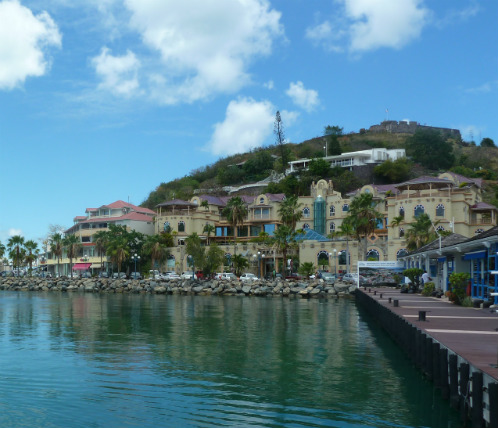 We arrived with no clear plan, except to visit Marigot. We shared a taxi with another couple across the island to Marigot and just walked around enjoying the sights. It was fun to practice my French on the locals. It is a very vibrant port area with the market on one side of the road and lots of restaurants  and shops on the other. One huge building turned out to be a shopping complex, somewhat reminiscent of the one in Aruba. In the back streets were lots more shops and a small marina with restaurants around it. We eventually found a cafe/bakery that suited us well for a light lunch and good coffee.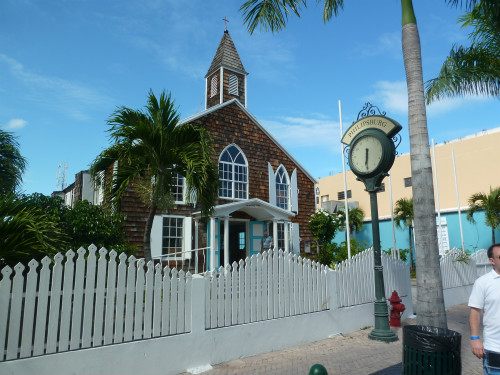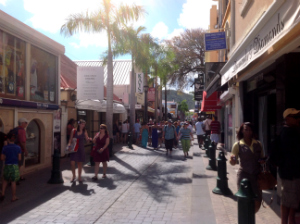 On the way back to the cruise ship we stopped in the main street of Philipsburg for a quick browse and then headed down to the boardwalk along the Great Bay beach.
Among the line of restaurants is the Firehouse Bar and Restaurant which is very interesting due to its display of fire station memorabilia and pennants from fire stations all over North America and beyond. They really honour fire personnel there. Unfortunately their advertised free wifi was not working, so we had to call in to the Cafe Vanille et Chocolat to use theirs and enjoy a great iced coffee while we checked emails.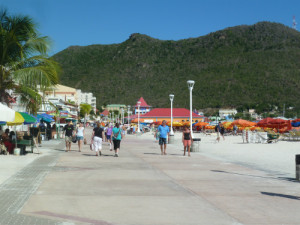 Then the drama began. We had lost track of time and suddenly realised we only had about 10 minutes to get back to the ship! It looked closer than it really was and soon we were racing along the boardwalk and the road to the cruise dock. Cruisers delight in watching the "runners" make their last desperate bids to board and we must have provided some enjoyment for them! I think we were among the last 6 people to board!
Related articles