Pamukkale and Hierapolis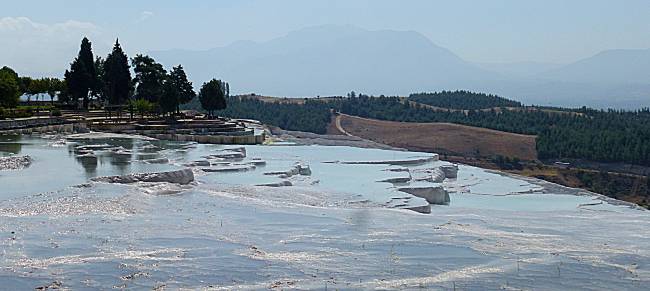 Looking like a white wonderland filled with multi-tiered wedding cakes, the fantastic landscape of Pamukkale near Denizli in western Turkey draws tourists by the thousands.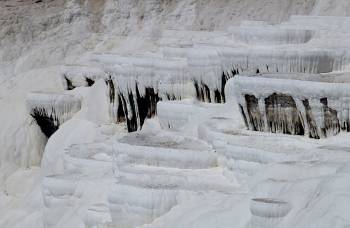 The calcium-carbonate-rich waters that flow down the hillsides from the hot springs above evaporate in the terraced pools leaving their crystals decorating the surface like sugar icing. This deposit eventually hardens to form the travertine terraces. The word Pamukkale means "cotton castle" in Turkish – an apt description.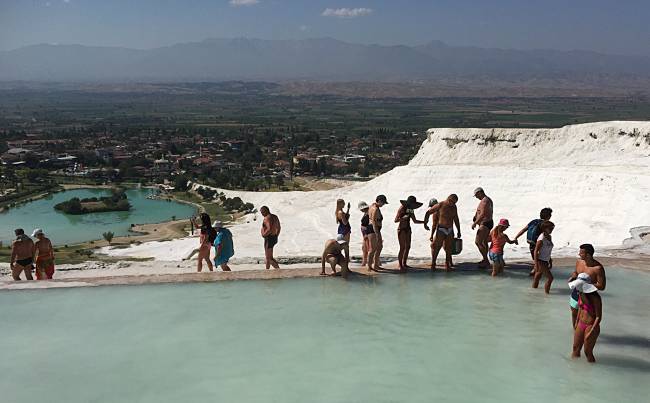 Tourists need to remove their shoes in order to explore the pools, many of them donning bathing suits and taking the benefit of the highly reflective surfaces to work on their tans. It is thought that the waters also possess healing properties. Some areas are understandably off-limits, as this geological oddity needs protection.
Tourists have been coming to the thermal pools for thousands of years since Greco-Roman times, when the city of Hierapolis was established as a spa town, about 190 BC. After the area was declared a World Heritage site in 1988, hotels at the top of the hill were demolished and traffic restrictions put in place, as the human activity was causing the site to degenerate.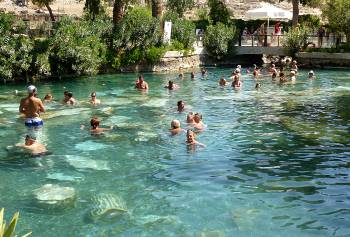 However tourists are encouraged to take the waters in the "Antique Pool" by the main relaxation and refreshment area. The pool gets its name from the large sections of Roman columns lying at the bottom. On a hot day such as we had, the leafy outside eating area was a welcome haven for enjoying freshly prepared gözleme and sipping a cold yoghurt drink, ayran, or the Turkish Efes beer.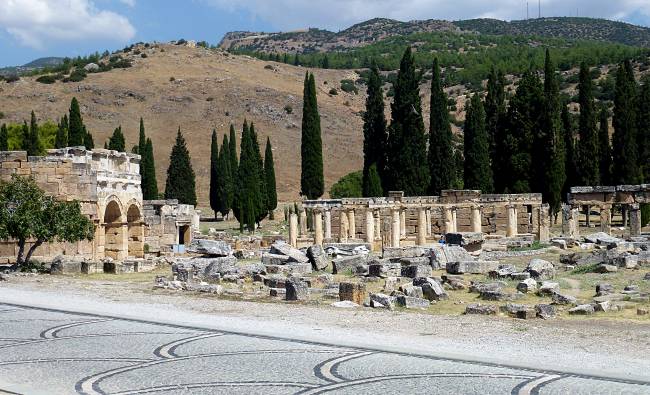 Within walking distance, the remains of Hierapolis can also be explored. Hierapolis became one of the most prominent cities in the Roman Empire in the fields of the arts, philosophy, and trade, as well as an important centre for Christianity.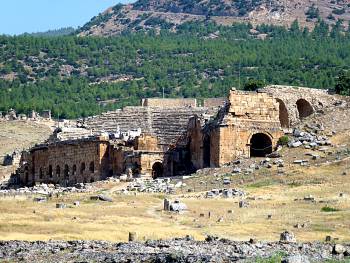 Although much of the city's buildings were destroyed by various earthquakes and the building materials "repurposed" by the locals over the centuries, the huge amphitheatre still remains an imposing site.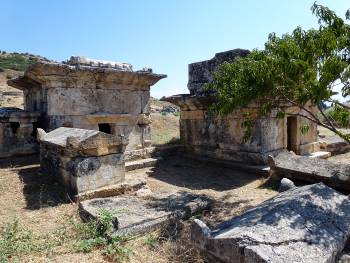 Further down the road is the huge Necropolis – the city of the dead – extending for over two kilometres. It is one of the best preserved in Turkey and contains over 1,200 tombs of various types of construction according to the wealth and position of the deceased. Apart from simple slab graves for the poor, there are large number of sarcophagi, both partially buried and raised, even atop other tombs, as well as family crypts or mausolea which look like small temples.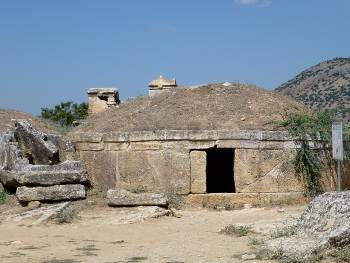 Particularly interesting are the tumuli, or round burial mounds which had a small doorway and tunnel leading to a large interior, again for multiple burials.
Related articles