Stopover – Kuala Lumpur
It was supposed to be a stopover for a few days on the way home from a holiday in Spain and Morocco, but missed flight connections put a halt on that. Now we only had a day and a half to sight-see, and hubby was keen to spend a chunk of that on the golf course. That was fine by me – I liked to wander on my own at those times, visiting the sort of sights he was not so interested in, like markets, churches and ruins.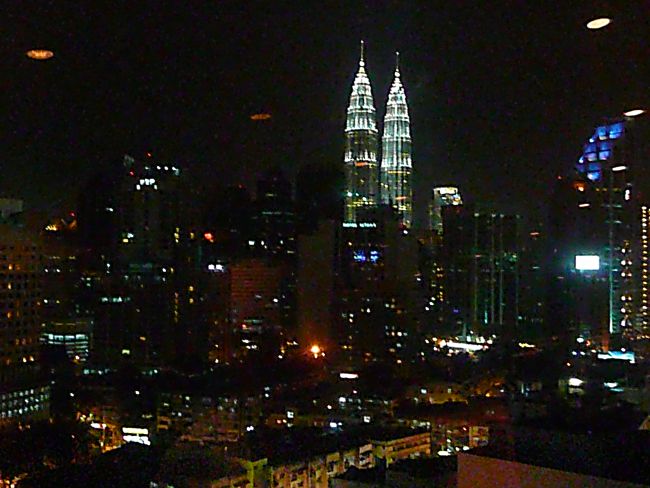 The international airport is about 45km away from the capital, Kuala Lumpur (KL), but access is very easy and speedy by train. From the station it was a very short taxi ride to our hotel. Luckily for us, our hotel manager was very understanding about our delayed arrival and the cancellation of one night's accommodation. The Federal Hotel was centrally located in the main shopping area – Bukit Bintang – making sightseeing on foot quite achievable. It is also a popular dining spot because of its revolving restaurant having wonderful views of the city skyline.
Eager to stretch our legs after the long flight, we set out straight away to explore. Chief site of interest for us was the tallest twin buildings in the world, the 88-storey Petronas Twin Towers, which have become an iconic symbol of Malaysia's futuristic development.
We also managed to visit several of the vast number of shopping malls which provide the city with its main source of income. My preference, however is for the market stalls and shophouses of Petaling Street, in Chinatown, or even Little India.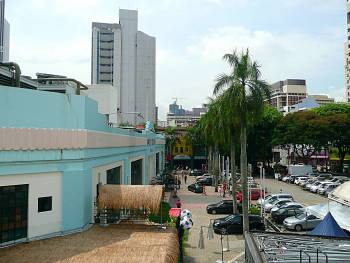 Although a market has existed on the site since 1888, the Central Market, built in 1928 as a wet market, is now a popular handicrafts market. Inside the building is a warren of boutiques, handicraft and souvenir stalls with traders selling local merchandise such as authentic Malaysian batik prints, embroidery, wood carvings and sculptures. The theme of the market is based on the various cultures in Malaysia, so that shops are divided based on the groups of races. There is even a Malacca 'Jonker Street', an area of Central Market that looks like a typical Baba-Nyonya house with Peranakan-style furnishings and fixtures on sale. The second floor has several restaurants and a food court serving Asian cuisine.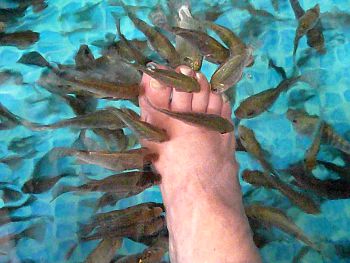 There is even a fish spa – not for the fish, but for tourists with tired, dry feet, who are not ticklish! If you can stand it – the fish nibble away at dead skin and leave your feet lovely and smooth. Great for after a day's shopping!
With the population being mainly a mix of Chinese, Malay and Indian peoples and the country having been part of the British Empire, there is a real mixture of architectural styles. The Masjid Negara (National Mosque) built in 1965, displays a contemporary architecture, with its main dome star-shaped with 18 points. These represent Malaysia's 13 states and the five pillars of Islam. It can accommodate up to 8,000 worshippers. The 73m-high minaret is easily the mosque's most distinguishable feature and a prominent feature of the KL skyline. Also impressive are the beautiful outdoor gardens with white marble pools and fountains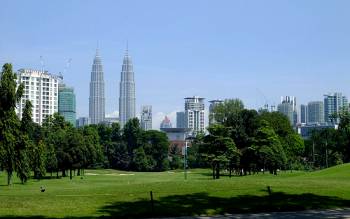 Keen to play a round of golf in a new country, hubby investigated booking in at Royal Selangor Golf Club, as it was just a short taxi trip from our hotel. The hotel concierge made the booking for him and gave him a letter of introduction as well, since it is a private club. When Vin got there, the guard at the gatehouse tried to block his admission, saying he also needed reciprocal rights from a club in Australia. He inadvertently let Vin see the list of permitted clubs, which allowed Vin to profess membership at the National at Cape Schanck, where our son was a member. A bit naughty, but he was in! It was a very interesting round, making a foursome with two wealthy local businessmen and their guest. Founded in 1893 and totally rebuilt after WWII, the Royal Selangor Golf Club offers two 18-hole championship courses and a short 9-hole option. There are also swimming pools, tennis courts, squash courts, gymnasium, driving range, games room, children's indoor and outdoor playgrounds, TV room, massage rooms and reading room among others. The par 72 courses combine the charm of the parkland environment with a panoramic view of the city's skyline.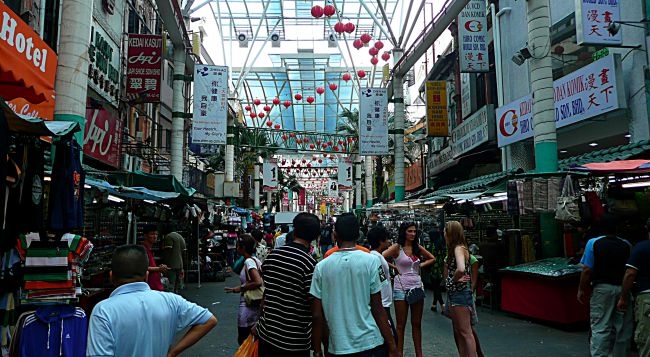 I spent the morning walking around Chinatown and down Petaling Street, resisting appeals from stall holders to buy pirated CDs and DVDs. The hustle and bustle of those places with their sights and smells is very appealing to me. It is a bargain hunter's paradise. There is almost everything here from clothes, souvenirs and electronic items to fabrics and imitation designer goods. Most of the shops here are little stalls but many locals claim that these stalls are where the best street foods can be found.
Unfortunately our time here was too brief to really have a good look around or to venture beyond the city area. But since Air Asia which is based here has such great fares (as we discovered in 2012 with our trip to Thailand and China) and KL is a popular hub for travel, I'm sure we will be back some time in the near future.
Related articles