Tulum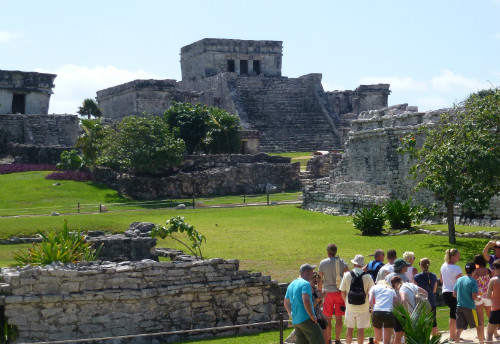 Just in case I never got to Central America again, I was determined to see some remnants of the Mayan Civilization. While some on our cruise opted to swim with the dolphins, I was focused on Tulum.  Although it would be a long way from where our ship docked at the island of Cozumel off the Mexican east coast, we were assured that taking a cruise tour would mean the ship wouldn't go without us if the tour was delayed coming back for some reason. First we had to walk through the town of Cozumel to the west and then take a ferry to the mainland at Playa del Carmen, then a bus ride to the ruins at Tulum.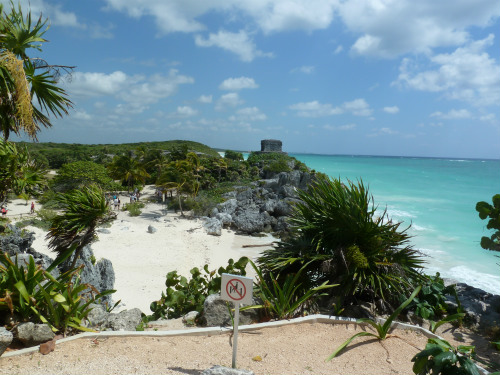 It isn't as big and beautiful as Chichen Itza, but that was too far for our tour. However it is unique in that it is the only Mayan temple and fort on the coast. Therefore it is popular with tourists as they can descend the stairs to the beach for a cool-off after a hot day around the ruins.
Sighting of iguanas atop various walls and parts of the ruins was a real plus for us, as well as seeing the curious coati which came to check if we had any food and scampered off again.
Before heading away from Tulum we had the opportunity to buy souvenirs in the tourist oriented market area and watch the daredevil descendants of the Mayans perform a type of bungy jump, as a group of four, from a revolving platform atop a tall post.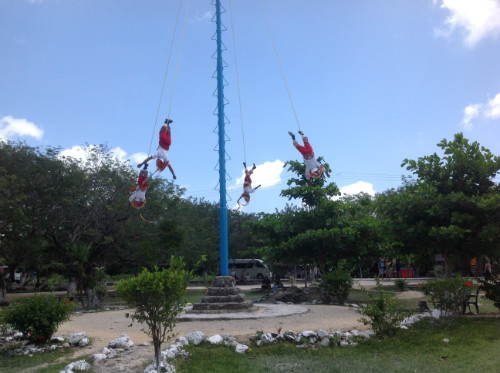 Our tour ended with a stop for lunch and an opportunity for a brief swim or paddle at the Los Lirios resort nearby. As usual we used this time to check our emails on the free wifi and did not discover how wonderfully warm the water was until nearly time to go.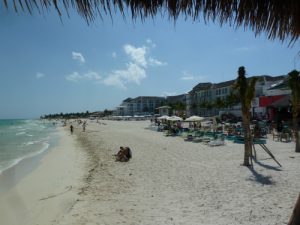 Related articles
Enchanting Tulum Watches Over the Caribbean Sea (apertureofmysoul.com)
Cruises to Cozumel, 5 Things To Do While In Port (cruisefever.net)
Ancient Mayan Ruins of Tulum (thetravelwench.com