Florida Everglades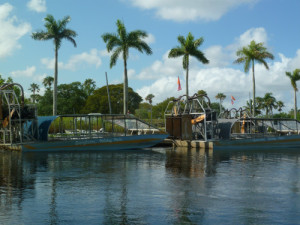 Coming off a cruise to the Western Caribbean and doing a back-to-back with another to the Southern Caribbean, we found ourselves at Fort Lauderdale with half a day to kill. The term "everglades" had always held a fascination for me as I imagined it as a swampy, dangerous place full of alligators and other fearsome animals. So it was that we embarked upon a 4 hour shore excursion arranged by Celebrity Cruises to the Florida Everglades. These are primarily open grassland swamps with not so many trees as the everglades in Louisiana.
However the Spanish Moss covered trees did look pretty spooky all the same.
When we reached the Everglades Holiday Park we were put aboard flat-bottomed airboats which could travel fast over shallow water and even swampy grass areas. The park covers 29 acres of wetland.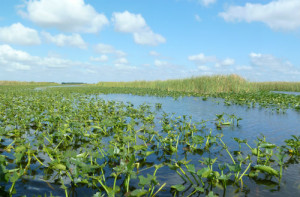 The boats took us along waterways where alligators and various wetland birds were usually seen. We even stopped at one point where a relatively tame bird climbed aboard and performed for his regular treats from the driver. There were not many alligators visible on the day we went, unfortunately. Nevertheless, the Gator Pit had lots for us to see – big fat lazy ones and little ones we were able to hold (with their jaws safely strapped closed).  The Gator Show is really a means of teaching the public about alligators and the philosophy of conservation and preservation  behind the centre. The alligators are apparently rescued from areas in Florida where they would be a danger to themselves or to humans, and brought to the centre for eventual release back to the wetlands.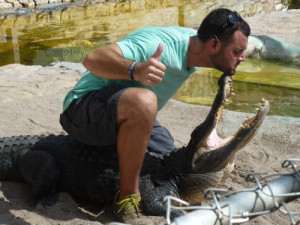 One of the Gator Boys there did an impressive demonstration of how to wrangle a gator and even put the gator's snout under his chin and let go with his hands. I'm surprised the gator did not whip around and bite him! Apparently the gator's jaw muscles are pretty good for snapping closed, but not so good at opening, so it was meant to be relatively safe. I wouldn't try that with the Australian crocodiles though! They are much more aggressive and much bigger, too! There's no way anyone would put that routine in a crocodile demonstration in the Northern Territory.
Related articles


Florida Everglades Airboat Tour and Alligator Show from Fort Lauderdale – $58.99
Enjoy an exciting Florida Everglades airboat adventure on this tour from Fort Lauderdale to Everglades Holiday Park. Your expert guide will navigate you through wetlands and point out alligators and other wildlife in their natural habitat. Follow your airboat tour with a live alligator show! Round-trip hotel transport is included.


Florida Everglades Small-Group Eco-Adventure by Foot, Kayak and Boat – $149.89
Take a scenic 1.5-hour drive south of Fort Myers where you can boat, hike and kayak through the beautiful Florida Everglades on this exciting eco-adventure! Watch for dolphins, sea turtles, bald eagles and more as your naturalist guide leads you through the lush, diverse Everglades landscapes. With a maximum of six passengers on this small-group tour, you are sure to have an intimate and unique experience.