Stopover Dubai, UAE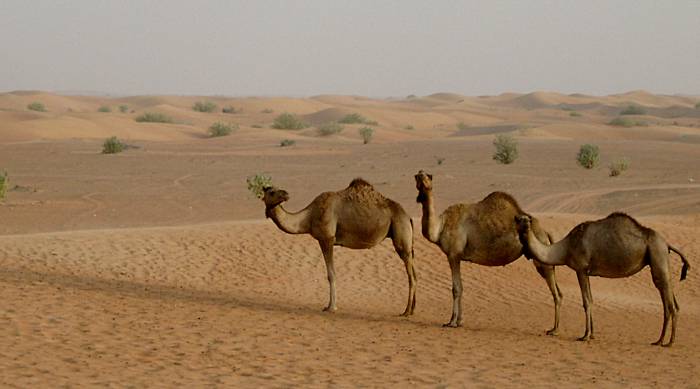 After island-hopping in the Aegean and a whirlwind visit to Paris and Bordeaux, we gratefully climbed aboard our Emirates flight to Dubai for some rest. The Emirate of Dubai is the second largest of the seven United Arab Emirates but has the biggest population at over 2.1 million inhabitants. It is constantly changing with its efforts to build the biggest and the best constructions in the world.
A short stop-over was planned to ease the jet lag of flying eastwards to Australia. For this type of visit a transit visa is all that is required and they are obtained once you arrive in the airport terminal. Imagine our surprise when we left the Dubai terminal to find that it was 37 degrees Celsius, still, at midnight! Thankfully both the transfer and the hotel had good air-conditioning. We were also amazed that because Dubai is such a travel hub, that hotels there have 24 hour check-in and out, so accommodation costs are based solely on time elapsed, not the calendar. And the hotel rooms are spacious and modern, in stark contrast to some of the European places where we had recently stayed.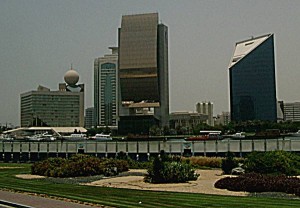 Despite our late arrival we were up early as we had things to do and places to see! First a spot of shopping at a mall nearby – walking there in the morning heat was more difficult than we expected as the roads are wide and hard to cross in places. Then off on our Hop On – Hop Off tour – not as pleasant an experience as we had hoped. The bus we were motioned onto was a double-decker with an open top covered by a small area of canvas towards the front – not what you want in the height of summer! Nowhere in the bus was there any air-conditioning! And the buses only ran every hour, so if we got off, we had a long wait n the heat for the next one. It was fascinating to see the high-rise buildings springing up everywhere and the areas of green grass in such a desert city kept alive with plenty of water from the desalination plant.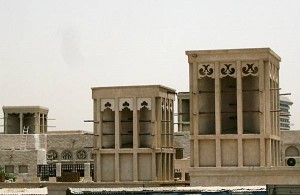 Dubai has put so much money and effort into modernisation and growth, but it is the historic and cultural aspects that always appeal to me. It was an interesting contrast between the modern buildings and the traditional ones with their mud brick appearance and wind-towers used for cooling in the historic Al Bastakiya district, which is the oldest residential district in Dubai dating to 1890.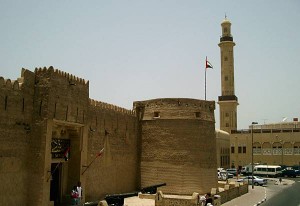 I also preferred the look of the old Dubai Museum inside the Al Fahidi Fort, built in 1787, the oldest building still standing the emirate today.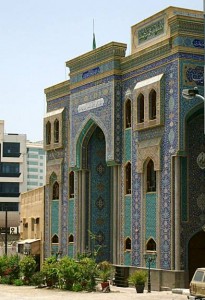 A mosque nearby was so spectacular, covered with blue ceramics.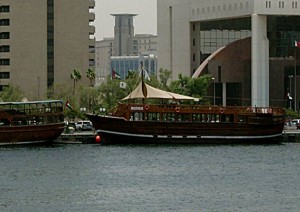 Crossing the "creek" via the Al Maktoum Bridge, we glimpsed the traditional dhows moored along the banks.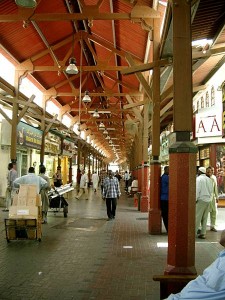 We stopped at the Gold Souk to do some jewellery shopping and then decided we could not bear to go on in the hot bus, so took a taxi to see the remainder of the sights.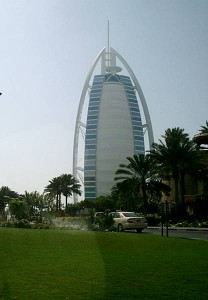 Out at Jumeira Beach we tried to get in to the Burj Al Arab hotel, but we were not permitted past the security booth as we had no booking!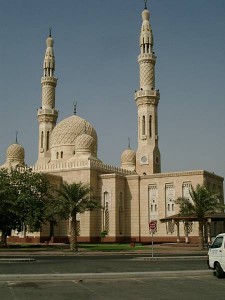 We also passed the beach area which is restricted to female usage and stopped at the Jumeira Mosque, which was quite beautiful.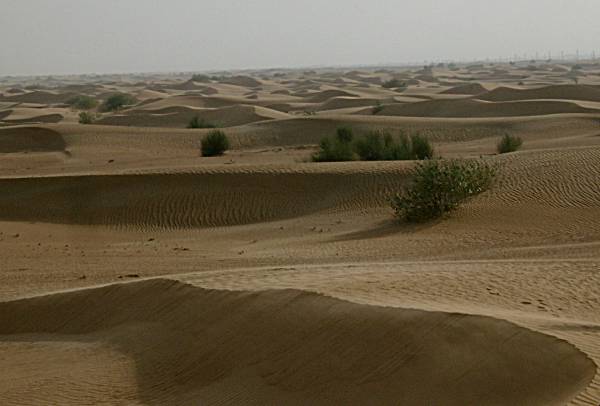 Back at the hotel that afternoon, we were again picked up by a tour company for a 4×4 Desert Adventure Safari – a spot of "dune-bashing". This was a convoy of 24 vehicles with up to six people in each, driving around in the sand dunes a few kilometres from the city. This was at once exhilarating and terrifying, as the vehicles threatened to tip over and roll down the slopes due to the steep angles of the sides of the dunes we were traversing. Our driver, Adam, was quite a character, playing music and encouraging us to sing along with our fellow passengers who were, coincidentally, also from Melbourne.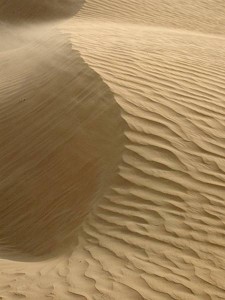 Several times we stopped for photos of roaming camels, interesting dune formations and the beautiful sunset,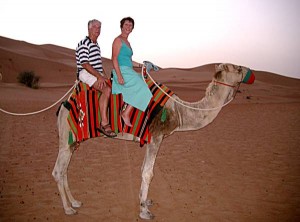 then on to the berber 'base camp' for camel rides, a delicious buffet dinner and belly dancing.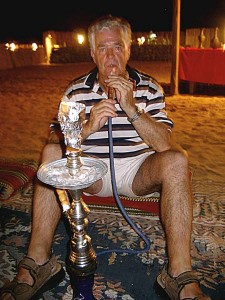 While I queued up for a henna tattoo on my hand and forearm, Vin had a try of the hookah pipe. Then I joined in with some of the other women for the dancing. It had been 40 degrees Celsius during the day, and was still very warm into the night, so I didn't dance for long!
Our flight home early next morning was under-booked, so we were able to stretch out and sleep to recover from our exhausting but very enjoyable stop-over. Obviously a day and a half is not sufficient time to fit much in, so we will have to go back one day.

Related articles


Red Dune Bashing in Dubai Including Desert Camp Experience with BBQ Dinner – $49.00
Enjoy an exciting dune bash and BBQ dinner under the stars on this 5-hour desert experience from Dubai. Travel into the rolling red dunes of the Lahbab region and feel the thrill as your 4×4 slides up and down the steep slopes. Stop for photos of the desert sunset and then head for a Bedouin-style tented camp to enjoy a camel ride, try sand boarding and get a henna tattoo. Lastly, savor a mouth-watering BBQ dinner as you watch colorful belly dancers and performances by whirling dervish-style dancers.


City Sightseeing Dubai Hop-On Hop-Off Tour – $59.40
See Dubai's main attractions on a City Sightseeing hop-on hop-off bus tour. With your 24-hour or 48-hour pass, enjoy unlimited sightseeing along five routes, taking you to more than 40 top Dubai attractions including Jumeirah Beach Park, Burj Al Arab, the Dubai Museum, Burj Khalifa, DIFC, Sheikh Zayed Road, Madinat Jumeirah, Gold Souk and Dubai Creek. Your hop-on hop-off pass includes a VIP Global Village entry ticket, an Arabian Dhow Cruise, walking tours, entry to select museums and more fun perks!