Bahamas Celebration Cruise 2014
Our embarkation process was delayed by the late release of the previous passengers by the police! Yes, the whole cruise was detained on their arrival in port at West Palm Beach by police investigating the suicide of one of its passengers overnight. Apparently he had been seen to jump overboard and the ship had turned around to search for him, in vain.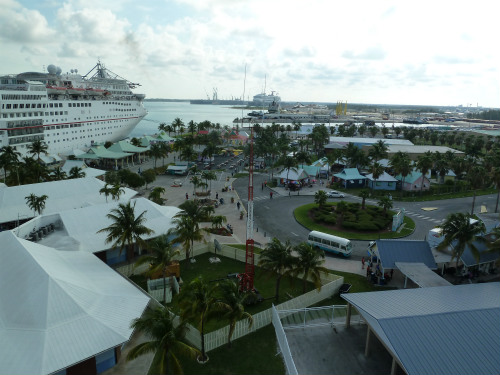 Thankfully there were no such dramas on our cruise. We had purchased this cruise as part of a timeshare/holiday club promotion. It involved an overnight on the ship, two nights at the Flamingo Bay Resort and another overnight cruise back to West Palm Beach. During the embarkation process we were offered a chance to sign up for the specialty restaurant or book ahead for the formal dining room. There were also offers of discount wine packages, so we took that one. The partly consumed bottle of wine we had in our baggage was confiscated for return to us at the end of our cruise. Needless to say, it wouldn't have been worth drinking by that time! We also signed up for an "Around the World" wine tasting, so as soon as we had put our gear in our cabin, we headed off for a very pleasant hour or so of sampling wine from the US, Spain, Argentina, France and Italy.
Cabins on this ship are either inside or ocean view. There are no balconies. We opted for the ocean view as I need to see outside – don't ask me why! The cabins are much smaller than the ones on the Celebrity line, but since you spend most of your awake time in other parts of the ship, it does not matter. The ship is also a lot older and seedier, but perhaps we have been spoiled. Although it is a much smaller ship, like other ships there are bars, a theatre, buffet and formal dining. In the latter the food was nearly as good.
Related articles