Los Angeles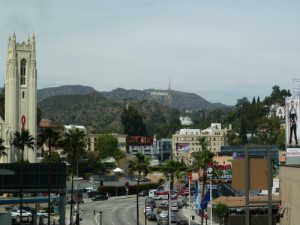 Well, we weren't meant to be there for more than just flight changes at LAX, but the Fates decreed otherwise. Coming in to LAX we had been warned of the tiresomely long delays and queues getting through customs and security. "Don't expect to make connecting flights under three hours!" – we had been told. So our Qantas flight from Melbourne was booked to connect with an American Airlines flight to Miami with about six hours leeway – nothing else seemed available. Imagine our "amusement" to find our plane was the first one in that morning, the queues were not particularly long and we were through to the other side in an hour! Unfortunately we were unable to jump on to an earlier flight, so had a very long wait in the terminal.

On our return through LAX we had anticipated only an hour or two to wait for our flight. Again the Fates were fickle. Bad weather in northern Florida meant our flight was delayed and we would miss our connection in LAX. We were rerouted to Newark – a longer route but would still make it in time. Or so we thought! No, the plane in Newark had mechanical problems and we were delayed again, so that as we landed in LAX our Qantas flight was taking off down the runway! Negotiations with United Airlines secured us a room for the night and shuttle passes to the hotel, but they would not accept any further responsibility. Hours and phone calls later we managed to rebook with Qantas but nothing was available the next day – it would be two days before we could return home. Luckily our travel insurance paid out and we were no left much out of pocket.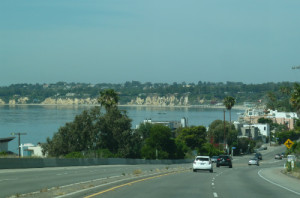 Every cloud has a silver lining, they say, so once we recovered from the upheaval, we decided to make the most of our stay in Los Angeles. The hotel we had been sent to in Torrance was near the big car companies' headquarters and attracted mostly Japanese businessmen. So the breakfast was Japanese-style – miso soup with tofu, boiled rice, pickled daikon and coffee. It was a novelty for us and we were happy to try it. However, I must confess, the second morning after breakfast we headed straight for the 7/11 down the road for a donut and better coffee to fill us up.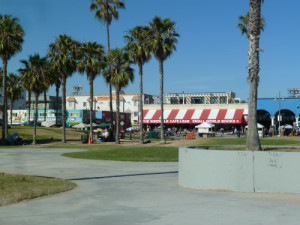 We hired a car for two days so we could really see the sights. I was keen to go up the coast to Malibu as I had heard so much about it. The traffic on the way up was horrendous, so the first day we only made it to Venice Beach and Santa Monica before we gave up. I really loved this area, especially the boardwalk with the buzz along the market stalls and cafes. We ate lunch at the great Sidewalk Cafe and I bought a book at the little bookshop behind it.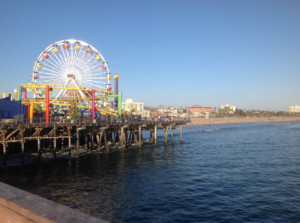 The free wifi helped us catch up with our folks at home and let them know what was happening. The beaches along this part of the coast are very impressive – extemely wide and well maintained. Then we headed on to Santa Monica Pier to soak up the remaining rays of the sun and have one of the best icecreams, before heading south of LA, calling in at Hermosa Beach and stopping at Redondo Beach for a great lobster dinner at Tony's on the Pier.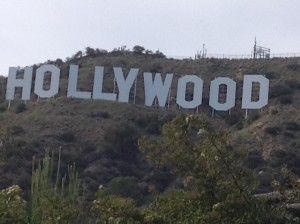 Next morning we tried heading north along the Pacific Highway again with more luck and made it to Starbucks just out of Malibu at Trancas Market for a second breakfast. Then back to LA to check out the houses in Beverly Hills and find the street that leads up to the Hollywood sign. I bet the local residents get heartily sick of the constant tourist traffic in that area. Did you know that the photography rights to the sign are held by an Australian?
Another great place to get a view is from the complex of Hollywood & Highland, where the pseudo Egyptian building provides an elevated view across the north of LA to the hills. We had lunch at a very nice Pizza restaurant which also had good views from its outside tables and then picked up some last minute souvenirs from one of the market stalls in the main square.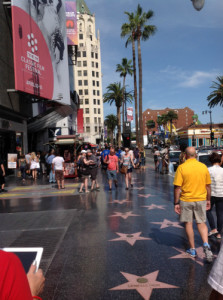 Naturally, you cannot visit LA without a cruise along Rodeo Drive to see the boutiques and the people who shop there, or a stroll along the  Walk of Fame on Hollywood Boulevard. This is a real photographer's delight with Grauman's Chinese Theatre, all the stars on the pavement, and the impersonators who parade the street hoping to earn money by posing with the tourists. They can be a little pushy though.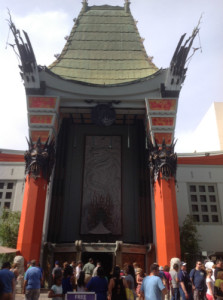 Another interesting place to visit is Chinatown, which we stopped at on the way to the airport. The buildings have been lovingly restored in the main market place which is decorated with red paper lanterns. We picked up some yummy treats to fortify us before our flight. I do love dumplings and egg tarts!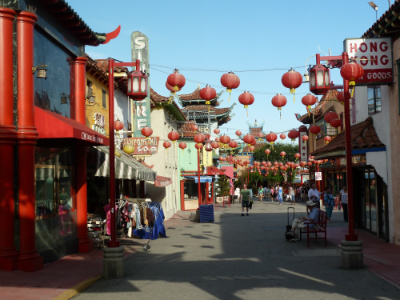 Finally, after checking in at the airport we made our way to the Korean Air guest lounge in the Tom Bradley terminal where we used our Priority Pass to gain access and help ourselves to the buffet and comfy couches while we waited for our flight.
Related articles
Save 14%: The VIP Experience at Universal Studios Hollywood
Find and book Los Angeles tours and activities on Viator.com. Book ahead to save time and money!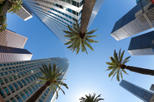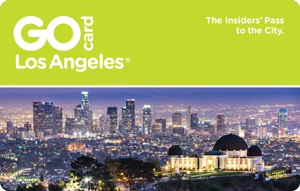 Los Angeles City Tour and Movie Stars' Homes Tour
from: Viator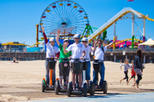 Santa Monica and Venice Beach Segway Tour
from: Viator