A Week in Barcelona
Late September 2015 was the perfect time for visiting Barcelona – warm days, balmy nights and the excitement of La Mercè festival which brings thousands of extra tourists to this already magnetic city. Barcelona is the capital of the autonomous community of Catalonia (Catalunya) and Spain's second most populated city. Famous for its architecture, examples of its Modernista (Art Nouveau) style make a big impression on visitors to the city. Barcelona is also blessed with quirky monuments, a vibrant art scene, good beaches, and many good restaurants and tapas bars which we made sure to try. But a week here only scratches the surface of such rich tourist offerings – despite our best efforts to see it all. This, and following blogs, detail what we did manage to cover, both in the city and in nearby areas.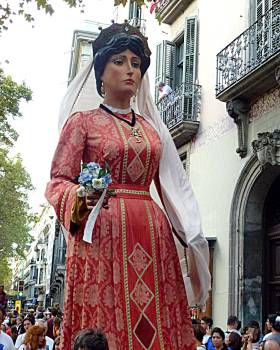 This annual festival honours the Virgin of Grace (Mare de Déu de la Mercè) in gratitude for her protection of the city as Patron Saint. Cultural and artistic presentations are held throughout the city during the last week of September, including the Parade of Giants, fireworks, traditional dances, circus acts, bands, comedy and dramatic shows.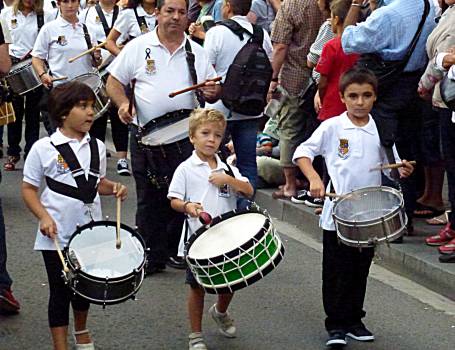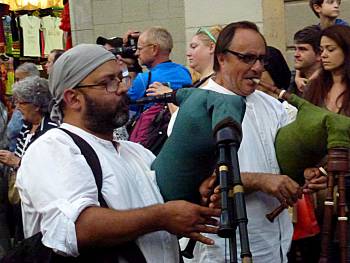 The participants in the parade included drummers, pipers, dancers, a horse band, district social club members, and of course, the Giants, made out of papier maché and towering above the spectators, carried by individuals within a wooden framework inside the costume.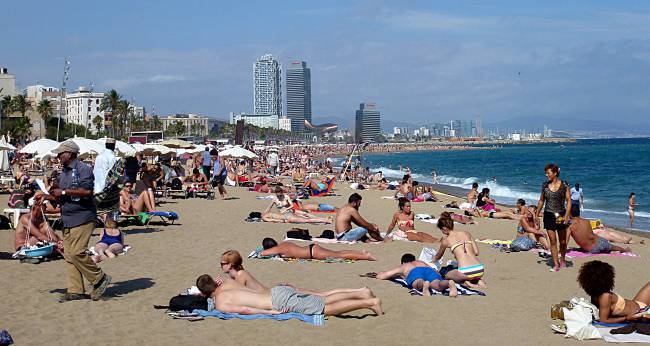 The beach at Barceloneta is wide and long, full of restaurants, nightclubs and beach bars. It is the easiest strip of beach to access, via the metro. It extends from the huge W Hotel, looking like a ship's sail, north to Frank Gehry's "Peix d'Or" (Fish) at Port Olimpic. Despite it being the end of the beach season, the sand was densely covered with sunbathers as it is the beach most commonly used by tourists. A wide paved boardwalk provides visitors with a chance to bike, skate, jog or walk, or simply sit on one of many benches to enjoy the views and art work.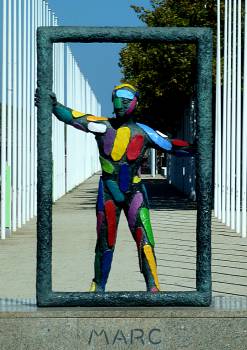 Wherever you go in Barcelona you will see sculpture – the ones along the beach front also include special installations for the Olympics, held here in 1992. In Plaça dels Voluntaris (Plaza of Olympic Volunteers) is "Marc" – a homage to his late son by Robert Llimós.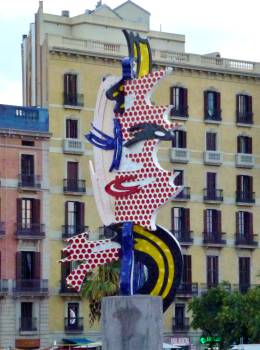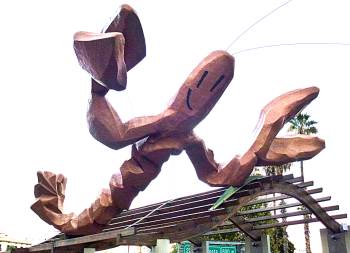 At the end of Moll de la Fusta on Passeig de Colom is a colourful piece, the "Barcelona Head", a sculpture by famous pop artist Roy Lichtenstein, while in the same area is the Lobster, a 10m long fibreglass sculpture designed and built by Spanish artist Javier Mariscal.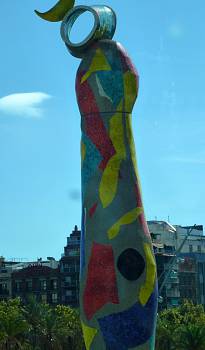 The "Woman and Bird" statue by one of Barcelona's most famous artists, Joan Miró, can be found in a park dedicated to him and his works.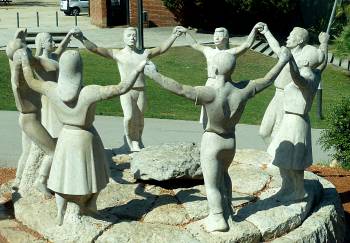 On Montjuïc, a monument of dancers holding hands, by Josep Cañas, depicts the traditional Catalan Sardana dance .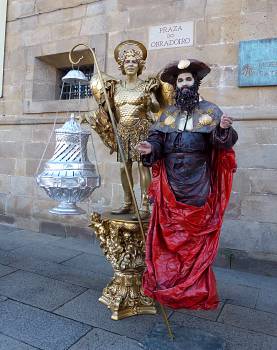 However, not all the sculptures are permanent – just take a stroll down the iconic La Rambla to see the actors posed for the tourist euros.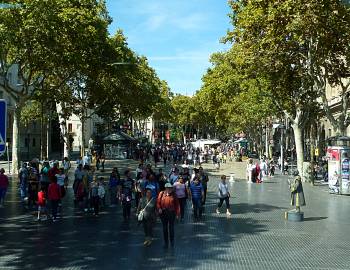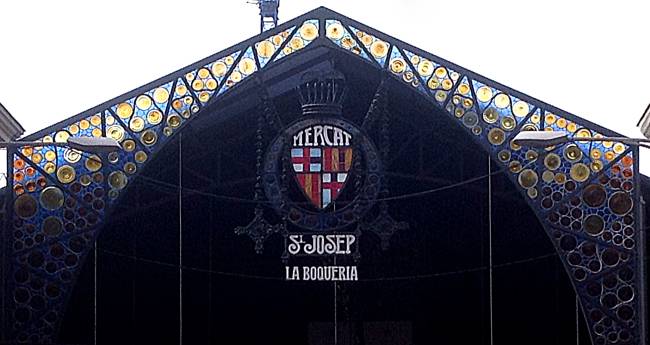 The Mercat de Sant Josep de la Boqueria is a large public market in the Ciutat Vella district of Barcelona, with its grand iron entrance on La Rambla, not far from the Liceu metro stop.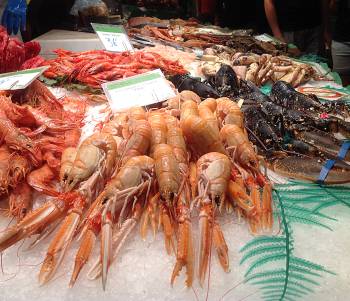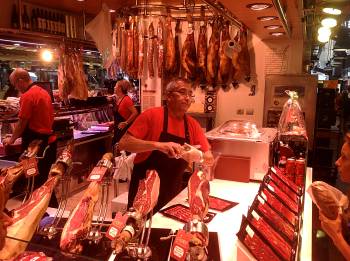 The centre of the market is arranged in an oval pattern with the seafood section, then spreads out to stalls selling mainly meats and charcuterie on one side and fruits and vegetables on the other, interspersed with nuts, olives, cheeses and sweets.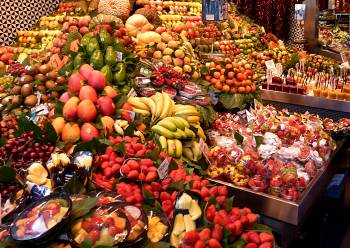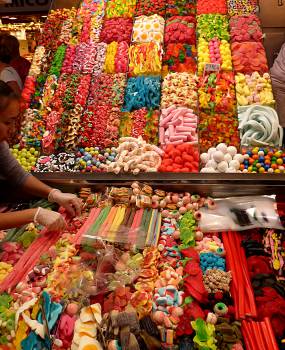 The colour, smells and vibrancy of the stalls, the bustle of shoppers and cries of the vendors is what makes the visit so engaging, as is stopping for a bite at one of the many tapas bars that dot the market.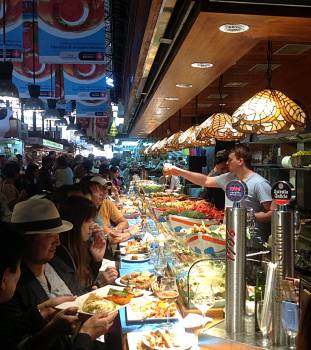 Montjuïc hill to the southwest of the city centre gives a commanding view over Barcelona and its harbour immediately below. Access to the top of the hill can be gained by road, funicular railway and gondola, or even an aerial tramway from the port.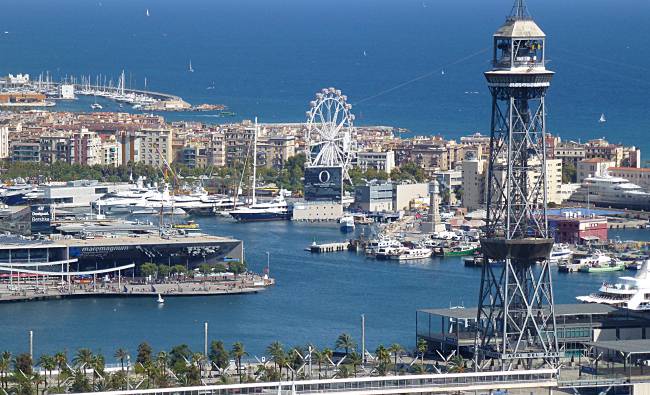 At the top of the hill (a height of 184.8 m) is a pleasant park with the remains of the 17th century Castle of Montjuïc open to visitors. Apart from the Poble Espanyol on its western side, it has also retained from the time of the Exhibition of 1929, the grand Palau Nacional which houses the Museu Nacional d'Art de Catalunya, the Estadi Olímpic (the Olympic stadium), and the ornate Font Màgica fountain. This park made a great place for us to relax away from our hectic sightseeing of the city below.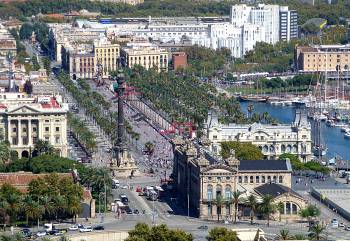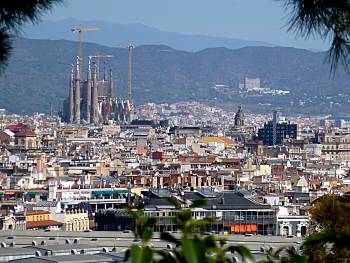 The Poble Espanyol de Montjuïc was built in 1929 for the Barcelona International Exhibition as the pavilion dedicated to art. It was conceived as a model of a Spanish village that would represent all the characteristics of villages throughout the country. Buildings, streets and squares from all around Spain were reproduced to scale. It was so successful that after the exhibition closed, the village was retained and is now one of Barcelona's top tourist spots. It has become a unique shopping centre, proving work spaces for artisans who display and sell their handcrafts as well as exhibitions of contemporary art.
There is also a variety of restaurants and bars as well as shops that sell local gourmet foods. At night there are often concerts or wine tastings. For us, the El Tablao de Carmen, located in the area dedicated to Andalusia, was the place to enjoy dinner and the vibrant Flamenco show. Created in 1988 as a tribute to the great flamenco dancer Carmen Amaya, it is considered the best flamenco show in Barcelona. The one hour show follows a typical three course Spanish meal with wine or sangria. It covers a variety of flamenco styles which gives the artists opportunity to show off their passion and skills in music, song and dance.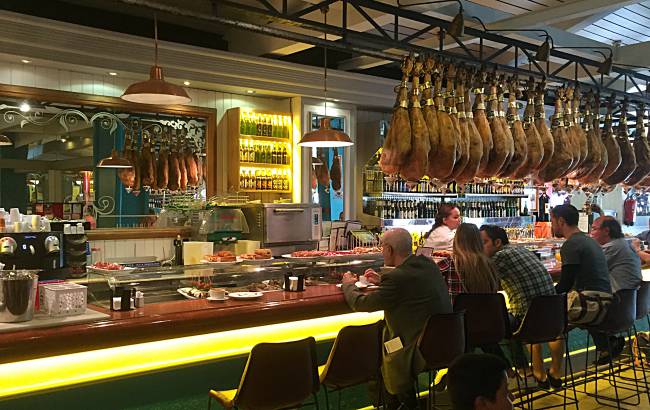 How could you visit Barcelona and not embrace the food scene? A large portion of our time here was spent dreaming of what we might eat next and searching out the places to find it. The first was 'La Cervecería Catalana', a very popular tapas restaurant in the Eixample district. There we tried anchovies, fried prawns, asparagus, stuffed eggplant with cheese on top, tiny bread sticks spread with tomato purée, and of course the wonderful Ibérico ham! The next night it was 'Saffron', where we had patatas bravas, ham and chicken croquetitos, bacalá-stuffed potatoes with sauce brandade, and pulpo (octopus) a feira – very tender and spicy.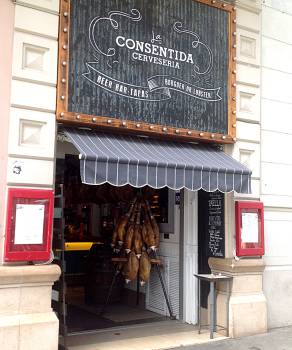 Another night it was 'La Consentida', for a tapas meal paired with matching local wines, such as Parellada, Alberiño and Tempranillo. The 'Taller de Tapas' is a chain of restaurants which had a branch in the Rambla de Catalunya near our hotel. There we shared some local sausage with white beans, sardines with ham, and a chicken and vegetable paella.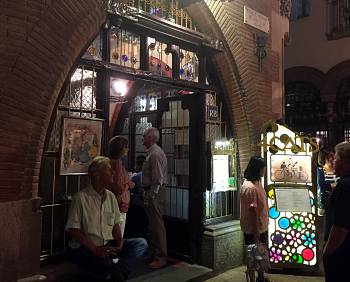 The restaurant 'Els Quatre Gats', made famous by Picasso and other modernista and bohemian artists and boasting a distinctive modernista décor, catered to a large crowd of foreign tourists, with musical entertainment sadly lacking in Spanish content. Its signature dish of suckling pig was very nice, though other meals seemed less authentic.
Barcelona is a city I had been longing to visit, but a week was hardly enough. There were so many places to see and experiences to be had. We tried to cram it all in and I think we did a pretty fair job. But I couldn't fit it all in here, so keep reading – there are more blogs on Barcelona to come!
Related articles