Mykonos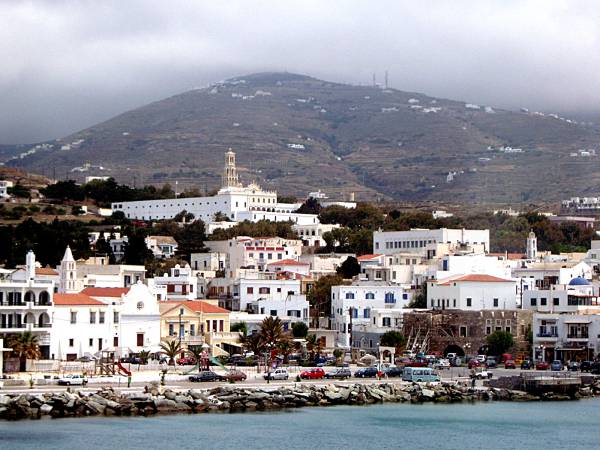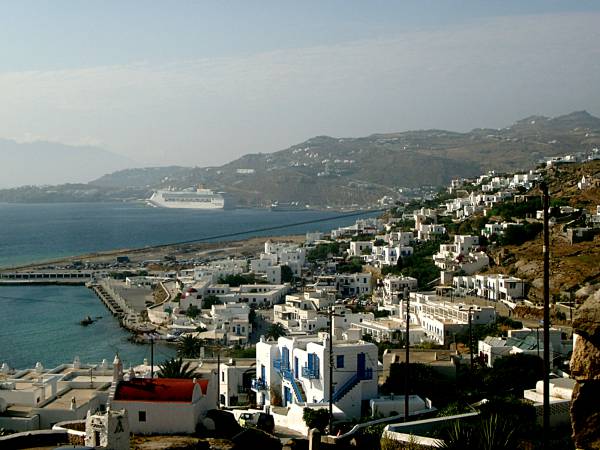 We disembarked at Mykonos pier and were met by a seething throng of taxi drivers and tour guides promising the earth, forcing us to run the gauntlet. As we struggled towards the bus parking, we were stopped by a man driving a tiny 3-wheel utility truck who offered us a lift to our accommodation as long as we didn't mind sitting on the tray at the back on our bags! It transpired that for a small fee (8 euro) he could also drop hubby Vin at a friend's motorbike hire place where we could get a good deal. Turns out, the taxis charged 8 euro and the quad bike we hired was not as good as others available in town. The bike had no pillion seat, only a luggage rack, so for the next two days I travelled uncomfortably with only a rolled up beach towel to protect my bottom from the iron bars!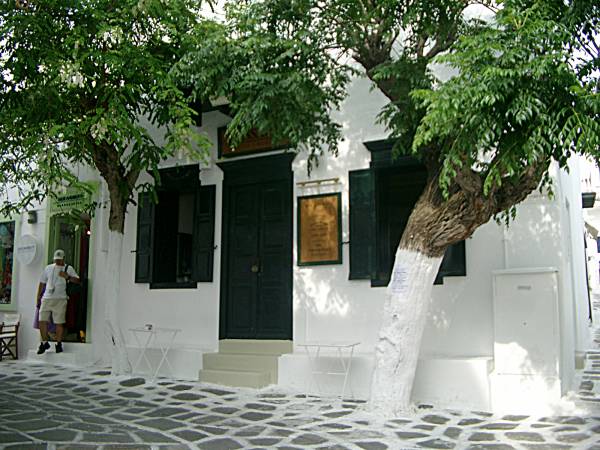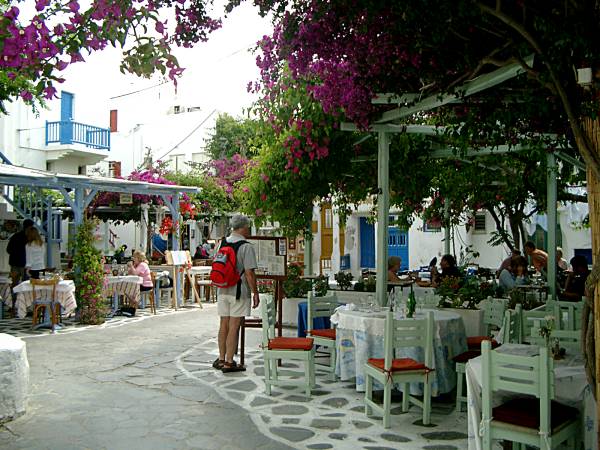 As we wandered the streets of Mykonos town (Chora) we were fascinated by the way they painted the trunks of the trees – mainly eucalypts like at home – with white paint for about 1.5m. Also the paved streets were marked out in white paint over the mortar joins creating a patchwork like endless hopscotch.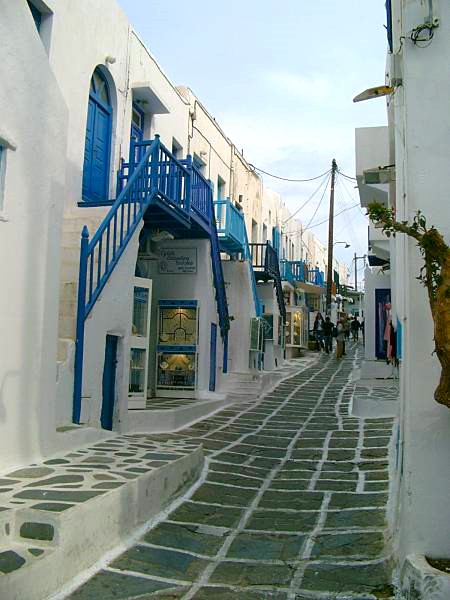 Combined with whitewashed buildings, blue domes on white churches, bright blue paint on all timberwork and pink and purple flowering bougainvillea creepers, Chora is a very pretty sight.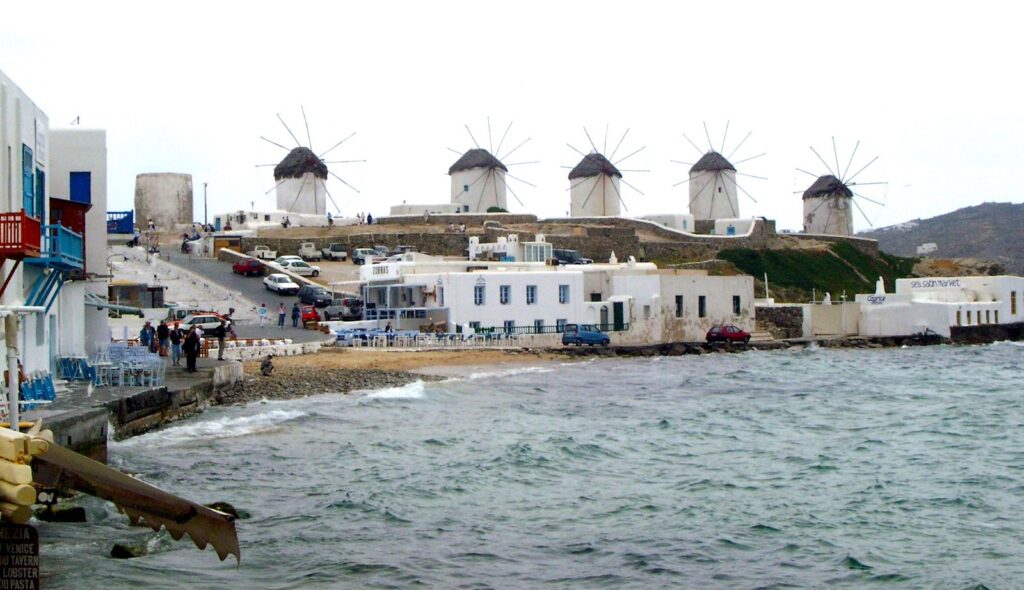 The iconic windmills of Mykonos were built by the Venetians in the 16th century to mill flour.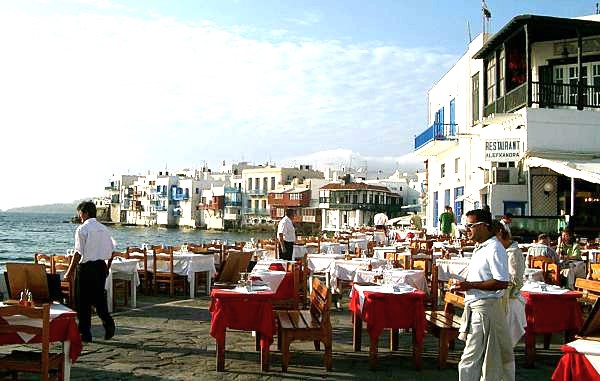 Further around the bay the Little Venice area is home to a number of restaurants with views over the water, ideal for watching the sunset. The rows of houses which line the waterfront with their balconies hanging over the sea look just like the buildings along the canals of Venice.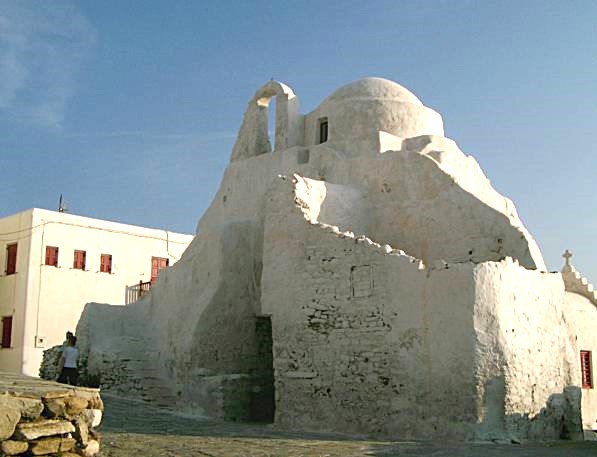 Nearby, the conglomerate church of Paraportiani is a favourite with photographers due to its odd shape. There are in fact four churches built in different periods joined together here with the fifth constructed above them all.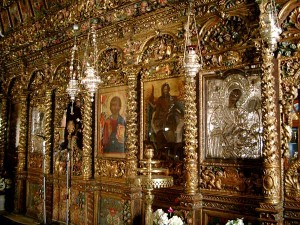 It was easy to drive around the island on our quad bike, visiting various settlements and beaches. At Ano Mera village we stopped to admire the Panagia Tourliani monastery with its bell tower and the impressive gilt screen and icons inside.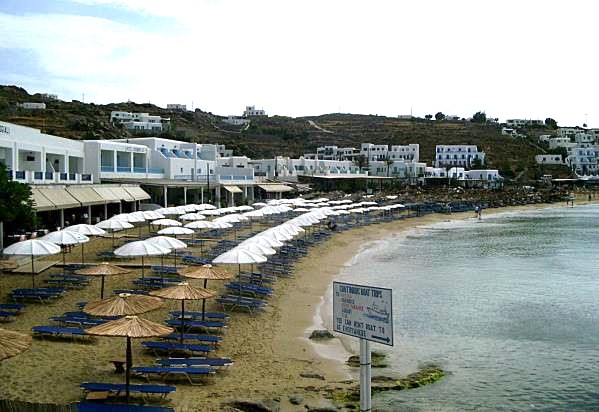 Mykonos is renowned for its beaches which are organized with many tourist facilities, from seaside accommodation to beach bars, restaurants, hundreds of beach chairs and umbrellas and water sports centres. The best organized beaches in Mykonos are found on the southern coast, such as Paradise, Super Paradise and Platis Gialos, where you can get a ferry around the coast for some beach hopping. We also visited Elia, Kalafatis and Ornos Beach and Agios Ioannis south west of Chora where Shirley Valentine was filmed.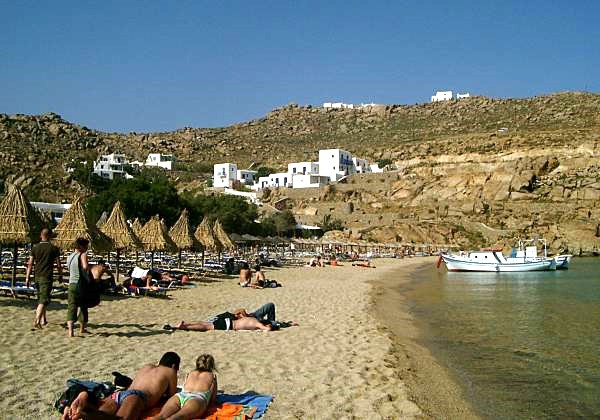 Super Paradise is known as a gay beach, where going nude or topless is expected and loud music pumps out from the bars. We kept our bathers on while we soaked up the sun for a few hours.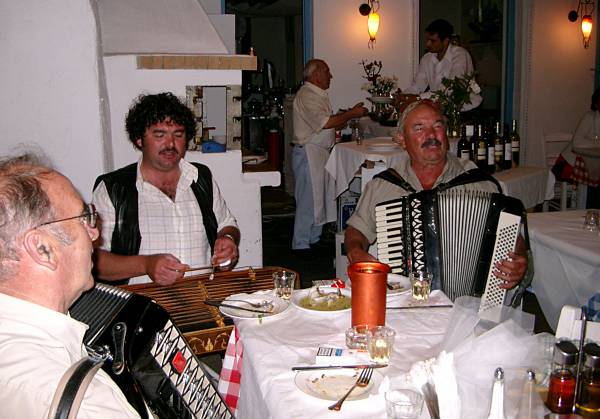 At night in the square outside Nikos Taverna, one of the island's mascot pelicans could be seen wandering amongst the tables looking for scraps. We were advised to ignore him as he was being a nuisance to tourists. We did enjoy our meal there – a rabbit stew. It is a very popular restaurant and has been around for many years. We were lucky to even get a table. Another taverna – Marco Polo – entertained us with traditional live music and despite its Italian name, served wonderful Greek food. Around Taxi Square there are a number of restaurants, which we tried during the day, as well as bars and nightclubs. Our last day's sightseeing had left us ready for an early night, as we had taken a tour to the sanctuary island of Delos, and were off next day to Ios, another stop on our Greek Odyssey.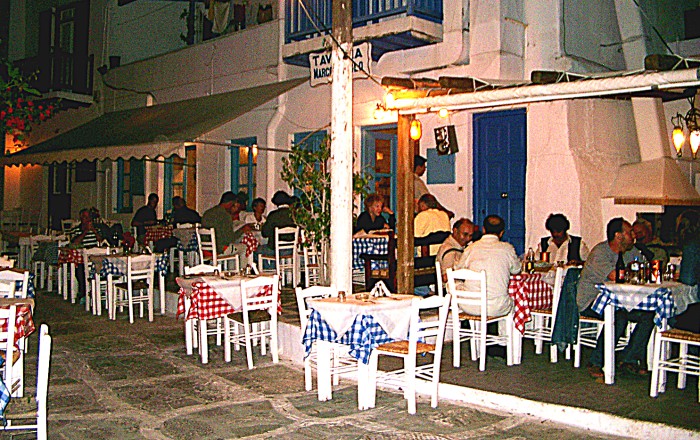 Related articles