Sardinian Vacation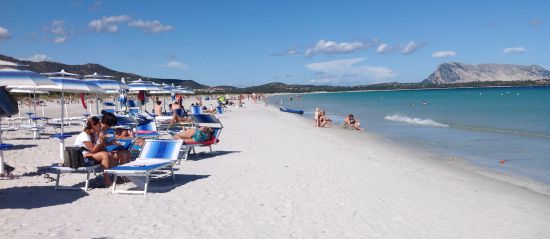 Clark Griswold has nothing on me – whatever could go wrong on this vacation, did. We chose to go to Sardegna (Sardinia) after our week in Tuscany, as we had a week to spare before meeting up with friends in Paris. Our timeshare company had a week available for us in Palau in the island's north, on the Costa Smeralda. I had visions of boating trips and the high life with the 'beautiful people' known to favour this part of the coast. If only….
It was a late September booking, when most holiday-makers had gone back to work. That did not bother us, but it did bother Meridiana airlines, who chose to cancel services to Florence and Paris from Olbia only a matter of weeks before we left Australia! The solution was to drive from Colle di Val d'Elsa to Rome, before dawn, in order to get to Olbia at the original time.
When we arrived at Olbia airport, one of our bags did not! After an hour of phone calls to Rome and promises from the airline that they would deliver the bag to our resort the next day, we headed to the rental car hall. The queues there were very long by then and despite us having pre-booked via the internet, we waited over an hour to be seen. We tried to maintain a casual attitude – we were in no hurry, we were on holidays.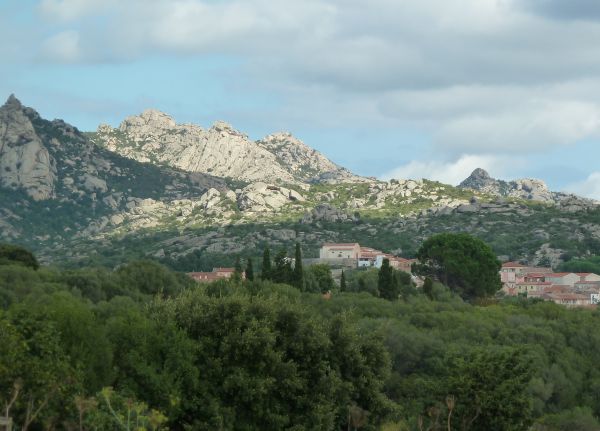 After an hour and a half of exhausting driving through winding hilly roads we arrived at our resort to find reception had just closed and would remain so for two hours! No matter, we would walk around town and have some lunch. I was really looking forward to some authentic Sardinian cooking. We found a place looking out onto the marina – Re Ferdinando. Well, the gnocchi I ordered bore no resemblance to its usual "soft pillows of dough" as described on the menu. It was like little bullets, but not quite as hard – the worst I have ever had. We found them for sale the next day in packets at the supermarket. So much for authentic cooking!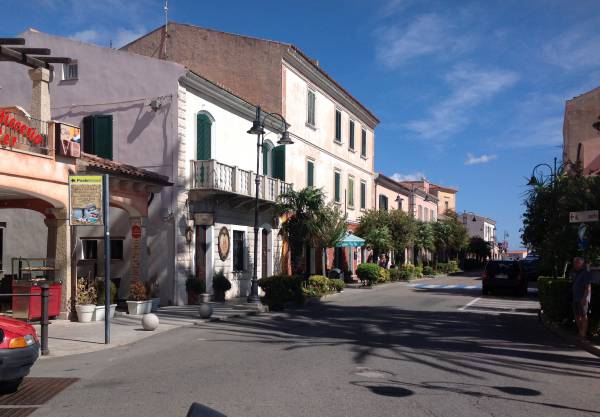 Back at the resort the receptionist still didn't appear for another half hour and when she did, she was surprised to find us there as she had no confirmation of our booking! After several phone calls to head office she finally let us into our villa. It smelt stale and damp, but we were sure it would improve once aired. I wish. We took a stroll around the complex to find that the bar, the pool and the 'Admiral's Club' were all closed for renovation and the resort was like a ghost town. No matter, we would be out sightseeing every day, we could manage.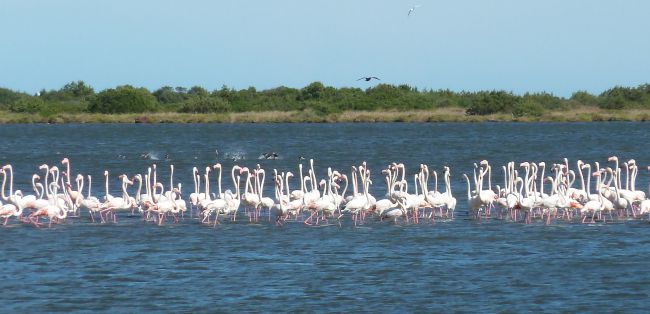 The next day, after many phone calls to the airport, we established our bag had appeared, but no, they would not deliver it as our resort was too far. So we combined the drive back with a sightseeing tour south of Olbia to see the pink flamingos which stop in Sardinia during their migrations between Tunis and the Camargue.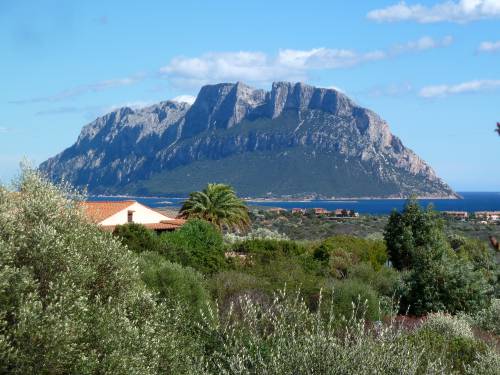 Here the beaches can be rocky, making for interesting sights, as is the view of Isola di Tavolara.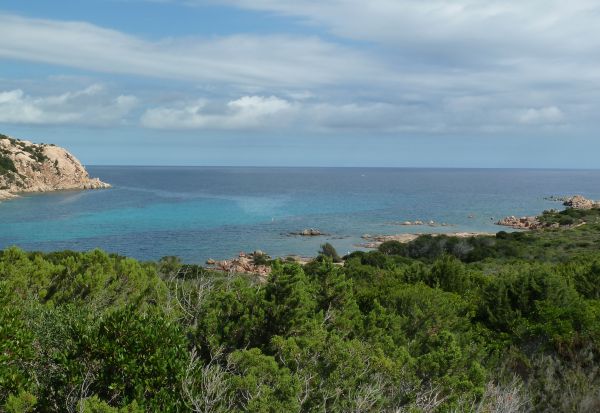 The days got better – did I mention the rain? And no more dramas, we hoped. We found every route we took out of Palau was winding and hilly and since I was elected to drive, I was getting quite tired of it. I drove at 80kph but that was apparently not fast enough for the locals who seemed quite reckless and tail-gated or overtook when not really safe to do so. However the countryside was quite beautiful in a rugged sort of way with huge granite boulders and craggy mountains leading down to even more craggy coastlines.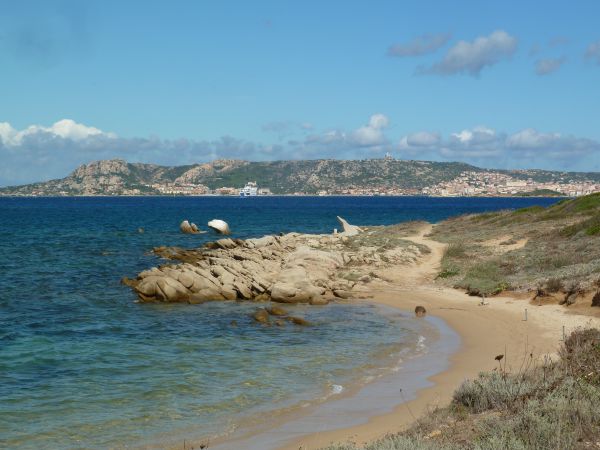 We didn't get our boat ride out to the Maddalena Archipelago but we did see several beautiful marinas and the area where the 'beautiful people' live – Porto Cervo and Porto Rotondo.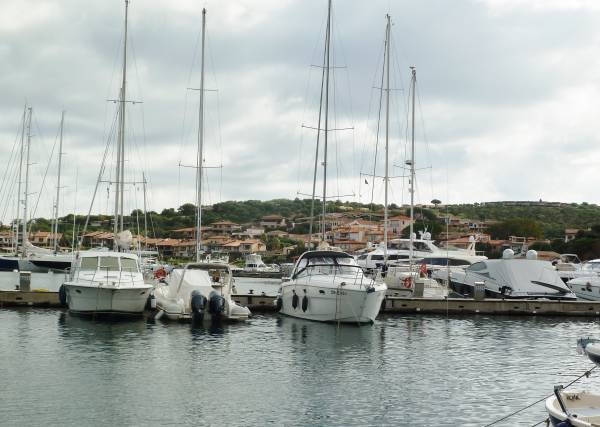 These are towns seemingly built in the last few decades only for the well-to-do boating enthusiasts and holiday-makers. They are like a king-size gated community, nothing like the many Italian towns we had seen before.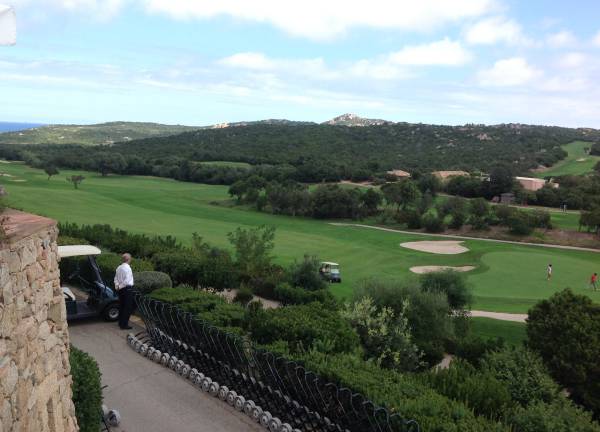 But hubby did manage to play a round of golf at Pevero Golf Club nearby – and a magnificent course it was, too.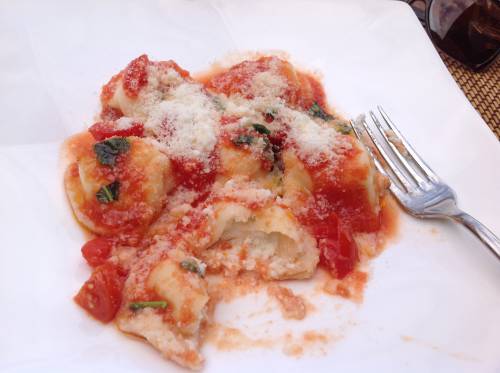 We stayed on for lunch and I finally had the wonderful pasta – ricotta filled ravioli – I had been craving.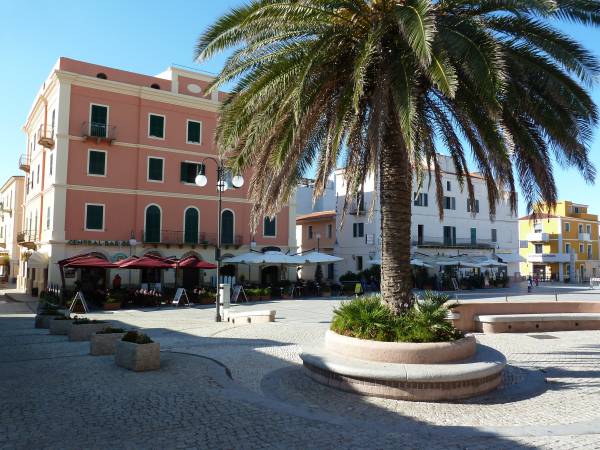 On the north of the island the towns were more like we expected – old, quaint and colourful. Santa Teresa di Gallura is quite a large town with a central piazza bordered by cafes and gelato shops where everyone comes out in the evening for the passegiata and to meet friends.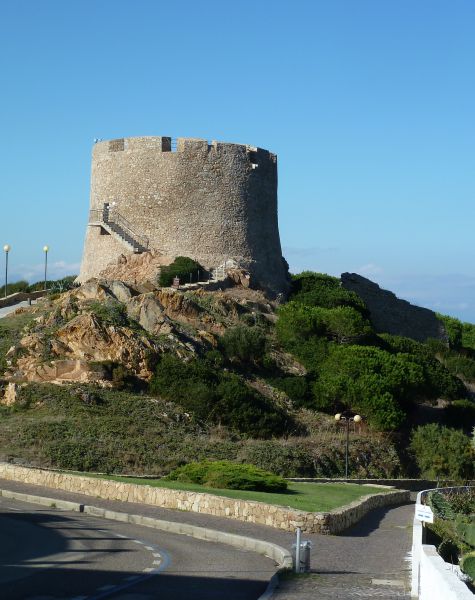 On a promontory between the main beach and a deep harbour there is an old fortification, Torre di Longonsardo. From there you can get a good view of the coastline of Corsica and the town of Bonifacio.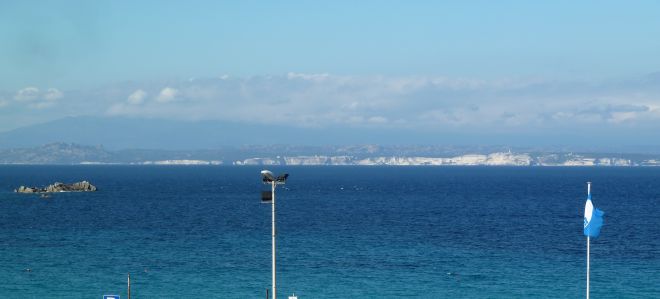 The region of Gallura is famous for its Vermentino – a crisp white wine which goes very well with fish. We made sure to try it while there. As with all our holidays, we try to visit several wineries to learn more about the local wines.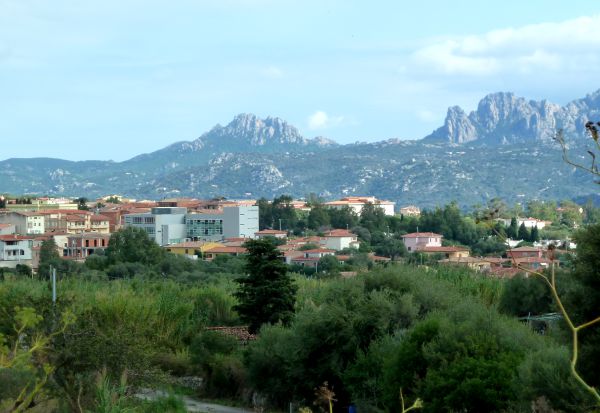 In Arzachena we visited Vigne Surrau, a wonderful modern winery which offers wine tastings and tours, a boutique where visitors can buy Surrau wines, and a room specifically for exhibition previews and temporary contemporary art exhibitions. The spaces can also be hired for corporate events and private functions. There is also a lovely open-decked restaurant with a great view of the vineyards and the hills beyond. The wines produced are: Vermentino di Gallura DOCG, Cannonau di Sardegna DOC, Cabernet Sauvignon, Carignano and Muristellu.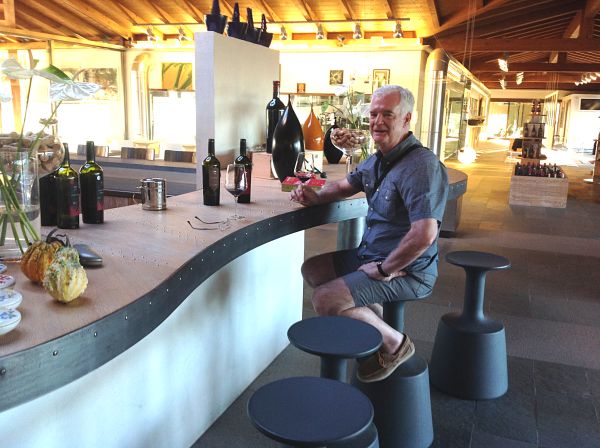 We were so impressed with the wine we bought several bottles to go with the antipasti items we had purchased at the Palau supermarket. It was both fun and challenging to try to communicate in Italian with the locals. And although we did find some very good restaurants in town, 'C'era una Volta' being one, it was good for our wallets and our waistlines to have some simple fare in our villa.
Sella e Mosca is one of the best-known Sardinian wine producers, famous for its Vermentino di Gallura. It's a lovely little village of a place with beautiful gardens and rustic buildings for various purposes – even a church! We called in on our way to Alghero on the west coast, but arrived just in time for the close for lunch. On our return at the advised hour we were told that we could not do a tasting because a busload of tourists had just arrived and since they had booked a tour, there would be no-one to look after us !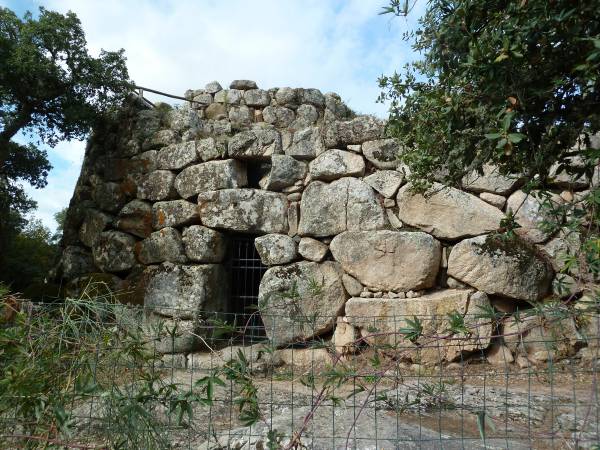 Our drive to Alghero took us through wild hilly country covered with huge granite boulders and the ubiquitous maquis – gorze-like shrubland. On our way we stumbled across one of the some 7,000 nuraghi that dot the Sardinian landscape. Nuraghi are round tower-fortresses built from about 1500BC. This one was a relatively small one, but larger ones are quite the tourist drawcard.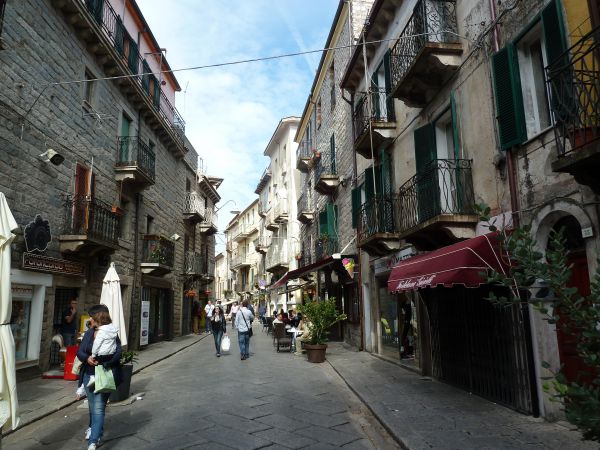 A stop in Tempio Pausania gave us time to explore this ancient city, with its typical granite-stone architecture in the historical centre. Streets are narrow and not very suitable for cars.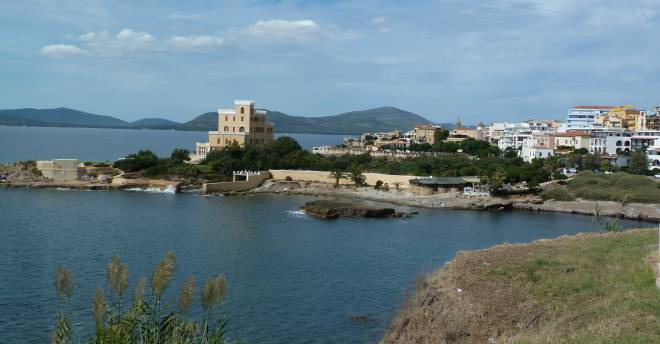 The area in the west coast around Alghero is flat farming land and because it is serviced by an airport and ferries, the seaside towns there are popular with tourists. Alghero itself has some beautiful parks and a lovely seafront with a piazza and esplanade.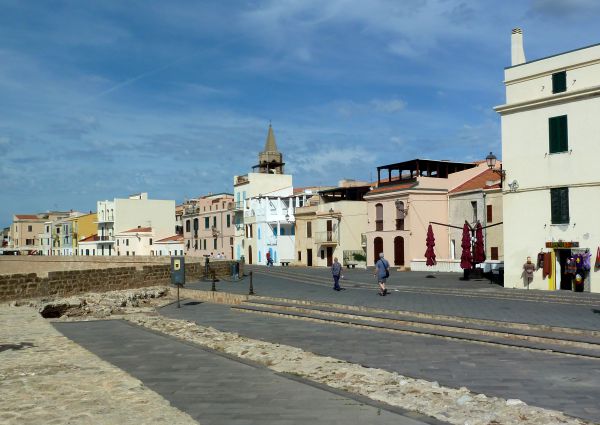 So, no more bad luck then? Unfortunately, yes, the GPS in our rental car did not recognise the new highways to and from Alghero, so on our return home we were sent down a freeway that took us halfway to Cagliari at the far south of the island before we could work out where we were and how to get off! We can laugh about it now, but at the time….
Several days before it was time to leave we decided to wash some clothes. But we needed to put our clothes on the clothes horse inside – there was no security or shelter for them outside. Every day we checked them to see if they were dry yet, but no. Eventually they had to be packed in plastic bags before putting them back in suitcases. Even the clothes that were in the wardrobe were damp when it was time to pack. So that was why the walls were patchy! When we went to check out of our villa, the receptionist charged us a cleaning fee even though we had cleaned the unit ourselves. That was not on our booking confirmation or on the website. Despite more phone calls to head office we were stuck with it.
The substituted flight to Paris with Easyjet had to go via Milan, wasting half a day. That flight was delayed and we would have missed our connection in Milan had we not elbowed our way through the lines of patiently waiting travellers, calling "permesso, our flight is boarding!"
P. S. As a result of our 'feedback' to the timeshare company when we got home, they refunded our week and the cleaning service charge.
P. P. S. It took Meridiana over six months to refund our cancelled flights.
P. P. P. S. Ten months after our return to Australia, we received a traffic infringement from the Alghero police for driving and parking in a restricted area! How were we to know? Then to add insult to injury the car rental company billed us a surcharge for processing the fine!
Related articles