Pompeii and Pizza
When you go to Naples there are two must do's – Pompeii and Pizza. Naples is Italy's third largest city after Rome and Milan, and one of the oldest continuously inhabited cities in the world. In fact, Naples' historic city centre is the largest in Europe, encompassing 27 centuries of history, and is listed by UNESCO as a World Heritage Site.
Nearby is the famous Mt Vesuvius with the culturally and historically significant sites of the Roman ruins of Pompeii and Herculaneum. Situated on the Bay of Naples, it is an important port, and not the least because it receives frequent cruise ships. It also has a reputation for being an unsafe city, especially at night, for tourists who are unwise enough to display their wealth.
We have been to Naples three times, now, and that issue was a real concern to us, as we had friends who had indeed been mugged and robbed during their visit. The first time we drove around the inner city without leaving the car and left all valuables and money behind in our hotel room at night when we went out in search of pizza. The next morning we left for Pompeii and did not go through Naples on our way back to Rome. The second time was during a cruise, so we engaged a tour operator to take us straight out of Naples and down to the Amalfi Coast. On the third visit we did summon courage to explore the city, mainly by Hop On Hop Off bus as well as on foot. But that's another story.
Naples is reputed to be the home and the origin of pizza – a thin crust sort with a simple tomato base with basil, known in other parts of the world as a Napoletana. (With mozzarella cheese it becomes a Margherita – after the Queen for whom it was made). In Italy, though, it is known as a Marinara, as the men who were its best customers were sailors or fishermen. Whatever you call it, the best ones are supposed to come from Da Michele's – they have been making these pizzas since 1870. It is so popular that the queues can be quite daunting. On our first stay there we were not keen to stray too far from our hotel at night, so we sampled pizza from a small restaurant nearby. On our last visit we found the place, but it was closed! We made do with another pizzeria – you can't really go wrong in Naples!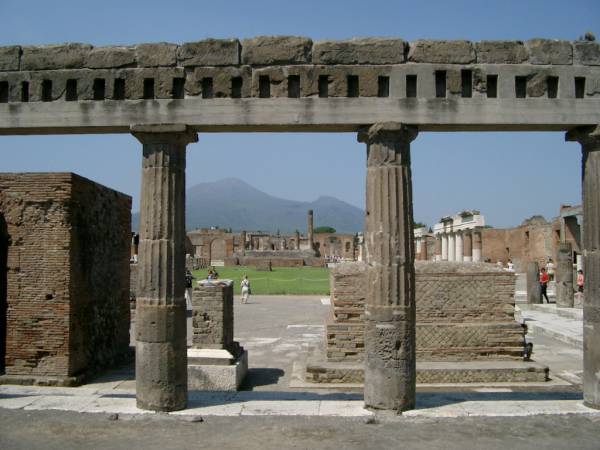 The chief reason for our stop in Naples was as a jumping off spot for a visit to Pompeii. This vestige of a Roman city is so large and intriguing it took us a full day to see. So much has been recovered from the tons of ash that Vesuvius blanketed the city killing thousands of its inhabitants in 79AD. The objects that lay beneath the city have been well-preserved for centuries because of the lack of air and moisture.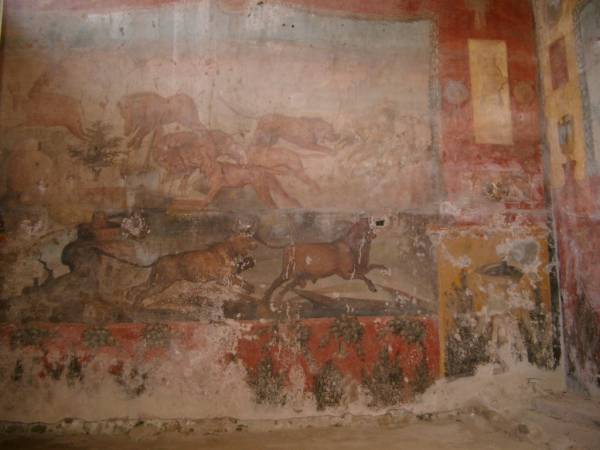 Restoration work has revealed colourful wall friezes and floor mosaics and insight into the daily lives of the people. Pompeii has UNESCO World Heritage Site status and is one of the most popular tourist attractions in Italy.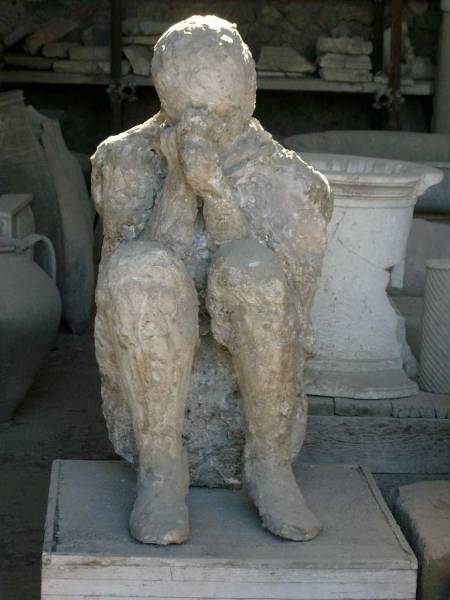 During the excavation, plaster was used to fill in the voids in the ash layers that once held human bodies. This is how we can now see the exact position the person was in when he or she died. These casts are a poignant demonstration of the fear and despair suffered by the people of Pompeii. Luckily, the bulk of the population managed to escape, but it is thought about 3,000 people perished.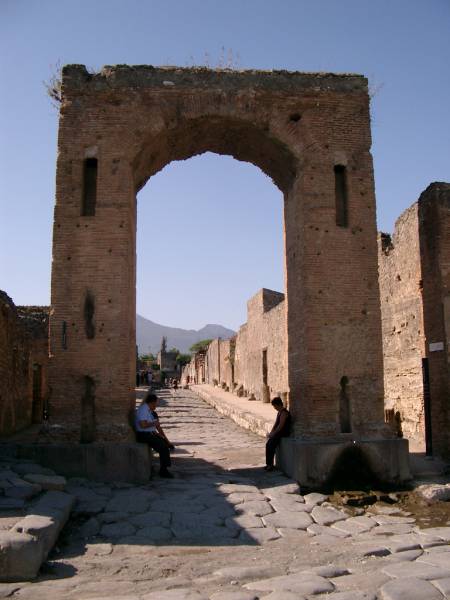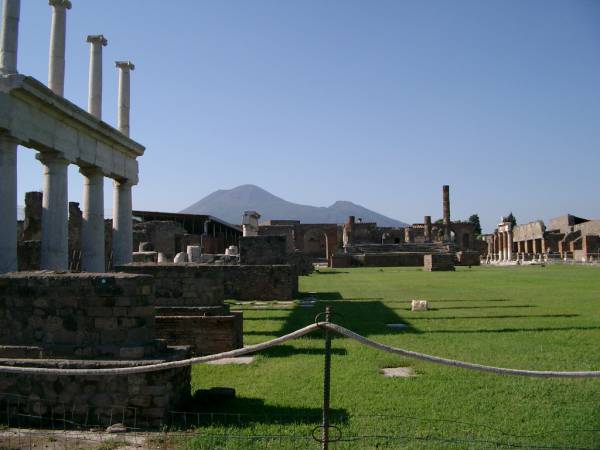 The streets of the city are straight and laid out in a grid in the Roman tradition. You can even see the wheel ruts scored into the paving stones with the wear of carriages or carts. Every so often there are stepping stone blocks across the streets, to allow pedestrians to avoid the drainage (including sewage) underfoot. There are houses and shops on both sides of the streets, with the city's centre at the forum.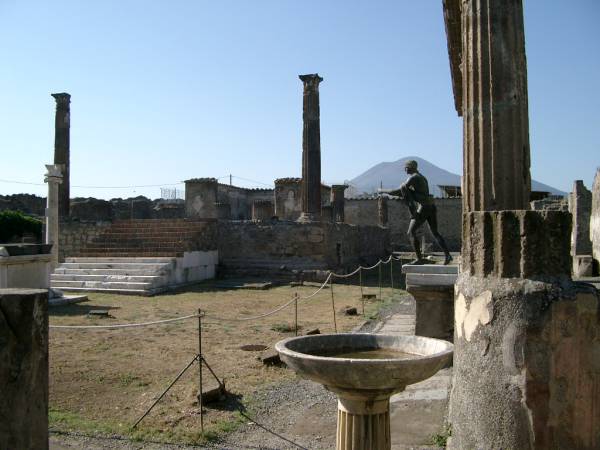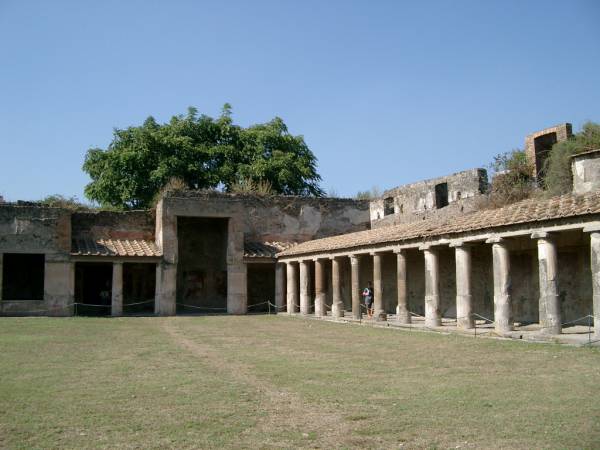 Besides various houses and temples, many other buildings were found: the food market, the mill, a bakery, a sort of bar that served cold and hot beverages, small restaurants and even a brothel. An amphitheatre and two theatres have been found, along with gymnasium. And ever present in the distance is the looming shape of Mt Vesuvius.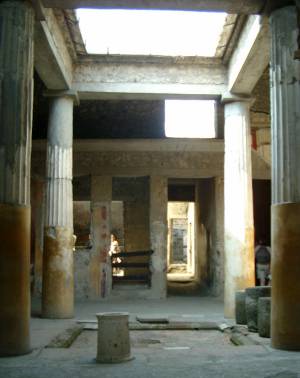 It is possible to engage a tour guide at the entrance or to buy a map, before embarking on this mammoth exercise alone. We simply used a map and found many streets and building had signs or explanatory plaques. We even eavesdropped on a couple of tour group leaders! In hindsight a tour guide would have been a good idea, as reading at the same time as negotiating the uneven cobbled streets is a perilous task!
Related articles