Packing it in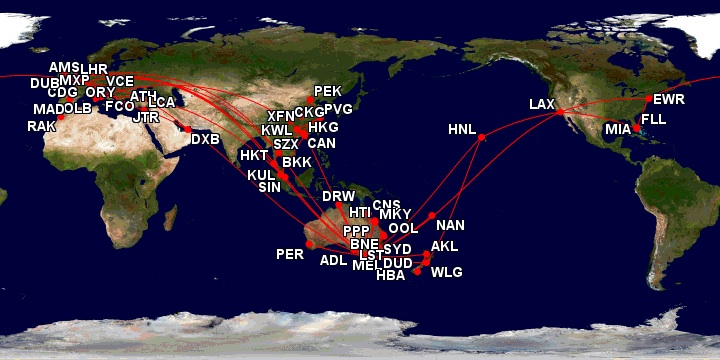 (Photo courtesy Australian Frequent Flyers)
It pays to be organised when travelling, particularly with your luggage. With many airlines cracking down on carry-on size and weight limits, it is worth taking the time to develop a system for packing carry-on and check-in luggage that works for you. These tips for packing are really just common sense from trial and error experiences.
Here are my hints:
While many people swear by the rolling up method for packing clothes, I prefer to fold items to the exact size of the space they are to occupy, be that half or quarter of the suitcase dimensions. I put all clothes of a similar nature together, starting with the heavier items at the bottom so that when unpacking on a cruise or long term accommodation they can be simply lifted out in their pile into drawers. That makes unpacking or re-packing speedy. Then around these piles in the suitcase I poke toiletries, electrical devices, shoes, books and other solid items. Small items of clothing that do not crease such as underwear can be squeezed into any remaining spaces, such as inside shoes. Lastly I lay the most easily creased or delicate items along the top. Then I secure the clothes with the straps provided to stop them slipping down while the case is on its end. (Actually there's not much chance of that happening anyway, as the case is usually packed full!) I realise baggage handlers will throw my case around and leave it upside down, but at least when I'm in control of it, it will be the right way up.
Pack according to your destination and the type of holiday you are going to have. Budget vs luxury; beach, mountains or city; casual or sophisticated. Even if you are roughing it, take something that will serve you well for a restaurant or unexpected dressy occasion. If you prefer to be well dressed most of the time, take along a very casual outfit, in case you find yourself hiking, horse riding or zip lining. Check the weather conditions expected for that time of the year and pack one item warmer than you think you'll need and one item cooler.
Pack a few items of clothing in black – even if you're heading for the tropics – black shoes, black pants or skirt, a couple of black tops and a black jacket, cardigan or pashmina. Black travels well, especially on planes, as it doesn't get grubby or show spills, goes with everything and can be worn casually or dressed up with the right accessories at night.
I like to spread all the items of clothing I would like to pack on my bed and then go through a culling process. I make sure every item I pack can go with at least three other items. This usually gets rid of about a third of my wishlist. Mixing and matching separates and keeping to just a couple of colour themes gives versatility and cuts down on the number of items needed. Further variety can be obtained with the addition of accessories like scarfs or jewellery.
 Layered clothing is the traveller's friend. With the vagaries of aircraft cabin air conditioning, you can be hot one minute and cold the next. Cruise ship and restaurant air conditioning can mean you need a jacket in the tropics and a light top in the middle of winter. On a flight I always wear a singlet top under another top and carry on a pashmina. That way I can strip off or cover up easily. (The pashmina can also double up as a sarong over bathers.)
Pack only enough underwear for one week, regardless of the length of your holiday. It is easy to launder small items in a hand basin or in the shower. I take a small bottle of liquid detergent, but hotel soaps would do. I also pack a small elastic clothes line which does not need pegs and can be stretched across the bathroom if the hotel does not already have one there.  I also pack a plastic bag for putting dirty clothes in as they are worn and then can use it for any still damp items when it is time to move on.
Shoes can be a problem area for many women. On my first five week holiday I took seven pairs! Now I have it down to one sensible walking pair, one black dressy pair, one pair of sandals and one pair of thongs (flip flops). I wear the heaviest pair on the plane, with knee high flight (compression) stockings underneath. If I were travelling in the winter (which I avoid) I would swap the thongs and sandals for ankle boots.
Toiletries can be a space waster. I make sure I have the mini versions of the essentials like deodorant and small bottles of shampoo and conditioner. My husband often simply relies on the freebies in the hotels, or uses mine. He packs a small toothpaste, the vitamins and most medications, leaving me room for my makeup. There is no point both of us taking the same things. We also keep first aid items like band aids and antiseptic cream to a minimum. You can always buy what you need or run out of. If you need to jettison anything to keep weight down on the homeward journey, these are the things to discard.
 Check the baggage requirements of your air carrier – the cheaper carriers restrict check-in bags to 20kg, while the full cost carriers allow 32kg, in economy. Some carriers allow you to determine your own limit, but you pay accordingly. I usually limit myself to a 20 kg check-in and a 7kg carry-on. This means I am safe when flying with a combination of carriers. Besides, I don't really want to lug around 32kg during the rest of my holiday, in and out of hire cars and hotels with no lifts.
The newer suitcases are now made extremely lightweight, so if yours is old, consider getting a new one.
Carry-ons are more versatile if they are the large tote bag or backpack types, as they can be used on day trips, for shopping or going to the beach. Cruise lines advise passengers to use a carry-on for the clothes or items needed during embarkation or the night prior to disembarkation, when they have control of your primary cases.
My carry-on always contains eye drops, a lipstick, a mascara and a small moisturiser (in a clear zip lock bag), my wallet, reading glasses, sunglasses, hairbrush, pashmina, a crushable hat, a book, my iPad, iPhone, passport, power pack, neck pillow, eye-mask and earphones. Any medications that are needed to be taken during the flight go in our carry-ons, in clear zip lock bags. There is also a folder with our itinerary, all our flight e-tickets and other bookings.  Another folder with copies of our passports and credit cards is in our checked bags and another one with someone at home. There is also a copy stored on the iPad.
Restrain yourself from bringing unnecessary gadgets. Hair dryers are available in most hotels and on cruise ships. I bring along a mini hair straightener as a back-up for emergencies. Travel irons are also not necessary and forbidden on cruise ships. Creased clothes can be hung in the bathroom to steam while showering and finished off with a hairdryer. Even the hair iron can help smooth creases.
A power adapter is a must and even a small power board on cruises as there are few power points in cabins. Battery/phone chargers are also necessary. I also take a power pack which can be used to recharge my iPad or camera during flights or car/train/bus travel and an adapter suitable for use in rental cars.
We do not take any food on a plane that will not be consumed during the flight, and it's usually confined to nuts and chocolates. We have been known to pack a couple of bottles of good red wine in our checked bags and have never had any issues. Cruise ships generally allow two bottles per cabin, though it pays to check.
Finally – here is a sample Packing List.
Related articles