St Thomas, US Virgin Islands

According to the website CruiseTT, this port was going to be brimming with cruise passengers as five big ships were due in that day. St Thomas is one of the US Virgin Islands and its capital, Charlotte Amalie, is reputed to be very good for duty free shopping, but the thought of the crowds did not entice me. We thought the best thing to do was get a taxi and clear out to the other side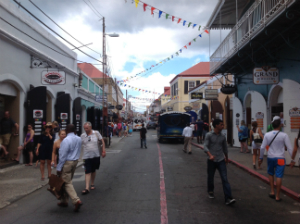 of the island. However when we got down to the bus/taxi rank, we found a number of small bus drivers spruiking for passengers so we joined with about 10 others and set off for an island tour. They call these buses "safari" taxis as most of them are open-sided and play cheerful Caribbean style music as you drive along, while the driver is able to give a description of the points of interest over the microphone.
Our route took us up winding mountainous roads which gave us panoramic views of the harbour at Charlotte Amalie so we saw all the cruise ships at the two main docks. We stopped several times for photo opportunities, particularly for photos of the famous Magen's Bay beach which has mile long white sands and is voted the best beach in the Caribbean.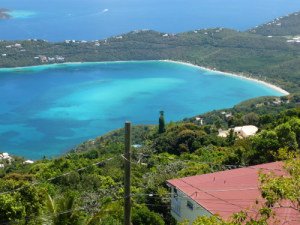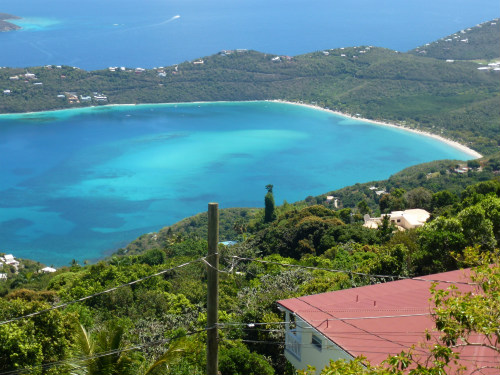 At the top of Crown Mountain, the highest point on the island, is the Mountain Top duty free store and cafe which has a huge observation deck and affords more great views of this photogenic island. You can see right over to the other US island of St John and the British Virgin Islands. The passengers in our bus took full advantage of the shopping for clothes and souvenirs as well as the popular Banana Daiquiris for sale at the bar.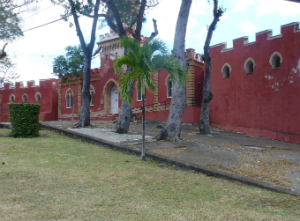 On the way back to town the driver pointed out the old tower of Blackbeard's Castle (now part of a holiday rental complex). Pirates were said to maraud in the area, but whether Blackbeard actually had any castle here is speculative. Nevertheless, the town still boasts the oldest standing structure in the Caribbean – Fort Christian – which was built to defend the early Danish settlers. It later became an administrative centre, a residence for the governors, a prison and a police station, before being turned into a museum. Unfortunately it has been closed for several years awaiting restoration.


St Thomas Shore Excursion: Shopping, Sightseeing and Beach Tour – $31.50

When you're in port in St Thomas, enjoy its beautiful vistas, duty-free shopping and pristine beaches on this sightseeing shore excursion. Hop on a music-filled taxi safari and let your energetic tour guide show you the best of St Thomas. Shop for souvenirs in Charlotte Amalie. Enjoy a spectacular view of popular Magens Bay and other Virgin Islands from Mountain Top. Visit Beacon Point and sip a delicious banana daiquiri while you soak in the stunning scenery. Finish your shore excursion by relaxing on a sandy white beach (optional upgrade). A choice of three tour times allows you flexibility in port."
Coral World Ocean Park General Admission Ticket – $18.99

Embark on a journey that will definitely be the highlight of your visit to the Virgin Islands! At Coral World, you'll experience the beauty and magic of life both under and above the Caribbean Sea as you explore 5 acres (217,000 sq. feet) of exotic aquariums, outdoor pools, nature trails and the unique undersea observatory tower. With various family-friendly interactive exhibits and activities, Coral World is sure to have something for everyone!
Related articles