Top Spots for Food and Wine – Mornington Peninsula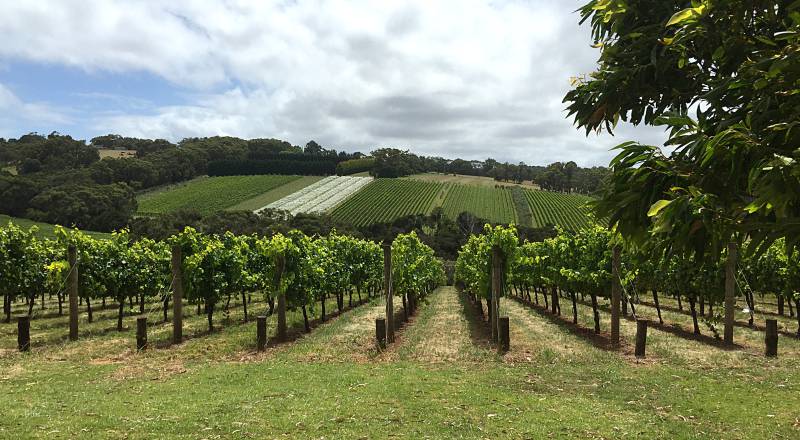 A family birthday was the occasion for our drive, once again, to the Mornington Peninsula wine region, about an hour south of Melbourne. This region is known for producing high quality cool climate varieties, similar to those of the great wine producing regions of France. The main grape varieties grown in the region are Pinot Noir, Chardonnay, Pinot Gris and Shiraz. Some of the more innovative plantings include Cabernet Sauvignon, Merlot, Riesling and Arneis. There are more than 200 vineyards, many of which are quite small, with about 50 cellar doors.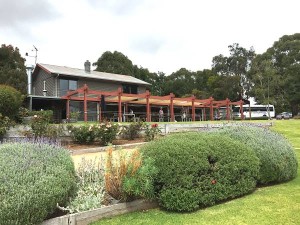 The venue chosen for the special lunch was Tuck's Ridge winery and restaurant. It is a small boutique winery located near Red Hill. Established in 1985, the winery has produced top rated Pinot Noir and Chardonnay, since it is a cold climate region. Despite that focus, they also produce Sauvignon Blanc, Pinot Gris, Savagnin, Pinot Rose, Shiraz and Sangiovese. In fact their 'Grosso', a Cabernet, Shiraz and Merlot blend, offers a most drinkable "big red".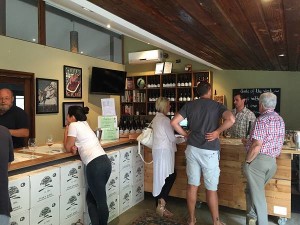 There was a bus tour group in the tasting room when we arrived, so we started with lunch and went back for the tasting afterwards.
The winery is set among rolling hills which provided a stunning view as we sat outside  at benches for our lunch in the sun. The vineyard workers were busy pulling nets over the vines to keep the marauding birds from ruining the crop now that the fruit was reaching maturity.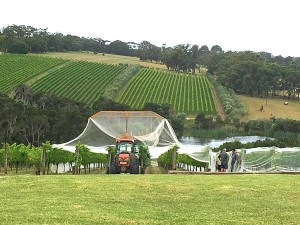 There was plenty of room on the lawns for the children to run around – even a sand pit for them to play in! The menu included salmon, belly pork and rack of lamb which were beautifully cooked and presented. The kids had chunky home-made chips and lasagne with salad.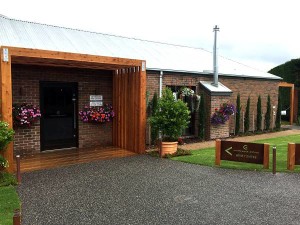 Wanting to make the most of our trip south, the following day we decided to take in two more wineries before heading home. The first was Crittenden Estate, which like Tuck's, was established in the early 80s and specialises in cool climate boutique wines such as Chardonnay and Pinot Noir, as well as exploring other varieties. The vineyards at Crittenden Estate are no longer sprayed with synthetic pesticides, herbicides or other artificial chemicals.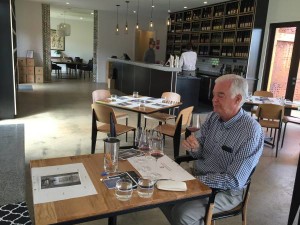 They have recently opened their new Wine Centre experimenting with a  new concept where tastings occur whilst seated and customers choose from "flights" consisting of five wines of 30ml for a nominal fee. Customers are issued with a wine flight menu from which they can select from five predetermined collections of wines based on varieties or label ranges, or from recommendations of whites or reds, or simply mix and match according to their drinking preferences – like we did. Thus we sampled the 2012 Crittenden Estate Kangerong Pinot Noir, the 2014 Geppetto Shiraz, the 2013 Geppetto Cabernet Merlot, the 2013 Pinocchio Sangiovese, the 2013 Los Hermanos Tempranillo and the 2013 Los Hermanos Homenaje – a blend of Garnacha (Grenache) and Mataro (Mourvedre). That was six, but they were keen to impress us with their Pinot which we usually avoid!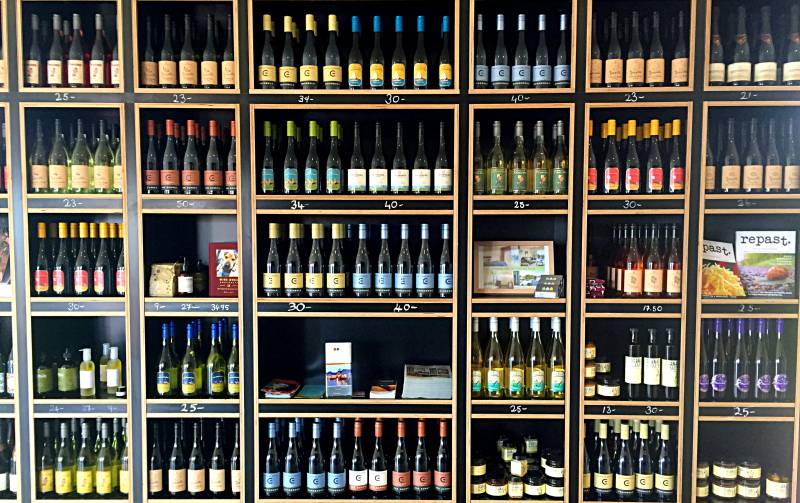 The Geppetto range is designed for early drinking, while the Pinocchio and los Hermanos ranges demonstrate the Crittenden family's love of Italian and Spanish varietals and food. While all the Pinots are estate grown, the other reds come from the Port Phillip region, nearby, or from Heathcote, which has a warmer ripening period, and the whites are from the Mornington Peninsula or the King Valley.  The white varietals include Sauvignon Blanc, Semillion, Chardonnay, Pinot Grigio, Vermentino, Moscato, Verdejo and the Basque varietal Txakoli.  Other ranges are Cri de Coeur for the sparkling, Zumma for the flagship wines, Peninsula for the rebranded Crittenden Estate and Oggi, for the drink now wines.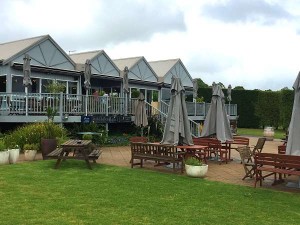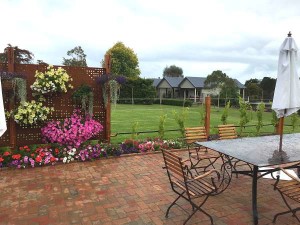 Outside the gardens were spectacularly colourful with hanging baskets in the courtyard and plantings around the lawn areas and weeping willows beside the lake. Crittendens also has Lakeside Villas with balconies over the lake, and the Stillwater Restaurant overlooking the vineyards and lake, for lunches, dinner or special functions. They also have a wine club which offers members discounts, member only events, free tastings and other benefits.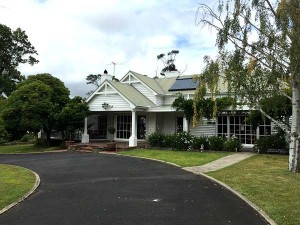 The last of the three wineries we chose to explore was Dromana Estate, nearby in Tuerong. Established in 1982, the winery is based at the Tuerong Homestead which runs as a cellar door and Terre restaurant. The homestead was built during the late 19th Century with additions and modifications made during the period between the world wars.  The homestead is surrounded by a beautiful garden with a hundred years' old Weeping Elm in the centre.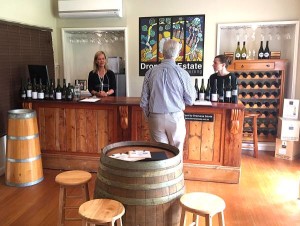 Dromana Estate's Chardonnay and Pinot Noir have been consistently rated as some of Australia's finest examples of cool climate wines. Tastings of three labels are available – Dromana Estate (the flagship range), Mornington Estate and David Traeger – and a small cheese platter sourced from local producers can be purchased as accompaniment. The Traeger wines are not estate grown, but come from the Nagambie area in central Victoria, thus they achieve the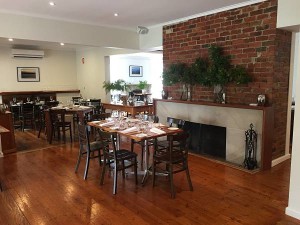 better ripening needed for Verdelho, Cabernet Sauvignon, Merlot and Shiraz. The other wine varieties available for sale are Viognier, Asciutto, Arneis, Sauvignon Blanc, Pinot Gris and Syrah. There is also a very fine Dromana Estate Blanc de Blanc.
By the time we finished our tasting, the restaurant was packed with diners – a testament to both the location and the cuisine.
We rounded off the weekend with a drive into the town of Mornington, where we discovered a great artisinal Italian pizza and mozzarella bar with deli, called DOC – an acknowledgement of the high standard of Italian wine, salumi and cheese they sell.
They have a huge range – some we had never seen before despite our travels in Italy. The beverage menu is mainly imported Italian wine, beers, spirits and even soft drinks, though interestingly, their house red was a Sangiovese Merlot and the white a Pinot Grigio, both from Crittendens. We ordered the Pizza Abruzzese which incorporated porchetta, fruit mustard, mozzarella and radicchio. Very tasty with a hint of sweetness to counterbalance the bitterness of the radicchio. It is a very popular place with queues out the door as there is no booking in advance. We have since been to their Pizza Bar in Carlton to sample more of their delicious food.
All in all, a delightful and fulfilling weekend!

 Related articles
Private Tour: Mornington Peninsula Behind-the-Scenes Gourmet Food and Wine Tasting Experience – $222.20
Discover the delights of the Mornington Peninsula on this guided tour led by a local with insider knowledge. Visit an olive farm, go wine tasting, enjoy a delicious lunch at an award-winning winery restaurant and more. Highlighting the tastes, sights and sensations of Victoria's scenic Mornington Peninsula region, this 1-day tour takes you behind the scenes to meet the producers who have made the Peninsula one of Victoria's most celebrated gourmet regions.
Mornington Peninsula Cheese, Chocolate and Wine Tasting Day Trip from Melbourne – $113.63

Sample cheese, chocolate, strawberries and wine on a Mornington Peninsula food and wine day trip from Melbourne. Pick up wine-tasting tips at boutique cellar doors, visit an artisan dairy and sample strawberry wine and liqueur. Have lunch by the beach in summer or at a local cafe in winter and travel in a comfortable minicoach, with coffee provided on board throughout the day. Enjoy personalized attention on this fun and relaxed small-group food tour, with participants limited to 18 passengers.