St Lucia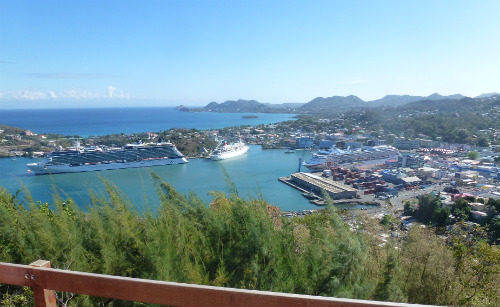 A group of eight of us booked with Cosol Tours for a full day independent excursion, rather than take the one offered by the cruise ship. The tour proceeded south down the west coast from Castries, the capital. St Lucia is an independent member of the British Commonwealth, but because it was once occupied by the French, the unofficial common language is a French patois. As we left Castries we stopped at a viewpoint on Morne Fortune to take photos of the harbour with our cruise ship in the distance. The next stop was a banana plantation. Bananas are St Lucia's main export crop. We were shown how the plants were propagated and how they developed their fruit. I hadn't realised that after the fruit is harvested the plant is cut down ready for a new one to take its place. The fruit is covered in blue plastic to protect it from birds and the weather so they are unblemished when they are harvested.
Although we had only just eaten breakfast on the ship, our next stop was at a restaurant high up on a hill near the village of Canaries, where we  feasted on local delicacies such as coconut cakes and cookies, johnny cakes, fishcakes, banana ketchup and local fruits such as fresh coconut, pineapple, bananas, mangoes, sugar apple and soursop.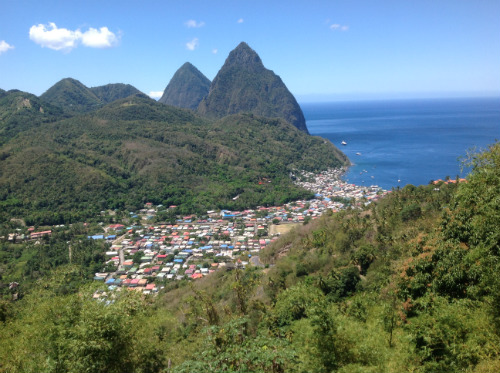 Another fantastic view appeared as we approached the town of Soufriere – the magnificent Pitons rising up from the sea. They are called Gros Piton and Petit Piton and are a World Heritage site. Between the two is a bay with a resort at Jalousie Beach. We took a small launch out from the Soufriere pier around the base of Gros Piton and spent an hour or so relaxing in the shade or snorkelling on one side of the bay. The fish  were not too plentiful but the coral and seaweeds were more colourful there than we had found in Aruba.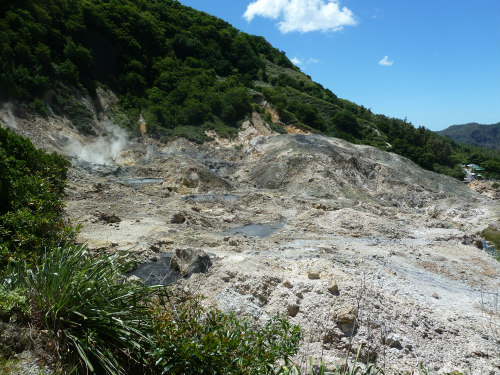 Back up into the hills again we finally came to the islands "drive-in volcano", Sulphur Springs. As you can imagine, we smelled it before we saw it! You can't actually drive right in, but you park very near boardwalks and paths which lead to the crater which has big bubbling pools of mud with sulphur steam emitting from them.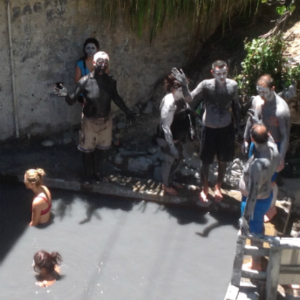 There is also a black hot mud pool ready for the adventurous to bathe in and lather themselves up with the mud which is said to contain medicinal properties. Hubby had a bath and looked quite odd with his silver hair! The mud was quite sticky and hard to remove even at the change room showers, so our next stop afforded him another opportunity to clean it off – the waterfall at Toraille.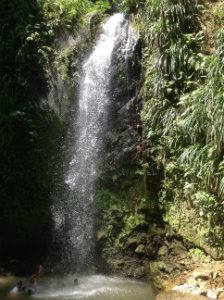 I was feeling a bit hot and salty from snorkelling, so was keen to try swimming there. Boy, was that water cold and it hit like a ton of bricks!
That was a great tour and I would heartily recommend it to anyone.
Related articles