Monaco, Nice and Eze
It was something I had really been looking forward to – sailing into Monaco's impressive harbour, Port Hercule – and it didn't disappoint. An amphitheatre of hills and high rise apartments looked down on the main actors of the piece – the hugely expensive private yachts of the rich and famous, and now us, on the Rotterdam.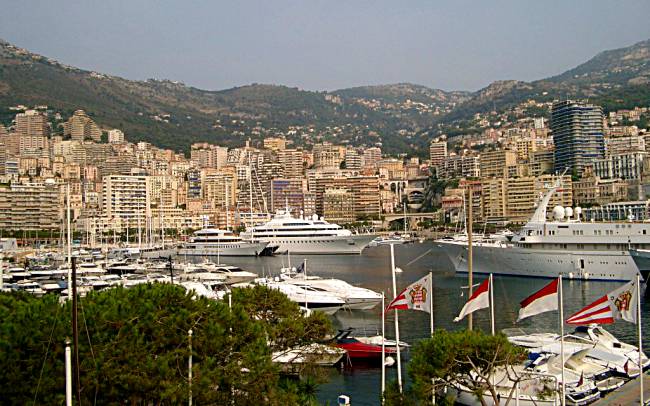 We had been to Monaco once before on a road trip through France and Italy and had witnessed this awesome sight from the point below "the rock" – as the old city, Monaco-Ville, is known. But the casino side of the city had a powerful effect upon us, making us feel insignificant and unworthy to be there. Certainly we could not afford some of the high prices. We had only spent a short time there – parking was difficult – and then we continued on to Nice. This visit, with the expert guidance of Marcine from Marsatis Tours, our small bus load of cruisers managed to see some of Nice as well as the charming, medieval hilltop village of Eze, in France, before returning to the main sights of Monaco-Ville, Monte Carlo, and our ship.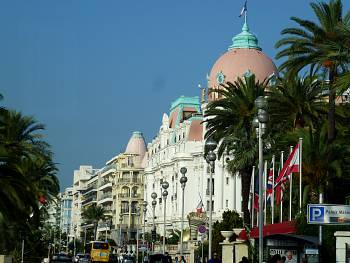 The coast road to Nice has some spectacular views, although the morning light and mist made it difficult to capture on camera. The city itself is rather grand along the Promenade des Anglais, with many fine, expensive hotels, such as the Negresco. Marcine dropped us off for individual exploration of Vielle Nice on foot after a quick drive through.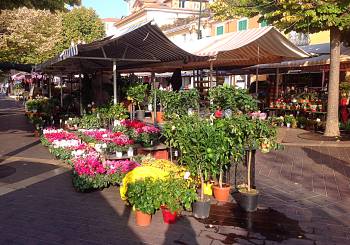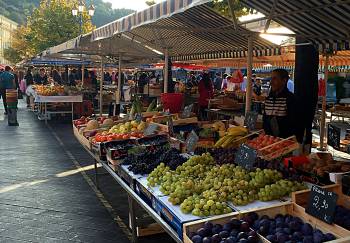 We started with the Marché aux Fleurs in Cours Saleya – hundreds of flowers displayed under striped awnings – a riot of colour. A flower market has been here since 1897! Open every day except Monday, this market now offers mainly fruit and vegetables, and authentic local products from inland Nice.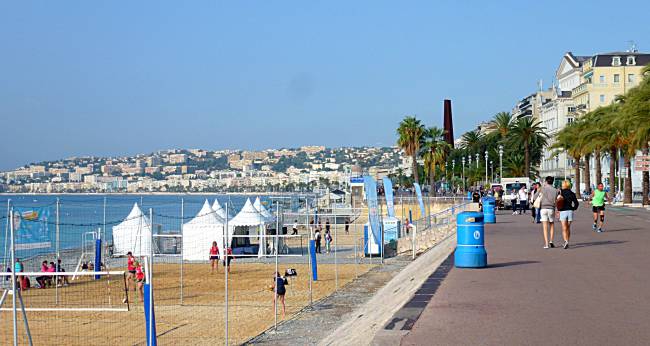 From there we strolled along the beachside promenade as far as Jardin Albert I and then back up to Place Massena whose roundabout was adorned with a huge statue of Apollo and sculptures of horses as fountains. There was to be an expo in the gardens and many soldiers were making reconnaissance of the entire area, weapons at the ready. (And this was well before the dreadful event of July 2016.)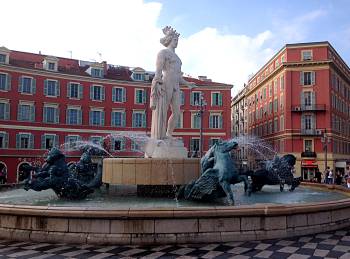 Back near our rendezvous point with the bus, at the Place du Palais de Justice, we stopped at a café for a cuppa and discovered the city of Nice provided free wifi in that area. Just the thing we cruisers need, as on board the connections are so slow and expensive.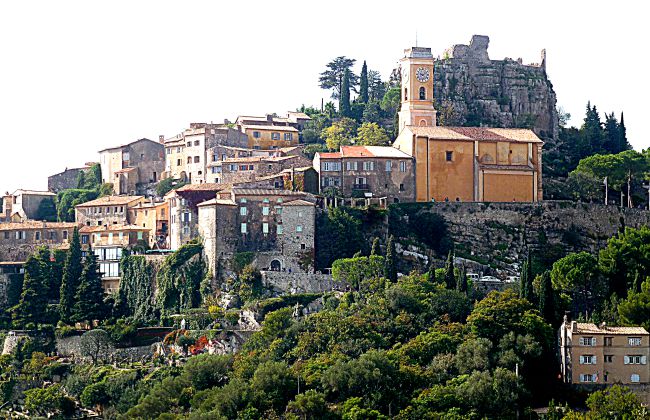 Next stop in the bus was Eze. This charming medieval village is perched on a hilly clifftop midway between Nice and Monaco. Taking a small, rocky path from the roadway below, we reached a lookout offering a panoramic view of the sea and coast-line. The two look-out towers at the entrance, the door-way and the gun-boat are all classified as historic monuments.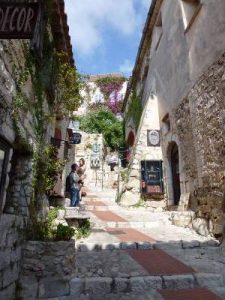 We had barely enough time to explore this pretty little village, climbing up narrow, car-free, winding cobbled streets, popping in and out of arts and crafts boutiques and taking lots of photos.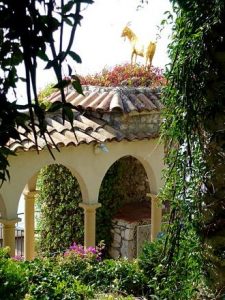 Accommodation in this village is available at the former Château de la Chèvre d'Or, now a first class hotel and restaurant, with private gardens and spectacular views. Some of our group went to the Parfumerie Fragonard, while we found an outdoor restaurant serving delicious savoury crepes. All that walking up and down the little lanes had given us quite an appetite, and we were keen to try these iconic French treats.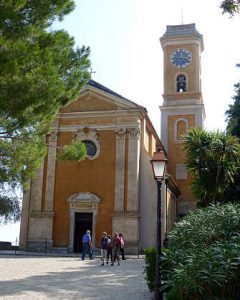 Further around the hilltop, the bell tower of Sainte-Croix Chapel of the White Penitents stands out against the exotic botanic garden, where an impressive collection of cactus, plants and rare vegetation surrounds the remains of an ancient chateau. The village cemetery is still in use on one side of the gardens.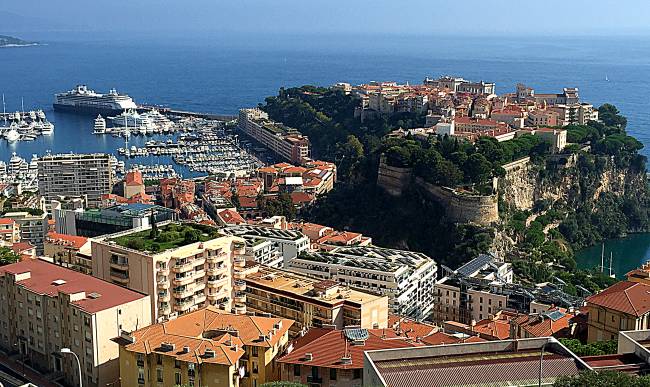 Back to Monaco along the Corniche road we found a terrific viewpoint above the city where we could see our ship and understand why the old city is called "The Rock".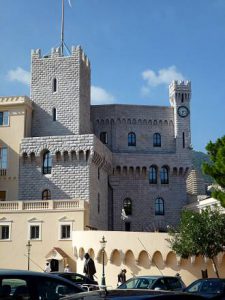 Then our driver took us there for some free time to wander – where we admired the Prince's Palace and took even more photos of the scenery.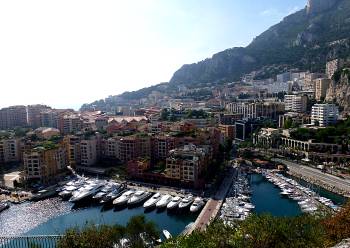 Canon near the palace face out over the old port, Port du Fontvielle, which also has its fair share of luxury boats.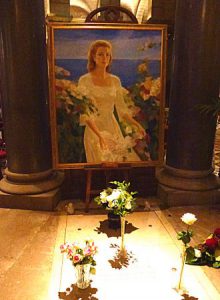 After walking through the narrow shopping streets we finally arrived at the magnificent Cathedral where we queued for the chance to see the tomb of Princess Grace.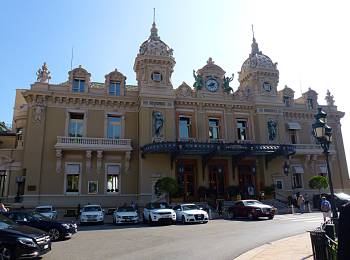 Monaco is also world renowned for two other attractions – the Grand Prix and the Casino de Monte Carlo. We travelled along the roads that make up some of the Grand Prix racing circuit and our driver actually did a mock racing start which gave us a bit of a surprise. The Casino wasn't open yet and some of us were not attired formally enough to even go inside, so we checked out the Cafe de Paris casino and restaurant instead.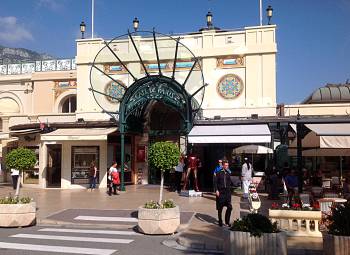 All too soon our day was over and we headed back to the ship. The views from there were equally as wonderful as that visit years ago, so I left feeling like we had been well rewarded. Now it was only one more sleep till we would be back in Barcelona and our cruise would be over.