Cappadocia – the Land of Fairy Chimneys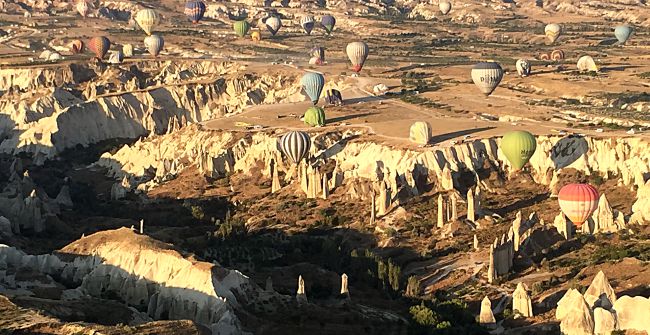 Ever since I first saw photos of the fabulous land forms of Cappadocia, Turkey, I have been dying to go there. Finally, on our Gate 1 coach tour of Turkey, we got to spend a full day in the area to explore them. And the most exciting way was to take a dawn hot air balloon flight over them. More about that, later.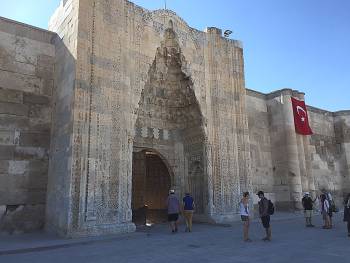 It was a very long drive from Antalya to our hotel in Ürgüp. So to break the drive we stopped at Konya for an early lunch at a roadside restaurant and service station, followed some hours later by another stop, this time at a Caravanserai, the ancient form of the same thing. In the days of slow travel by camel, the caravans would need somewhere safe to spend the night, enclosed within protective walls and with areas for cooking, sleeping, praying and keeping the animals and the goods they carried.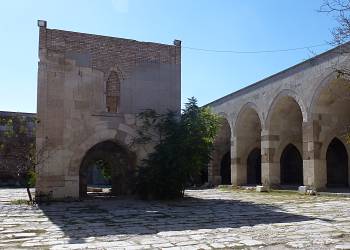 The caravanserai at Sultanhani was an important stop on the silk road to Persia. Built in 1229, this fortified structure or khan, is one of the best examples of Anatolian Seljuk architecture. Entry is through a pointed marble arch which is heavily decorated and leads to a covered hall for winter and an open courtyard with what appears to be a small central tower, but is in fact a type of mosque. On two sides of the courtyard are arcades which were used as stables.
Cappadocia – meaning "the land of beautiful horses" – is a historical region within central Anatolia and is famous for its "fairy chimneys" and trekking through the strange pillared landscape. As we approached Nevşehir we were excited to get our first glimpses of the formations. The land in this region is volcanic, so the pillars are formed in areas where a thick layer of a relatively soft rock, such as tufa (consolidated volcanic ash), is covered by a thin layer of hard rock, such as basalt. Over time, cracks in the resistant layer allow the much softer rock beneath to be eroded and washed away. When a small cap of the resistant layer remains, it protects the underlying softer layer from erosion, forming a spire. The process is best demonstrated in Love Valley, so called because of the phallic symbols.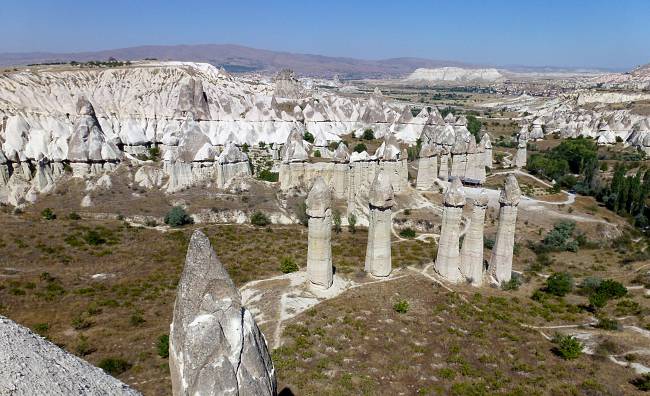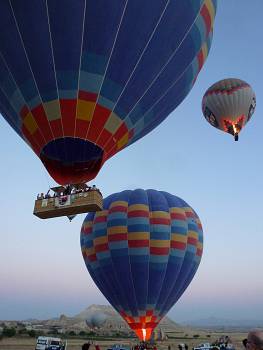 Early next morning, well before sunrise, we were collected from the Dinler hotel in Ürgüp and taken by small bus to Göreme for a breakfast of a sweet roll and hot drink, before being piled into another bus and taken to our balloon departure point. There was a small delay when it was discovered our balloon was "kaput", but soon we were whisked away into the dawn light with eight other passengers in another basket under the care of our pilot, Murat. He was a very skilled pilot, able to bring us down within touching distance of chimneys and almost beside the doorways of rock houses. The views were spectacular as there must have been about thirty balloons aloft that morning, each with different colours and logos.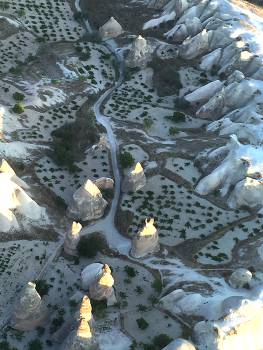 The 'moonscape' below us was so intriguing, particularly the sight of the bush vines that dotted the vineyards in the valleys. Although the flight lasted about thirty minutes, it was all over too soon. Murat showed off his expertise by bringing the balloon down directly into the trailer of the support vehicle that met us at the finish. No bumpy landing for us! Once we clambered out of the basket we were greeted by a glass of champagne and cherry cordial to celebrate the event and presented with a medal.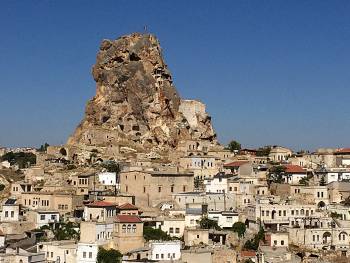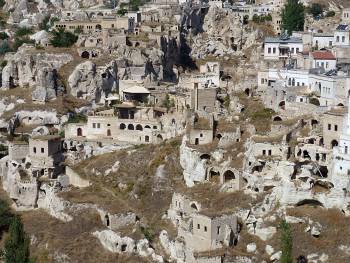 Following that exciting start to the day we were picked up once more by a different company and taken on a grand tour of many interesting local sights in the northern part of the region. From a lookout where we had morning tea, we had amazing views of the Roman rock-cut Ortohisar castle and the village below, where many homes were built on to caves carved out of the rock face. Over the centuries people made their homes in the soft tufa as wood was scarce, the homes were easily defended and the temperature inside was a comfortable level even in the extremes of winter and summer. Love Valley was spectacular as the lookout was on a cliff top and we could see right across to the rose-coloured cliffs kilometres away.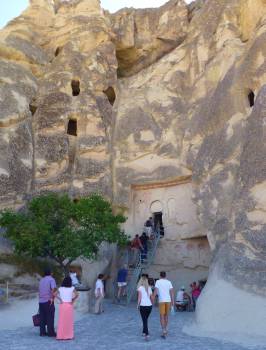 After lunch, it was off to the Open Air Museum at Göreme to see the cluster of churches also carved out of the tufa. The Greek Orthodox Church had been the dominant religion in Anatolia until the Ottoman Turks arrived in 1453, although most of the churches were carved out during the 10th to 12th centuries. Most of the churches still show the remains of richly decorative frescoes or icons painted on the walls inside. Although entry was possible, unfortunately photography inside was forbidden. The museum has been on the UNESCO World Heritage list since 1984.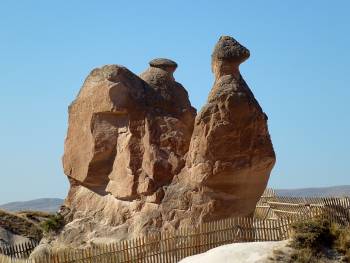 Following a visit to the pottery at Avanos, where we saw skilled artisans recreating vessels based on designs dating back to Hittite times, we went on to see the many strange shapes of the fairy chimneys in other valleys, such as Devrent and Paşabağı valleys.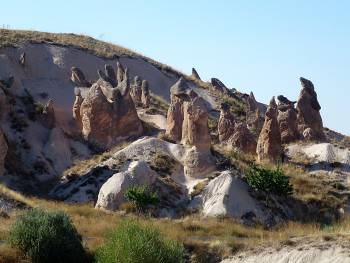 The Devrent Valley is also known as Imagination Valley, for if you possess a vivid imagination you can see a camel, a hand and other shapes in the formations.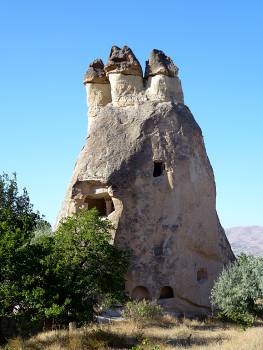 Paşabağı was formerly known as Monks' Valley because of the hermit monks who dwelt in the cave houses. This is the most popular display of chimneys because you can wander freely among them and even explore inside.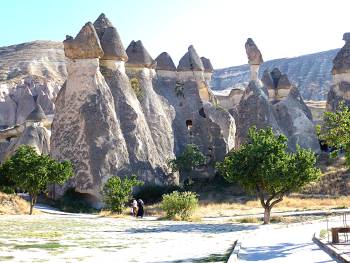 There are also some shops or market stalls and a bar nearby for welcome refreshments and souvenirs. There is also a Jandarma (police) office housed in one of the chimneys.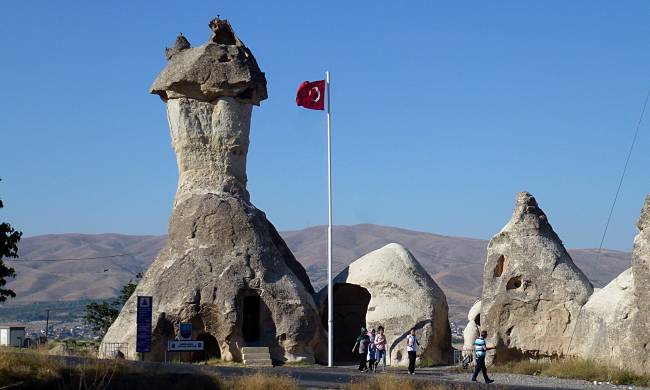 It was such a full day yet we didn't get to see all of the spectacles Cappadocia has to offer. Ours was the Red (North) Tour, booked through Hot Air Ballooning Cappadocia – the same company that handled our ballooning booking. We discovered afterwards that they sub-contracted our bookings out to local companies, but the ease of booking with them and securing a discount via the website made it worthwhile. Others on our Gate 1 tour took the optional extra tours, but they were more expensive. They, and the Green (South) Tours saw an underground city and various other valleys, which would have been great to also see had there been more time. That evening, those who still had the energy went off to a dinner with the Whirling Dervishes display, but we were all toured out!
So another item on my bucket list has been ticked off, and I must say, despite all the wonderful places we saw in Turkey, this experience in Cappadocia has to be the one I enjoyed the most.
Related articles
Cappadocia Hot Air Balloon Ride – $162.50

This Cappadocia sunrise balloon ride gives you the opportunity to see Cappadocia from a perspective that enhances its mystery and magic. It is not to be missed.
Cappadocia Red Tour with Lunch – $55.43

Places that will be visited include: Red & Rose Valley, Cavusin Cave Village, Underground City of Kaymakli, Pigeon Valley, Greek houses of Uchisar, Ortahisar Castle.
Tour of Highlights of Cappadocia with Lunch – $62.22

Enjoy a small group Cappadocia tour with free lunch in amazing landscape. You will experience the Goreme Open Air Museum, Cavusin, Pasabag, Kaymakli and others. Lunch and entrance fees included.